Ambi vs Palmers Fade Cream: Don't Use Hydroquinone Without Reading This!
Posted on 22 November 2017 by Maryanne Johnson
Share this post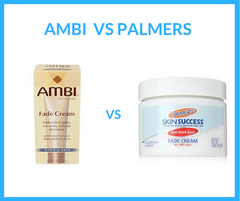 This is a head to head matchup of two of the most popular skin lightening and fade creams, Ambi vs Palmers. Which is the best fade cream? Is Ambi and Palmer the best 2 face creams or is there a better option for your skin? Let's get started! 
There's no question, these two make for a great fade cream review as both are quite popular.
Palmers fade cream and Ambi fade cream will be compared and contrasted so that you can make the right choice for your unique skin.
We will start first by taking a look at the main active ingredient of each cream, which is Hydroquinone.
We do NOT recommend either of these products because of the dangers of hydroquinone.
Instead, we recommend one of Amazon's top selling fade cream, Selevax.
There's a great deal of controversy about the use of this ingredient based on recent research indicating it may cause cancer for an in depth discussion on the safety of hydroquinone, click here.
The bottom line is that there are very real safety concerns about this ingredient, and because of that, we cannot endorse either of the products in today's matchup.
For a list of the best Hydroquinone-Free products click here. We will begin our matchup with a discussion of the ingredients.
Ambi Ingredients vs Palmers Ingredients
When we look at Palmers fade cream ingredients and Ambi fade cream ingredients, we do have concern. Both of these creams contain the controversial ingredient Hydroquinone at 2% concentrations. They also both contain sunscreen. So which is better in the ingredient category? Hydroquinone is known to work better when it is coupled with the ingredient Alpha-Hydroxy Acid. The thing is, both contain that as well. However, there is one important difference between these two skin lighteners.
The ingredient, Retinol, is a wonderful exfoliant which we believe improves the fading process. Palmer obviously thinks so because they have included it in their formula. Ambi fade cream ingredients do not contain Retinol. Because this ingredient is so important, the winner is clear.
As a result, we believe Palmers fade cream is superior and wins the battle of ingredients.
Ambi Fade Cream vs Palmer Fade Cream: Which Is More Versatile?
Palmer fade cream is quite versatile; it works on dark spots, age spots, post acne scars and uneven skin tone. There's positive Palmer fade cream reviews that back these claims.
Ambi fade cream is useful as it pertains to fading both dark spots and skin discolorations. It is also great for evening out skin tone. Just like Palmer, there's a number of Ambi fade cream reviews that recommend the product.
As you can see, the difference between the two here is that Palmers has an additional use for acne scars. In our opinion this is a direct result of the inclusion of Retinol, which is an extremely common and effective ingredient in creams designed for scars - For a list of the best scar creams click here. Our winner for most versatile skin lightening cream goes to Palmers for its additional ability to reduce the appearance of acne scars.
Ambi vs Palmers Fade Cream: Which Is The Better Value?
Palmers fade cream has better ingredients and is more versatile lightening cream, but is it a better value? Lest's see…
Palmers Fade Cream comes in a 2.7 ounce jar and costs approximately $6. Ambi fade cream comes in a 2 ounce jar and also costs about $6. With Palmers you are getting nearly 50% more cream for the same price. For that reason, Palmers pulls ahead as the winner of the best value category.
Ambi vs Palmers: Which Has The Better Reviews?
First up, Palmers fade cream reviews. When you review the reviews, you clearly get a good idea of Palmers fade cream results. Up to now, Palmers fade cream has beaten Ambi in every single category, but will Palmers beat Ambi in customer satisfaction rating? The results are surprising.
Palmers has 180 reviews on Amazon currently from its top seller. Based on those 180 reviews Palmers has a star rating of 3.7 stars out of a total of 5.  In fact 66% of reviewers have rated the product at four star or better. Here is Palmers Top Review with 30 helpful votes:
"5.0 out of 5 stars
but this works better than anything else I have tried so far
ByJ. Whiteon October 21, 2016
Verified Purchase
Significant reduction in dark spots on my face after 3 weeks. Goes on thick, but dries quickly. Contains sunscreen, so only need to apply this before going out for the day. I was skeptical because of the relatively low price when compared to other name brands, but this works better than anything else I have tried so far."
Ambi currently has 303 from its top seller. Of those 303 reviews it has an overall star rating of 3.8 out of 5 stars. Out of all the reviews 57% of reviewers gave Ambi a four star or higher. Here is Ambi's Top Review:
"5.0 out of 5 stars
It actually does work, but you need to put ...
ByMichion July 30, 2017
It actually does work, but you need to put it on every day. I started noticing results after 2 weeks of use, but I would definitely need to use it for longer to eventually be able to fade my sun spots. I would avoid applying to areas that do not need to be treated because this product does irritate the skin (after all, the active ingredient is a bleaching agent)."
Now, we'll look at Ambi fade cream reviews. When we compare Ambi with Palmers for 5 star reviews, Ambi has 43% reporting a five star experience, while Palmers 55% with a five star experience. However, five star or four star isn't the whole picture her, its overall product customer satisfaction and with greater score than Palmers, Ambi is our winner.
Ambi vs Palmer, Which Cream Is Better?

Palmers fade cream can be found on Amazon, Ambi fade cream is found on Amazon too. Giving all the insights we were able to provide and review, we feel we've made the right choice for this Palmers vs Ambi fade cream review.
Palmers is a fantsastic hydroquinone formula with the addition of Retinol. With Retinol it has additional uses for scars and thus is a more versatile cream. Even with the addition of Retinol which is an expensive ingredient, Palmers still finds a way to give you a great price.
Better still, the value of having a 2.7 ounce jar as opposed to 2 ounce is a great benefit and wonderful value.  So even though Palmers is rated less overall in customer satisfaction, we do not believe the difference tips the scale in favor of Ambi. In fact, the overall difference is a mere .1 in favor of Ambi. Plus the head to head match up on four to five star experiences was heavily in favor of Palmers 55% to Ambi's 43%.
While both of these skin lightening creams work to reduce the appearance of pigmentation, the cream with better ingredients, more versatility and better value is in our opinion Palmers Fade Cream.
That being said, once again we do not endorse any hydroquinone cream. Here are the Best Hydroquinone Free Fade Creams