Skinmedica Redness Relief CalmPlex Reviews: Must Read Before You Buy It!
Posted on 30 December 2016 by Maryanne Johnson
Share this post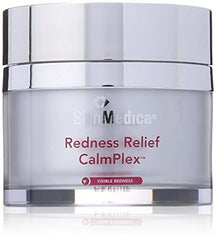 Skinmedica Redness Relief CalmPlex Review. SkinMedica is not specifically marketed as a product to fight rosacea, but rather to reduce redness and calm irritated skin. The Skinmedica Redness Relief CalmPlex ingredients are simple ones. The product contains just two active ingredients - niacinamide and jojoba.
The Skinmedica skin care collection was created more than a decade ago by dermatologist Dr. Richard Fitzpatrick, who passed away in 2014, and the diverse product line includes anti-aging products for all skin types that feature a wide range of ingredients including antioxidants, retinol and natural moisturizers.
SkinMedica's Redness Relief also contains a variety of parabens as preservatives, a coconut or palm oil-base ester, naturally sourced moisturizers and other ingredients, including Polysorbate 20, a sugar alcohol that is treated to be used as an emulsifier to keep the oils and waters from separating.
SkinMedica Redness Relief Official Video
Jojoba is a moisturizer that is close to the texture of the skin's natural sebum that it helps keep skin moist without clogging pores. It also melts easily into skin, so it can reach the dermis layer where the most healing occurs. Niacinamide – a form of vitamin B3 – helps strengthen the skin's barrier layer, potentially keeping out toxins that could cause irritation that triggers an outbreak of rosacea. The others are preservatives, binders or chemical ingredients that are not as natural as the two active ingredients in the product.
Skinmedica Redness Relief CalmPlex Reviews
Skinmedica Redness Relief has a 74 percent approval rating on Amazon, with reviews ranging from the following – "I bought this product for my husband for his rosacea. The product was supposed to help 'relieve redness' instead it burned his skin the first time he used it." – to more positive reviews. "I found this stuff by chance one afternoon when I was feeling depressed about my rosacea, I was diagnosed with rosacea at the age of 16 and in the last 11 years I have tried tons of different things... Nothing has given me results like this. I read the reviews first so I knew that it might burn some and it did. It actually seemed to be making the redness worse for the first four or five nights of use, but after that it started clearing up."
Does Skinmedica Redness Relief Work for Rosacea?
While Skinmedica contains just two active ingredients, it's not all that certain that the products on their own are an effective treatment for rosacea. According to Dr. Jenny J. Kim, PhD, an associate professor of dermatology at the University of California, Los Angeles's David Geffen School of Medicine, experts still haven't determined what causes rosacea, but recent research suggests that the skin protein cathelicidin, found in the macrophages that respond to skin when an injury occurs, could be processed differently in those with rosacea, so inflammation is always present, working to heal skin that is not damaged, triggering redness and other irritating factors.
Skinmedica Redness Relief contains no ingredients that are designed to specifically address inflammation. It was difficult to track down the Skinmedica Redness Relief CalmPlex before and after photos, so it's hard to know if the product is effective or not if you're a "I need to see it for myself" kind of shopper.
Where to Buy Skinmedica Redness Relief CalmPlex ?
Skinmedica Redness Relief CalmPlex is available on the company website, through Amazon and through eBay, as well as various cosmetic sites online. It is not sold at traditional drugstores such as CVS or Walgreen's.
The product is pricy – just over $50 for 1.6 ounces, but coupons or discounts are available for first-time customers at a variety of different websites. It is not eligible for international shipping, including to Canada or the UK.
Is Skinmedica Redness Relief CalmPlex Safe?
Skinmedica Redness Relief's two main active ingredients – jojoba oil and niacinamide – are not likely to cause irritation to already troubled skin. But one ingredient – Polysorbate 20 – could be a problem. The ingredient starts as sugar alcohol, but it is treated with ethylene oxide, which allows water and oil to mix, so the product doesn't separate. A by-product, 1,4-dioxane, has been shown to be a carcinogen, and it is easily absorbed into the skin, and therefore, the bloodstream.
According to research from the Organic Consumers Organization the levels of 1,4-dioxane found in many products are 1,000 times higher than those found to cause cancer in animal studies. And per the FDA, "Skin absorption studies demonstrated that dioxane readily penetrates animal and human skin from various types of vehicles."
An Organic Alternative To SkinMedica Redness Relief
If you are looking for a more natural product than SkinMedica's Redness Relief, Rosarid by Senvie features natural ingredients – aloe, vitamin E, shea butter, avocado oil, mango butter and kiwi as well as the medicinal herb sophor flaveescens, which specifically addresses inflammation. When used in combination soothe skin and ease the redness and inflammation associated with rosacea. The ingredients in Rosarid address the redness, bumps, irritation, dryness, itching and burning, flushing, swelling and visible blood vessels associated with rosacea without causing added irritation to traumatized skin. The formula is lightweight so it won't clog pores and is crafted from a formula featuring natural, organic oils and botanical extracts that are both gentle and effective.