Avene Antirougeurs Fort Relief Reviews - Discover The Truth About Avene Antirougeurs
Posted on 31 December 2016 by Maryanne Johnson
Share this post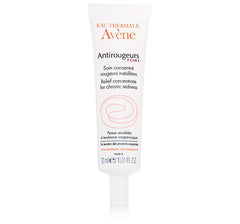 Does Avene Antirougeurs Fort Relief really work? More than 16 million Americans suffer from rosacea, a skin condition that seemingly has no cure.
While experts say rosacea can be controlled – by staying out of the sun, the heat, the wind or the cold  or by avoiding stress or spicy foods – it can difficult to pin down the exact cause, especially if many issues are at play.
To help treat rosacea and keep the symptoms under control without forcing sufferers to sacrifice their lives, there are numerous products on the market designed to help alleviate redness and irritation associated with rosacea.
One such product, Avene Antirougeurs, comes in a variety of different formulas, and includes a day cream with SPF and a gentle cleansing milk to help lift away toxins.
The line is designed to work together to help increase circulation to the skin, decrease skin's reaction to irritants and to reduce the appearance of redness.
The standout in the line is Avene Antirougeurs Fort Relief Concentrate.
It addresses flushing, persistent rosacea symptoms, dilated blood vessels, pustules associated with rosacea and the burning and stinging that is also associated with the skin condition.
Video Tutorial For 

Avene Antirougeurs Fort Relief Concentrate
Avene Antirougeurs Fort Relief Concentrate Reviews
Avene Antirougeurs has a 70 percent approval rating on Amazon, with 30 percent of the reviews three stars and below.
"This cream is incredible, I watch redness disappear when I apply it. Worth every penny," said one reviewer.
Another less satisfied reviewer said, "I thought about buying this for a long time and read a lot of reviews because it's so expensive. I finally purchased and used as directed. Within a couple of days, I noticed a decrease in redness (probably 50 percent less & no change on the bumps at all) but within two weeks, everywhere I put this cream was dry and flaky! Like really excessively dry and noticeable even without makeup, but with makeup it was horrible. I am returning for a refund. Will not buy again."
Avene Antirougeurs Fort Relief Concentrate Ingredients
There are only a handful of ingredients in Avene Antirougeurs Fort Relief, including Avene Thermal Spring Water (a spring water mixed with skin-enriching minerals), ruscus extract, also known as butcher's broom, which works to help ease inflammation, and dextran sulfate, a sulfuric acid that thins blood so blood vessels and swelling is reduced.

It also includes hesperidin methyl chalcone which is a derivative of the flavonoid hesperidin, extracted from citrus and helps protect and strengthen vascular walls. Stronger blood vessels are less likely to leak, so dark circles beneath the eyes are also less likely to be as apparent. (The most common reason for dark circles is broken blood vessels. Stronger vessels won't break, so blood from the leaks won't pool beneath the eyes.)
Does Avene Antirougeurs Work?
Because it is difficult to track down Avene Antirougeurs Fort Relief Concentrate before and after photos from Avene Antirougeurs users, the reviews for the product are up to your own interpretation.
The product is available through Amazon, through various online skincare sites and through the Avene site. It is not available at standard pharmacies but it is available at dermatologist offices across the country. It only ships to the United States, so users from Canada and the United Kingdom will have to find other ways to receive the product.
Is Avene Antirougeurs Rosacea Safe?
There are no ingredients in the Avene Antirougeurs Fort Relief Concentrate that have been tagged as harmful through research, so the product is safe for everyday use.
While butcher's broom can be unsafe when taken internally in large quantities, there are no warnings for topical use.
While it is available for just under $48 per ounce without shipping charges and coupons aren't available, a little digging online will help you track down the best price for the product.
Are There Good Alternatives To 

Avene Antirougeurs?

If you are looking for a more natural product, Rosarid by Senvie features natural ingredients – aloe, vitamin E, shea butter, avocado oil, mango butter and kiwi - that when used in combination soothe skin and ease the redness and inflammation associated with rosacea.

The ingredients in Rosarid address the redness, bumps, irritation, dryness, itching and burning, flushing, swelling and visible blood vessels associated with rosacea without causing added irritation to traumatized skin. The formula is lightweight so it won't clog pores and is crafted from a formula featuring natural, organic oils and botanical extracts that are both gentle and effective.