Best Rosacea Cream Reviews for Redness, Itching & Burning: 2018 Buying Guide
Posted on 13 November 2017 by Maryanne Johnson
Share this post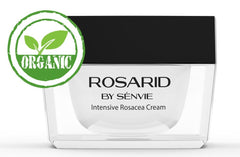 Are you looking for the best rosacea cream of 2017-2018? Rosacea is generally characterized by redness, bumps, and pimples on the face, nose, cheeks and forehead.
Some people do have blood vessels that show on their face as well, and it can be common for sufferers of rosacea to have irritated, watery eyes. Rosacea has been known to show on the chest and back too, although that is unusual.
Facial Swelling and Redness From Rosacea
Rosacea can make your face look swollen and red. Many people feel embarrassed by their rosacea, especially when they have to go out in public or be at work. Controlling flare-ups is an important step in battling your rosacea.
There are many different prescription treatments and OTC ointments or creams for rosacea. However, as we know these don't always work the best and typically aren't the best for you. We've taken a look at the top 5 rosacea cream and how they can help you get the relief from rosacea you deserve.
Do Rosacea Creams Really Work?
Yes, the best rosacea creams have natural and organic ingredients that work to reduce the symptoms of rosacea naturally. Many of these natural ingredients have shown to have anti-septic, anti-bacterial, anti-oxidant, and therapeutic properties. There are many studies that show how great natural ingredients are at reducing inflammation and swelling.
The best rosacea creams are also safe to use. Unlike some dangerous rosacea prescription medications, natural creams contain ingredients that are considered safe to use. Some rosacea creams go for upwards of $50,
What does a rosacea cream do, you might ask? A good rosacea cream has ingredients that work to reduce the irritation, redness, and swelling from rosacea. There are many good rosacea creams out there. However some have better ingredients and so work better for rosacea.
A good rosacea cream will address the following:
Redness
Bumps
Swelling
Irritation
Flare-ups
Burning
Stinging
Dry Appearance
The Top Rosacea Creams of 2018
RosaRid Rosacea Soothing Cream
RosaRid is a rosacea cream that is made in the USA and has over 15 organic ingredients. These ingredients are thought to soothe and relieve the irritation, redness and swelling often found in rosacea. Unlike prescription based rosacea gels or ointments, this is an organic cream that you can purchase on Amazon or on the senvie.com website. RosaRid has many 5-star reviews and an excellent Amazon review score.
The best ingredients found in RosaRid are Chamomile, Wild Mushroom Extract, and a mix of Jojoba, Avocado, and Grapeseed Oils. The flavonoids found in these ingredients are thought to diminish rosacea blemishes and assist the skin in healing. Plus, the Wild Mushroom Extract contains astringents that work to reduce swelling and irritation. Astringents have been used for centuries for their ability to shrink and reduce swelling, redness, and irritation. The Grape Seed Extract also works to protect the skin from free radical damage as its a potent antioxidant.
These 6 organic ingredients for rosacea work in synergy to attack the rosacea problem at its source. Some users of RosaRid love the way the product reduces redness and swelling and also moisturizes the skin at the same time. Many prescription based products reduce rosacea symptoms but also stress and damage the skin in the process.
Puriya Mother of All Creams
Puriya is an excellent alternative for rosacea that is designed to provide fast, lasting relief for very dry, damaged, cracked, or irritated skin, including rosacea. Puriya is also composed of many natural ingredients that work to reduce the symptoms of rosacea.
Puriya comes with a 180 day money back guarantee that you let's you try the product risk-free. Puriya claims to provide many benefits, including instantaneous and long term relief from itching, redness, and swelling. In addition, Puriya works as a great moisturizer, and stimulates cell repair and new cell growth. Puriya also stops rosacea flare-ups and can be used on the scalp and face without clogging pores or feeling greasy. One thing we love about Puriya is that is does not have any artificial ingredients.
Puriya also has a great review score on Amazon, with a review rating of 4.2 stars!
Smooth Rx Psoriasis and Eczema Cream
Smooth Rx provides fast relief from itching and burning, with deep moisturizing almost immediately.  A couple ingredients that we really like are the Sweet Almond Oil and Sunflower Oil. Both these oils work to hydrate and nourish the skin and provide free radicals and antioxidants that help improve the skins appearance and texture.
SmoothRX Psoriasis and Eczema Cream also contains Vitamin E and Aloe Vera. Both have been documented to help greatly with skin conditions and issues. These two ingredients work to soothe and relieve redness and burning.
SmoothRx also has a great review score on Amazon too, with a rating of 4.2 stars.
Acetyl Organics Rosacea Serum
Acetyl organics contains the Epidermal Growth Factor, a powerful protein that works to increase the skin's natural immune defense and strength. When the skin's immunity is increased, it works harder and better at fending off bacteria. Another great ingredient, sea kelp bioferment is an alga that is thought to possess anti-inflammatory properties that help boost collagen and elastin. Both the sea kelp bioferment and the Epidermal Growth Factor are two ingredients that propel this formula into our top 5.
While Acetyl Organics isn't very expensive, it does cost about $17 per bottle. You can purchase it on the website or on amazon.com, which is where we would recommend you buy the product.
Dermaced Redness Redux
The Dermaced formula also uses the sea kelp bioferment and the epidermal growth factor. In addition, the Dermaced formula boasts the pomegranate extract, which works as a powerful antioxidant. If you do purchase Dermaced Redness Redux, make sure you refrigerate the product. The product also contains aloe vera, which works great in reducing skin irritations and deficiencies.
HoneySkin Organics
Do you know what methylglyoxal is? If you don't, you should. Methylglyoxal is an anti-inflammatory and anti-bacterial compound that is found in the coveted Manuka honey. Manuka honey has long been touted for its amazing healing properties. The Honeyskin organic cream also contains Vitamins E, C, and A. These vitamins are further boosted by Olive Oil & Shea Butter, tow ingredients that are packed with anti-oxidants.
Best Natural Skincare for Rosacea
As you can see, the products above were selected because of the outstanding natural ingredients found in their formulas and the excellent reviews they currently have. Ingredients like the Wild Mushroom Extract, Jojoba oil, Avocado oil, and Grapeseed oil found in RosaRid work naturally to defeat rosacea. In addition, ingredients like the sea kelp bioferment and Epidermal Growth Factor all work to provide natural rosacea relief.
We love these rosacea creams because they contain a bunch of awesome organic and natural ingredients for fighting rosacea. While you can use prescription based products, natural rosacea creams are a relatively safe and cheap option for rosacea.
Tips for Natural Rosacea Relief
Would you like to know some tips to help you get natural and organic relief from rosacea? Many of the best rosacea creams suggest you refrigerate the cream. The refrigeration of the cream will help keep the cream fresh and also feel soothing when you apply it to your skin. 
Apply a Sunscreen Moisturizer With at Least 15 SPF for Rosacea
Protecting your skin from further damage is very important when you have rosacea. Many doctors and medical professionals recommend that you use a sunscreen with at least 15 SPF for your rosacea. 
Avoid The Top 10 Rosacea Triggers
These are the most common rosacea triggers. While it may be impossible to avoid them all, do your best to stay away from them or limit them. Even limiting a few of these rosacea triggers can help you get relief and prevent further rosacea flare-ups.
Sun exposure
Emotional stress
Hot weather
Wind
Heavy exercise
Alcohol consumption
Hot baths
Cold weather
Spicy foods
Humidity
How Should I Wash My Face With Rosacea?
Cleansing your face the right way is a very important step when dealing with rosacea flare-ups. The first thing you will want to do is wet your face and then massage a very small amount of an organic cleanser onto your face. We recommend a cleanser for normal or combination skin. 
Then, gently massage the cleanser onto your face and wash off with lightly warm water. Avoid using hot water as this can make your rosacea worse. Do not use washcloths, makeup removers or rough towels as these can make the skin worse. Use a soft, dry cloth to gently dab your face dry.