Best Face Wash for Dry Skin (Reviews & Guides) 2018 Edition
Posted on 11 April 2018 by Maryanne Johnson
Share this post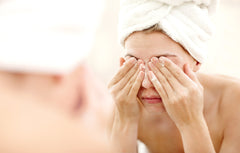 Your face is the first thing the world looks at each day, that's why keeping it clean and healthy is an absolute must. 
Face wash products are a staple in every beauty and hygiene routine, for both men and women.  
A good face wash gets rid of that grime, oils, dead skin, and dirt that our faces are exposed to and naturally produce each day. 
Face wash products can help keep pores from becoming clogged, and while this is true for both genders, women who wear makeup will especially need a face wash that can both clean, remove makeup, and unclog pores. 
And this is just one of the many attributes and factors to consider before making the jump on the perfect face wash product.  So, how do you choose the right one? 
You don't have to worry—we'll break down the guidelines in selecting the right face wash for you.
How to Buy the Right Face Wash
Buying the right face wash can mean everything for the condition of your skin.  The wrong product could mean dry skin, an acne break out, or irritation. 
That's why it's important to understand what ingredients are in the face wash, and knowing this can help you pick the right one. 
If you're feeling overwhelmed, don't worry, we've listed the top ten face wash products for dry skin, as well as the most commonly used ingredients, so you'll be an expert in no time.
The Key Ingredients for Face Washes
As with other cosmetics and beauty products, once you begin to read the labels, you'll notice that a lot of ingredients are fairly common and pop up in almost every face wash cleanser. 
When it comes to learning about the different formulas and ingredients that make up the market of face washes for dry skin, you may see some beauty review sites that list certain ingredients as dangerous or high risk. 
Like with any other popular health craze, it's crucial to look to science for the correct answers.
Glycerin (Glycerol): You'll see glycerin used in not only face washes, but in numerous other beauty and skin care products.  Glycerin's purpose as an ingredient is to hydrate the skin, enabling smoothness and relieving the skin of any irritation that may arise as well as dryness.  Glycerin is also a key component in any skin care products that are targeted for acne prevention.
Allantoin: Another ingredient that will continually pop up in both face washes and cosmetics, allantoin is safe in small concentrations, its purpose provides a conditioning element for the skin as well as protecting the skin from drying and flaking.
Sodium Laureth Sulfate (SLS): An alkyl ether sulfate, SLS is commonly used in face washes to give products that lather and foam reaction.  You have probably heard or read about the fact that SLS has come under some fire lately for having a possible link to carcinogenic properties.  However, not all of these claims are true.  Though SLS can be a known irritant for some people, it has been debunked by numerous studies that when SLS is an ingredient in shampoos, face washes, or even household cleaners, it is safe to use.
Propylene Glycol: A hydrating agent that is used in many face washes to seal in moisture, propylene glycol has also been scrutinized as an unsafe ingredient.  However, propylene glycol has been researched by the Cosmetic Ingredient Review and is determined to be safe for use in up to 50% concentrations.
Triethanolamine: Triethanolamine serves many different functions in a face wash and is usually utilized in low concentrations.  Mainly, it is used as a pH adjuster, but also included in face washes as a fragrance ingredient.  Triethanolamine also acts as an emulsifier, meaning it blends together water and oil additives by surface tension reduction.
Salicylic Acid: An ingredient designed for acne-prone skin, salicylic acid helps fight dirt and sebum, aiding in the reduction and occurrence of whiteheads and blackheads.
The Top 10 Face Wash Cleansers for Dry Skin:
1. CeraVe Hydrating Facial Cleanser
A gentle cleanser that is often recommended by dermatologists for those of us who suffer from dry skin, CeraVe is one of the best facial cleansers on the market.
CeraVe Hydrating Facial Cleanser was also developed alongside dermatologists, so it hydrates and cleanses the skin without irritating or disrupting the skin's protective barrier.
Consumers also report that even just after a week of use, their skin feels refreshed and hydrated. 
So, how does CeraVe Hydrating Facial Cleanser heal dry skin?  The answer is in the ingredients. 
The first five ingredients area a combination of various thickeners and conditioners (cetearyl alcohol and behentrimonium methosulfate), glycerin for a lubricating, smooth feeling, three different ceramides that nourishes and protects the skin's barrier, and hyaluronic acid as an effective moisturizing ingredient. 
This formula essentially locks in the moisture, so after repeated daily use, you should notice a drastic difference in your skin.
2. Aveeno Ultra-Calming Foaming Cleanser
Many of Aveeno's product line utilizes natural ingredients for gentle effects on the skin, and Aveeno Ultra-Calming Foaming Cleanser is no exception.
One of the best part about this facial cleanser is that Aveeno relies on natural ingredients for its desired effects.
Aveeno Ultra-Calming Foaming Cleanser uses foaming agents, silicone that allows for a smoother feel, alcohols for conditioning and water solubility, and natural ingredients like oat and plant extract to reduce skin irritation and redness.
Consumers with ragweed allergies should be wary of this particular facial cleanser, as it employs feverfew, a plant derived from the daisy family, which could cause skin irritation and an allergic reaction. 
To use, simply pump the cleanser onto a wet cloth or directly into your hands, then massage gently onto your face. 
Aveeno Ultra-Calming Foaming is safe for daily use and you will notice results within just one week.
3. Instanatural Vitamin C Facial Cleanser
Instanatural Vitamin C Cleanser sticks to a natural ingredient based formula comprising of fruit and plant extracts, and like its product name, plenty of vitamin C. 
Research has shown that vitamin C plays an important role in relation to the production of your skin's collagen, which is why it is often marketed as "anti-aging". 
It repairs skin damage, giving you a more youthful look as well as additional firmness to the surface of your skin. 
Instanatural's Cleanser does just that, and with the help of calming natural extracts like chamomile, coconut, and aloe, can aid in the restoration of your dry or damaged skin.
To use Instanatural Vitamin C Facial Cleanser, just massage a small amount onto your dampened skin and rinse with water.
This cleanser works best when makeup is removed before application.
4. Toleriane Hydrating Gentle Face Wash Cleanser
This milky cleanser hydrates and protects the skin, giving you dry skin relief.
With ingredients like ceremide-3 and vitamin B3 (niacinamide), Toleriane works to not only protect the skin's barrier, but visibly reduces the appearance of enlarged pores, redness, uneven skin tones, while restoring the strength of the skin's surface.
Dermatologists recommend Toleriane Hydrating Gentle Face Wash for those with normal to dry skin. 
Its formula is free of fragrance ingredients, reducing the chance of a potential skin irritation. 
This daily cleanser can be used in the mornings or evenings with lukewarm water to remove makeup, dirt, and other impurities.
6. Aveeno Ultra-Calming Hydrating Gel Facial Cleanser for Dry Skin
Much like its sister product, Aveeno's Ultra-Calming Gel makes use of feverfew and oat as main ingredients, but is aimed more for sensitive and dry skin due to it being a soap-free product.
A bonus to this gel cleanser is that it removes makeup and dirt gently, without drying out the skin.
As with Aveeno Ultra-Calming Foaming Cleanser, test in an inconspicuous area of your skin first if you believe your skin may become irritated from feverfew, a plant hailing from the ragweed family.
To use, apply a small amount and massage gently into your skin.  Aveeno Ultra-Calming Hydrating Gel contains very low risk ingredients, so it is safe for daily usage.
6. Garnier SkinActive Face Wash with Aloe Juice
For a soothing and refreshing face wash, try SkinActive by Garnier. Its contents primarily consist of juice derived from the leaf of aloe plants.
If you've ever been sunburned, you know what aloe does to your skin, it has a refreshing, and cooling sensation that can relieve damaged skin. 
Garnier SkinActive's formula contains 96% naturally derived ingredients like emollients, lubricants, conditioners, and leaf extracts, creating a face wash that is perfect for sensitive to dry skin.
Using Garnier SkinActive is easy, just wet your face and gently massage the cleanser into your skin.  Rinse with water and pat dry.
7. L'Oréal Paris Age Perfect Nourishing Cream Face Wash
If you suffer from some seriously dry skin, then you may want to give L'Oréal's Age Perfect Nourishing Cream Face Wash a shot. Comprised of compounds naturally occurring in coconuts, this face wash acts as both a cleanser and a cream simultaneously.
Coconut oil has long been hailed as a skin savior, among its many other health and beauty purposes. 
Decades of research can back the fact that coconut oil safely and effectively heals and repairs dry, rough, itchy, and scaly skin. 
The use of coconut oil in this formula plays a role in the product's "Age Perfect" attribute to create new skin cells for a more youthful look. 
If you're looking for a cleanser that can both clean and actively hydrate your skin, then try this cream/face wash combination.  
Use L'Oréal's Age Perfect cleanser every morning and evening. 
After dampening your face, lather the cleanser onto your hands and massage onto the skin, rinsing thoroughly after application.
8. Era Organics Natural Moisturizing Face Wash
Using natural ingredients, Era Organics created a face wash designed to target and heal dry or damaged skin as well as skin that is susceptible to acne and breakouts.
While this cleanser is made for all skin types, if you have sensitive or dry skin, this face wash can be your new best friend. 
Era Organics uses vitamin E to heal damaged skin tissue, repair skin cells, and helps strengthen the skin barrier. 
Cehami extract also plays an essential role as a naturally occurring anti-inflammatory agent that has long been used in traditional medicine. 
Aloe vera, as we mentioned before, is also included in Era Organics' ingredient list, providing soothing relief to dry skin. 
The use of honey is also included in order to increase the recovery time of skin cells as well as speeding up the production of collagen for youthful look and feel.
Era Organics Natural Moisturizing Face Wash can be used every day on your face or body.  
With this face wash, you can help restore the natural pH balance for a perfect tone and heal damaged or dry skin.
9. Nivea Daily Essentials Gentle Cleansing Cream Face Wash
Nivea's cleanser, a combination of cream and face wash, harness its patented Hydra IQ moisturizing technology for optimal hydration for your skin.
Hydra IQ consists of glucose and glycerol, two substances that can help penetrate the surface of the skin and continually produce moisture from within the skin's deepest layers. 
This Hydra IQ compound combined with almond oil heals and moisturizes the skin.
Nivea Daily Essentials Gentle Cleansing Cream Face Wash can be applied daily to the face and neck and rinsed with lukewarm water. 
After application, your skin should feel smooth and clean.
10. Paula's Choice Skin Recovery Softening Cream Cleanser
This lubricating and moisturizing cleanser is an ideal choice for sufferers of dry and sensitive skin.
Working as an all-in-one, Paula's Choice softening cream cleanser removes makeup, dirt, and grime, while maintaining, replenishing, and protecting the skin's naturally produced moisture.
Soybean oil provides powerful antioxidants to this cream cleanser, helping to protect skin and promote healing to dry and damaged skin cells. 
Other skin soothing ingredients like chamomile work as anti-inflammatory agents to reduce redness and irritation. 
To use, apply gently, yet vigorously, to your moistened face.  Use a cloth if you are removing heavier makeup. 
After application, rinse well, and enjoy the desired smoothness of your skin.
The More You Know Makes Picking the Right Face Wash Easier
There you have it, our top ten list of best face washes for dry skin. 
When navigating through the overpopulated marketplace of face washes, you'll begin to become more and more familiar with how they work, how the ingredients function together, and how current scientific research can back the advertised effects. 
Knowing what an ingredient is proven to do can help you determine how accurate those popular health-fad claims are, for example, just because an ingredient sounds like a chemical doesn't mean its bad for your skin. 
For those with extremely dry skin, we recommend turning to the products we've listed as both creams and facial cleansers. 
A creamy texture can be more lubricating for extra-dry skin and help lock in the moisture for additional hydration. 
Normal-to-dry skin types can be more forgiving when it comes to cleansers.
Conclusion
Many cleansers that utilize natural ingredients, cleansers that do not foam, or face washes that have no fragrance can be more beneficial to those with sensitive skin, cutting out ingredients that could cause a negative skin reaction.
If you are new to using a facial cleanser, remember to read the full list of ingredients before trying it out. 
And as always, consult your dermatologist if you are unsure.  After all, it's better to be safe than have a bad reaction.