Best Cleanser for Dry Skin: 10 Proven Products That Actually Work
Posted on 11 April 2018 by Maryanne Johnson
Share this post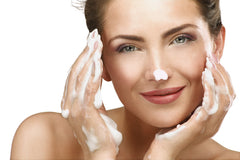 Dry skin is not only annoying but it can also be irritating and painful.  Many of us who suffer from dry skin don't want to use a cleanser that could wipe away any remaining oil that keeps our skin from becoming even tighter and drier.
How to Buy the Right Cleanser for Dry Skin:
In searching for the right cleanser for your dry skin, we recommend turning to products that rely on the use of natural, soothing ingredients.
For the best results with any face wash cleanser, follow the label's instructions. 
We recommend giving whatever product you select a fair shot—try it for a couple days. 
Of course, if the facial cleanser gives your skin irritation or if you have a bad reaction, stop use right away. 
You'll see below a comprised list of ingredients that most likely will make an appearance on your cleansers designed for dry skin. 
Cut out any ingredients that have the potential to further increase dryness, and turn to products that are aimed at balancing the moisture in your skin. 
When in doubt, doing a little research can go a long way, and this guide does just that. 
The Key Ingredients for Cleansing:
Allantoin:  Harvest from the root of the comfrey plant, allantoin is used in many skin care and beauty products as a non-irritant and soothing ingredient.  Allantoin softens skin, leaving  you with a supple and plush feeling.  It stimulates the growth of new skin cells, which is often dubbed as "anti-aging" because of its youthful effects.
Salicylic Acid:  A handy ingredient that produces multiple effects on the skin, such as treating acne and various other skin conditions.  Salicylic acid helps shed dead and useless skin cells to ensure the generation of newer, firmer cells.
Coconut Oil: An oil that many consider to be a jack-of-all-trades, coconut oil is employed in many beauty and skincare products.  Its naturally antibacterial, antifungal, and most importantly for those with dry skin, an excellent moisturizer.
Vitamin E: This vitamin works to fight free radicals, a potential factor in our skin's aging process.  You will find vitamin E on many products that advertise anti-aging, but vitamin E is just as effective for dry skin as it is in reducing wrinkles for a more youthful look and feel.  Vitamin is an antioxidant, protecting the skin barrier against harmful stressors like the sun's damaging UV rays.
Aloe Vera: Many of us know aloe vera very well, especially from awful sunburns.  What do sunburns do? They dry out the skin.  Aloe vera works to rehydrate and encourage the skin to regain normalcy.  It soothes and calms, which is why sunburn sufferers use it and why dry skin cleansers include it in formulas.
Glycolic Acid: Derived from sugarcane and multiple fruits, glycolic acid exfoliates the skin while attracting moisture, making for a long lasting hydrated feel throughout your day.
Urea: An ingredient that is sometimes known as carbamide, urea is often found in mediation to treat dryness and itchiness.  Urea promotes healing of affected skin areas, softening the skin where it is especially dry or rough.
Lactic Acid: Suffer from some seriously dry skin?  Look in product labels for lactic acid.  It both heals and relieves dry skin through daily use, while reducing the appearance of wrinkles and lines.  Lactic acid also plays an important role in managing acne, reducing the occurrence of breakouts.
The Top Ten Face Wash Cleansers for Dry Skin 
1. Garnier Clean + Smoothing Clean Cleanser for Dry Skin
Dry skin sufferers can turn to Garnier's smoothing cleanser as it cleans the skin without drying it out.
Its formula relies on natural ingredients to help the skin regain its moisture and hydration.
Sometimes dry skin occurs when our body stops naturally producing oil, but with Garnier Clean + Smoothing Clean Cleanser for Dry Skin, jojoba oil penetrates the skin's surface layer and encourages moisture production from its deeper layers. 
Macadamia oil also contributes as one of the top ingredients in this cleanser, lightweight oil derived from the macadamia nut that hydrates the skin without making you feel greasy.
This dry skin cleanser produces satisfactory results after one week of daily use. 
Including Garnier Clean + Smoothing Clean Cleanser in your skincare routine will encourage your skin to generate moisture once again and relieve your dry and irritated skin. 
To use, lather onto hands and apply to moistened face by gentle massaging into the skin. 
Rinse well with water while avoiding contact with the eye area.
2. InstaNatural Acne Face Wash with Salicylic Acid 
Acne face washes tend to be kinder to the skin in comparison to other scrubs and cleansers. 
For those with dry skin, InstaNautral's Acne Face Wash can help restore your damaged and flaking skin with its gentle formula. 
Salicylic acid in combination with vitamin E make up the two powerhouse ingredients included in InstaNautral's formula. 
While salicylic acid penetrates pores to combat acne, vitamin E, a nutrient and antioxidant, repairs damaged skin cells. 
Both ingredients have anti-inflammatory properties, so after using this cleanser in your daily skincare routine, you should see a visible reduction in redness and dark spots. 
For best results with InstaNatural Acne Face Wash, use twice a day, morning and at night. 
Apply a small amount and massaging and lathering into your dampened skin. 
After application, rinse well and follow up with a moisturizer for additional hydration for your dry skin.
3. Glossier Milky Jelly Cleanser 
Want to remove makeup but fear the potential irritation for your dry skin? 
Then turn to Glossier's Milky Jelly Cleanser. 
A thick, lubricating daily cleanser, Glossier uses mild cleansing agents and natural extracts to heal damaged skin and remove dirt, grime, and makeup.
How does Glossier's Milky Jelly Cleanser work to relieve your dry skin? 
It contains natural moisturizers like B5, soothing rosewater, and root extracts that possess allantoin, proven to heal dry and damaged skin.
This formula is designed to calm and repair distressed skin without using upsetting or irritating chemicals. 
Glossier Milky Jelly Cleanser is easy to use—just use 1-2 pumps of Glossier into your hands and massage onto your moistened face. 
You can also remove makeup with Glossier by using 2-3 pumps directly on your eye area (don't worry, it's safe to use on and around your eyes) and wiping with a damp cloth.
4. Tree to Tub Real Organic Face Wash for Dry Skin
For the majority of us with dry skin, we also experience extra sensitivity.
The last thing we want for our delicate, flaky skin is a harsh facial cleanser that strips more than it hydrates. 
Fortunately, there's Tree to Tub's Organic Face Wash for Dry Skin.  Using natural ingredients with no harsh chemicals, you can take solace in this gentle cleanser. 
The best part?  Try Tree to Tub for 30 days and if you aren't happy, you'll get your money back.
Utilizing the soapberry from the Sapindus saponaria tree native to the Himalayas, this natural extract has the same pH balance as our skin. 
So, if your skin is off-kilter, a cleanser that uses soapberry can help restore its natural levels. 
Tree to Tub Real Organic Face Wash also employs the use of aloe vera and shea butter, two organic ingredients that have healing properties to repair your damaged and dry skin.
Free from harsh chemicals and other harmful additives, Tree to Tub Real Organic Face Wash is safe to use as a part of your daily skincare routine. 
Just wet your face and massage this organic face cleanser into your skin, then rinse.
5. Toulon Gentle Milk Cleanser for Dry & Sensitive Skin
Don't cause further disruption to your already sensitive and dry skin, instead use a cleanser that has gentle and non-irritating ingredients like buttermilk, witch hazel, vitamins A and D, and aloe vera.
Toulon Gentle Milk Cleanser uses vitamins A and D to quicken the generation of new skin cells for a youthful and healthier look. 
Natural ingredients like witch hazel help relieve the itchiness and discomfort of dry skin with its anti-inflammatory and soothing effects. 
Buttermilk and aloe vera aid in alleviating dry skin by conditioning and hydrating the skin.
Use Toulon Gentle Milk Cleanser like any other facial cleanser, simply massage onto wet skin, rinse with lukewarm water, and gently pat dry.
6. Holy Grail Beauty Calming Chamomile Daily Facial Cleanser for Sensitive Skin
Seek relief from you dry, aggravated skin with Holy Grail's cleanser designed for those with sensitive skin.
Restoring your skin's natural pH balance is possible with this formula's use of chamomile extract, a popular and natural ingredient that also calms the skin with its anti-inflammatory makeup. 
Meanwhile, other ingredients in Holy Grail's formula like olive leaf extract increases blood flow in the skin, allowing for the skin to regain its natural production of moisture. 
Use a dime-sized amount of Holy Grail Calming Chamomile Daily Facial Cleanser and gently rub onto face, neck, and décolletage.
Rinse thoroughly and pat dry with a towel. 
For best results to relieve dry skin, follow up application with an appropriate moisturizer.
7. Clarins Gentle Foaming Cleanser with Shea Butter for Dry/Sensitive Skin
This facial cleanser washes the skin yet protects its sensitive barrier to maintain optimal moisture and hydration, perfect for dry and rough skin. 
Almond cottonseed extract acts as a premium emollient to hydrate and lock in the moisture within the skin cells, conditioning the skin to return it to a smooth and supple feeling. 
Gypsophila, or more commonly known as a flower called "Baby's Breath", also plays an essential role in this cleanser for foaming and cleaning purposes.
After application, Clarins Gentle Foaming Cleanser rinses best with cool or cold water.
8. Eucerin Sensitive Skin Gentle Hydrating Cleanser
This cleanser creates a lather that is moisture rich without any harsh ingredients to further inflame sensitive and dry skin.
Ingredients in this gentle cleanser consist of coconut oil, whose properties have long been hailed as a skin saving component. 
Approved and recommended by dermatologists, using Eucerin Hydrating Cleanser can help retain moisture in your skin, leaving you with a softer, supple feeling.
Generously apply Eucerin to wet skin, massaging it into your skin's surface in slow, clockwise circles.
Eucerin also recommends applying a moisturizer after application of this cleanser for additional hydration.
9. Dove DermaSeries Fragrance-Free Face Wash for Dry Skin
A creamy, non-irritating cleanser, Dove's new DermaSeries face wash can restore your skin from dry and aggravated to healthy and happy.
Dove DermaSeries Face Wash for Dry Skin can improve your skin's health in just 4 washes, and you will notice that your face is visibly less dry. 
Being fragrance-free, Dove DermaSeries excludes any harsh ingredients that could irritate or upset the skin. 
Its formula harnesses mild cleaners and conditioners that have been researched to gentle clean the skin without disrupting its precious barrier, locking in the moisture without the feeling of greasiness.
Apply Dove DermaSeries Face Wash to your wet hands and rub into your skin.  Rinse with lukewarm water and pat dry. 
You skin should feel hydrated and moist after application, and even better with repeated, daily use.
10. First Aid Beauty Face Cleanser
There's nothing worse for dry skin than a cleanser that leaves the skin feeling tighter and drier than before, that's why many sufferers of dry skin turn to First Aid Beauty Face Cleanser.
Leaning on botanical extracts, First Aid Beauty's formula can return skin to its natural pH levels and moisture production. 
Allantoin, a thoroughly researched and studied ingredient that we have discussed before, is used in this product to smooth and protect the skin.  Allantoin also helps stimulate cell production, ending the cycle of dried, dead skin cells in order to regenerate healthy new ones. 
Natural extracts like licorice root, feverfew, and white tea possess anti-inflammatory effects that calm the skin, reducing redness and producing an even skin tone.
Use First Aid Beauty Face Cleanser like any other cleanser—just pour out a dime-sized amount and apply directly to dampened face. 
Wash with lukewarm water and enjoy your newly hydrated skin. 
Results become more prominent with each use.
How to Buy the Right Facial Cleanser for Dry Skin 
Your dry skin is sensitive, so your face wash should be, too. 
Buying the right cleanser for dry, scaly, rough, or irritated skin is hopefully a little easier now that you have read our top 10 selected products, washes that have received raving reviews from recipients with the same skin type as you. 
This is also the reason why we recommend using products with natural ingredients, as they have long been utilized in traditional medicine, and so their effects have been studied and researched. 
Formulas of various facial cleansers will start their ingredient list with most used to least used. 
Your choice of facial cleanser's ingredients should be non-irritating, preferably naturally derived oils and extracts for optimal healing and restoration. 
Natural ingredients with soothing, anti-inflammatory, and moisturizing properties work best for dry skin, bringing the skin back to balanced pH and oil levels.
We know how frustrating it is to be in between facial cleansers, and you don't want to spend money on something that won't work for your skin. 
This is why understanding and researching main ingredients can really assist you in solving your dry skin problems. 
Choosing a cleanser with a limited amount of harsh, complex ingredients, many of which exist solely for creating a foam or for fragrance, should be avoided. 
And if you are left with more questions than answers after reading our comprehensive guide, then talk to your dermatologist. 
There may be some trial and error involved, but we've done most of the legwork for you!