Best Face Wash for Combination Skin: Top Reviews and Guide (2018)
Posted on 11 April 2018 by Maryanne Johnson
Share this post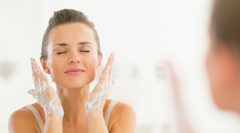 Combination skin can be tricky to treat with facial washes and cleanser. Parts of your face may be oily while other areas may be flaky and dry. 
How to Buy the Right Face Wash for Combination Skin
In order to buy the right cleanser for combination skin, look to the labels.  Labels will indicate what skin type the product is appropriate for, as well as providing a full list of ingredients utilized. 
On your search to find the holy grail of face washes for combination skin, keep these tips in mind:
The first ingredients listed make up the majority of the product's formula
Get a cleanser or face wash that doesn't strip the skin of all of its naturally produced oil
For combination skin, it's best to use a face wash that has a neutral pH balance, as to not upset the delicate production of your face's oil
When in doubt, just Google the ingredients to find out what they do! 
Hopefully, what we lay out here for you will act as a thorough guide on your journey to that perfect face wash. 
We've laid out the top 10 products, raking in high reviews and popularly used, so you don't have to do all of the groundwork.
Best Face Wash Ingredients for Combination Skin
Examining the labels of face wash products can give you insight on what each of them do and what function they serve in restoring your combination skin type. 
You'll eventually find that many of these ingredients and agents are reoccurring, making it easier to understand how a product is put together.
Salicylic Acid: An enemy of acne, salicylic acid sheds dead skin cells to make way for rejuvenated new ones. 
Combination skin tends to be more acne prone because of the excess oil production
Aloe Vera: When reading product labels for face washes that target combination skin, aloe vera will pop up often. 
An excellent natural moisturizer, aloe vera softens the skin without clogging your pores—great news, considering your combination skin may be more prone to acne.
Glycerin:  Widely used in face washes glycerin is a great lubricant that helps moisturize the skin, leaving it smooth and supple. 
Glycerin seals in the moisture, and like aloe vera, leaves the skin without the greasiness but with all the hydration.
Dimethicone: You'll see dimethicone on many product labels advertised for combination skin types. 
Dimethicone is a silicone and is used to condition and protect the skin.
Alpha Hydroxy Acids: Alpha Hydroxy Acids, or sometimes shortened to "AHA", are naturally derived acids from fruits and act as exfoliator to remove dead and damaged skin cells. 
Niacinamide: More commonly known as vitamin B3 and nicotinic acid, niacinamide has proven its effectiveness when it comes to restoring skin health and visibly reducing the appearance of enlarged pores.
Hyaluronic Acid:  This ingredient is used in many face washes because of its ability to hold and retain moisture. 
Over multiple uses, hyaluronic acid can help replenish the skin's ability to produce moisture and hydrate on a regulated basis.
The 10 Best Products for Your Combination Skin
1. Bioré Combination Skin Balancing Cleanser
When it seems like your skin can't make up its mind between oily, dry, and acne prone, then try out Bioré's Combination Skin Balancing Cleanser to get it back on track. In just 2 days, you should see noticeable results in the fading appearance of acne.
What's in Bioré Combination Skin Balancing Cleanser? 
The answer, if you have not already read the label, may surprise you. 
Bioré uses baking soda as a powerful ingredient to help soften the skin. 
And when combined with an emollient, baking soda (sodium bicarbonate) can heal damaged skin, returning it to a proper pH balance. 
Baking soda by itself can be caustic to the skin, but in this recipe, salicylic acid operates with it in union as an anti-inflammatory solution.
Twist the nozzle to open, and then use one pump of foam to apply directly onto your moistened face. 
Follow up with a face cream designed for your combination skin.
2. Mary Kay TimeWise 3-in-1 Cleanser
The mantra of Mary Kay TimeWise 3-in-1 Cleanser is to cleanse, exfoliate, and refresh.
For your combination skin, this cleanser is formulated to remove dead skin cells and regenerate new ones for a youthful look, without stripping your skin of oil or drying it out.
Dermatologist and clinically tested, this is a great option for those with combination skin who also desire a more youthful look.
Using gentle foam inducing ingredients (cetearyl alcohol), skin conditioners (hydrogenated lecithin), and natural ingredients (witch hazel), Mary Kay TimeWise actively increases the production of new skin cells paired with anti-inflammatory properties to calm the skin and reduce redness.
Apply this product to your wet face and neck area. 
You can safely use Mary Kay TimeWise 3-In-1 Cleanser twice per day (mornings and evenings), or just as needed.  Rinse with warm water following application.
3. Paula's Choice Skin Balancing Oil-Reducing Cleanser
The hardest part about finding a cleanser appropriate for combination skin is that you want to relieve some areas of excess oil, but you don't want to dry out areas that are already flaking from lack of moisture.
Paula's Choice Skin Balancing Oil-Reducing Cleanser has a blend perfect for just this very dilemma.
And for an added bonus, it also removes makeup while getting the skin back to a healthy and functional pH balance.
The formula used for this product cleanses (sodium cocoyl isethionate and sodium lauraomphoacetate), enhances texture and hydrates (stearic acid and glycerin), and soothes and replenishes with natural ingredients (sunflower oil and aloe vera extract). 
Paula's Choice is a brand that relies on thorough research and complete transparency in their products, listing out all the ingredients and their functions, so you can feel good about using their cleansers on your skin.
Paula's Choice Skin Balancing Oil-Reducing Cleanser can be applied to wet face, massaging into the skin in small, vigorous, yet gentle circles. 
Rinse well. 
To remove makeup, simply repeat or use with a damp cloth.
4. Cetaphil Daily Facial Cleanser for Normal to Oily Skin
There's a reason why Cetaphil Daily Facial Cleanser has won numerous awards—it works.
Cetaphil is clinically proven to clean your skin without stripping it of its naturally produced oils. 
Cetaphil's Daily Facial Cleanser has been formulated with a mixture of gentle cleansers and conditions in combination with natural derived ingredients like castor oil. 
Castor oil, produced from the castor bean, is widely utilized as a lubricant in various beauty and skincare products, like soaps, waxes, and cleansers. 
Decades of thorough research back the use of castor oil as an effective ingredient in skin health, lubricating and restoring skin hydration. 
Cetaphil Daily Facial Cleanser, like its name suggests, can be used daily.  Its safe, low lather formula cleans the skin without disrupting the delicate pH balance. 
Massage a small amount of Cetaphil onto your face and rinse.
5. Bioderma Sébium Foaming Gel Facial Cleanser
Problems with your combination skin?
Try Bioderma Sébium Foaming Gel. Sebum, produced by your sebaceous glands, is an oily secretion that is meant to build a protective layer for your skin. 
However, too much sebum can leave your face visibly oily, and worse yet, with acne problems. 
Too little sebum and you'll have dry skin. 
Bioderma Sébium Foaming Gel Facial Cleanser works to correct this very issue, regulating the production of sebum with its complex formula.
Zinc sulfate is one of Sébium Foaming Gel's starring ingredients, acting as a skin protectant. 
Zinc oxide is often found in sunscreens and effectively protects skin against harmful UV rays. 
Ginkgo Biloba leaf extract also plays a vital role in this formula, a powerful antioxidant. 
Ginkgo Biloba leaf extract can help reduce inflammation, increase circulation, and promote a more even skin tone.
Use Bidoerma Sébium Foaming Gel Facial Cleanser with water, every day, mornings or evenings. 
Create a lather with your hands and rub onto moist skin, rinsing thoroughly and gently patting your face dry.
6. Beauty by Earth Foaming Face Wash
For a product that relies heavily on pure, natural ingredients, try out Beauty by Earth Foaming Face Wash for your combination skin.
Beauty by Earth utilizes ingredients work in union to deeply cleanse and removes bacteria associated with the growth of acne without causing skin irritation. 
The top listed ingredients in Beauty by Earth Foaming Face Wash are soothing aloe vera leaf juice, coco glucoside, derived from raw materials like coconut oil, corn, and fruit sugars, vegetable glycerin to form a protective layer and lock in moisture, and blueberry extract that shields the skin against free radicals and repair damaged collagen. 
A half pump of foaming cleanser will do the trick, simply pump the cleanser directly onto your hands and apply with your fingertips or a sponge to your face. 
Lather the cleanser by moving in gentle circles. 
Rinse with warm water and follow up afterwards with a toner or moisturizer.
7. pHisoderm pH Anti-Blemish Gel Cleanser
Using a cleanser that can correct your skin's pH levels will restore the balance of oil production, solving your common combination skin problems.
pHisoderm pH Anti-Blemish Gel Cleanser does this by appropriately adjusting the pH levels by reducing oils and impurities. 
pHisoderm employs vitamin E as a main ingredient in many of their products, including pH Anti-Blemish Gel Cleanser. 
Vitamin E contains antioxidants, meaning it can increase the defense of your skin cells, protecting against harmful environmental factors. 
pHisoderm also uses neutral, calming ingredients that focus on maintaining the health of your skin's acid mantle—a protective layer of oily film that keeps out bacteria.
pHisoderm pH Anti-Blemish Gel Cleanser can be used twice a day as a part of your daily skincare routine. 
Apply to wet face and gently work into the skin, following up application with a thorough rinse.
8. Aliza Naturals Amino Acid Foaming Facial Cleanser
Protecting the skin barrier is priority in any good cleanser, and Aliza Naturals Amino Acid Foaming Facial Cleanser does not fall short on doing so, implementing amino acids and natural extracts to heal and restore your combination skin type.
Ingredients like Avena Sativa, or more commonly known as oats, have long been used in traditional medicine with known healing effects, such as providing continued protection and moisture to the skin barrier. 
Aloe vera is also heavily used in this formula, which as we have already talked about, has tremendous healing and soothing properties. 
Antioxidants in citric acid and Portulaca Oleracea extract (a known succulent), defend the skin against harmful bacteria.
Pump Aliza Naturals Foaming Facial Cleanser once of twice into your hands and apply to wet face, rising with lukewarm water.
9. Kaiame Naturals Gentle Facial Cleanser for Women and Men
Moisturize your combination skin with Kaiamae Naturals Gentle Facial Cleanser, with the added benefit of reducing lines and wrinkles.
Using natural ingredients, Kaiame helps to rehydrate your skin without clogging pores.
Kaiame Naturals' working formula contains chamomile, aloe vera, and shea butter for calming the skin and reducing redness, and the power of olive leaf extract to reproduce new collagen for a youthful, firmer look. 
The antioxidants in olive leaf extract also protect the skin against environmental stressors such as harmful UV rays, dirt, and grime. 
Kaiame Naturals Gentle Facial Cleanser exfoliates as well as deeply cleanses your skin, removing dead cells to make way for new growth. 
Use about one pump of Kaiame Naturals twice a day in your daily skincare routine.  Wash with warm water and gently pat dry.
10. Neutrogena Oil-Free Acne Wash with Salicylic Acid
Sometimes, combination skin can be a breeding ground for acne. Bacteria tends to accumulate in areas where oil is more prevalent, but many face washes that treat acne can dry out the skin—not great for those of us with combination skin types. 
Neutrogena Oil-Free Acne Wash with Salicylic Acid is created for those who need and want a clean, acne-free face wash perfectly designed for combination skin.
As you already are well-versed by now, you know that salicylic acid works as an anti-inflammatory and also as cleanser, penetrating deep into the pores to rid the skin of potential acne-inducing bacteria. 
Meanwhile, aloe vera and chamomile extracts calm the skin and also reduce inflammation caused by irritation. 
Use Neutrogena twice a day, using your hands to work the product into a lather.  Apply to wet face and rinse with water.
Let Our List Be Your Guide for the Perfect Face Wash
We hope our top 10 list of face washes for combination skin helps narrow down your search to find that perfect cleanser for your skin type. 
A good cleanser will contain proven and effective ingredients that control the production of oil while still protecting your skin's sensitive barrier. 
Combination skin cleansers should treat the pH levels and oil production of your skin. 
Cleansers should be neutral in their own pH levels because using soaps with high acidity can upset the skin even more. 
You don't want a cleanser that will be too harsh and irritating, otherwise you may strip it of natural oils that are used to protect your skin against bacteria.
So, grab a list of essential ingredients that are considered to be the most helpful when it comes to combination skin and hit the store.   
Follow up any of your selected face washes with a cream or lotion that can also restore balance to your facial oils. 
Reading the labels and using our top ten product guide are helpful tools and tips to find a cleanser that is perfect for you.