Basq Stretch Mark Cream Reviews - What You Need To Hear About Basq Reviews
Posted on 10 July 2017 by Maryanne Johnson
Share this post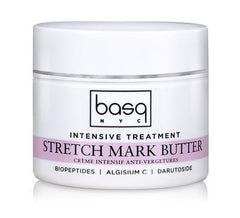 Discover The Truth and Get The Real Basq Stretch Mark Butter Review Here.
The New York City-based company Basq touts three proprietary ingredients as the highlight of its Basq NYC Stretch Mark Butter - biopeptides, darutoside and algisum-C.
The blend is designed to not only help prevent stretch marks, but also repair those that occur when the skin's dermis layer – which is kept strong, flexible and pliable by collagen and elastin protein cells – stretches or tears.
Basq NYC Stretch Mark Cream ingredients
• Darutoside is a blend of two plant extracts, Siegesbeckia orientalis (St. Paul's wort) and centella asiatica (gutu kola). The nutrient-dense extracts work together to help increase the production of new collagen cells for healthier skin while boosting circulation at the skin's surface, speeding the healing process. They also help keep collagen and elastin cells strong, so as surface healing occurs, stretch marks are less visible.
• Biopeptides – amino acids that are the building blocks of protein - are effective because they not only help encourage the production of new collagen cells, one of the dermis layer's two main proteins, they also help keep existing collagen strong, so it is less likely to stretch and tear.
• Algisium-C is a brown algae extract rich in silica, which helps to heal, smooth and improve the appearance of stretch marks. Brown algae is also packed with antioxidants, which help protect the skin proteins collagen and elastin from damage caused by free radicals.
It also contains a wide range of nutrient-dense oils, including:
Hazelnut oil, which is packed with fatty acids and vitamin E.
Almond oil, which offers vitamins E, E and B along with fatty acids.
Grapeseed oil, an antioxidant-rich oil that also offers linoleic acid, a fatty acid that helps strengthen cell membranes, so they are less likely to tear.
Jojoba oil, which helps protect skin cells while offering hydration that penetrates the skin's surface, helping nutrients reach the dermis layer.
Wheat germ oil, which helps promote cell turnover, so healthy skin cells are revealed faster.
Sunflower oil, a vitamin-rich emollient that helps form a protective barrier layer over skin, protecting vulnerable collagen and elastin from toxins such as free radicals.
Sesame oil, a nutrient-dense oil that moisturizes and protects skin cells.
Coconut oil, an oil that does double duty by offering fruit acids that lift surface cells away, revealing healthier skin beneath, while helping to strengthen the connective tissues of the dermis layer.
Rosehip oil, an antioxidant-packed oil that helps restore even skin tone while offering antioxidants to protect collagen and elastin from damage.
Check Out This Basq Stretch Mark Cream Youtube Review
To create a thicker, more nutrient-dense formula, Basq Stretch Mark Butter also contains shea butter, illipe butter and jojoba butter, each packed with vitamins, fatty acids and triglycerides that soak into skin, strengthening the barrier and dermis layers so that collagen and elastin are stronger and new skin proteins cells rejuvenate faster. It also offers vitamin E, a skin-friendly antioxidant that not only brings hydration but also nutrients that help skin become stronger and more elastic.
Is Basq NYC Stretch Mark Cream a Scam?
With celebrity endorsements - "There are tons of belly creams out there, but I've really gravitated toward Basq. It's kept my tummy smooth and tight my whole pregnancy and I'm not left with a greasy mess," said former "Sopranos" actress Jamie-Lynn Sigler on the company's website – it's unlikely that Basq NYC Stretch Mark Cream is a scam.
The company's products have been reviewed by a wide range of credible online sources, and the Stretch Mark Butter contains skin-friendly ingredients that are designed to keep skin strong and supple, two key ways to prevent stretch marks from occurring. Too, most of the ingredients used in the product are born from nature, making them most compatible with skin cells.
And based on the positive reviews, that combination of ingredients appears to be effective.
Does Basq NYC Stretch Mark Butter Work?
Of the users who rated the product on Amazon, 87 percent gave Basq NYC Stretch Mark Butter a rating of four stars and above.
"I swear by this stuff," said one user who went through two pregnancies without developing stretch marks.
Users liked the fluffy texture and the light scent.
Only 11 percent of users gave the cream a rating of three stars or less, and while most complaints centered around the texture and aroma of the product (what is lovely to some is not to others), some said they developed stretch marks despite using the product regularly.
Because stretch marks can be genetic and diet can also be a pivotal factor in determining skin health, those elements could have contributed to the lack of success with the product.
Frequently Asked Questions About Basq NYC Stretch Mark Butter
Where Can I Buy Basq NYC Stretch Mark Cream?
Basq NYC Stretch Mark Butter is available through the company's website as well as at other online outlets including Amazon, Wal-Mart, Jet, Dermstore, Apothecarie New York, Bed, Bath & Beyond, Lucky Vitamin and Overstock.
However, it does not appear to be available at some common retailers, including CVS, Walgreens, Rite Aid and Target.
What is the Price of Basq NYC Stretch Mark Butter?
The standard price of Basq NYC Stretch Mark Butter is $34 for 5.5 ounces on the company's website, but better pricing is available through other online outlets, and coupons can be found online.
Is Basq NYC Stretch Mark Butter Safe for Pregnancy?
We always recommend you consult your doctor prior to using Basq Stretch Mark Cream or any other stretch mark cream. We do not know if Basq NYC Stretch Mark Butter is safe for both pregnancy and for nursing moms. It is free from the following harmful chemicals: parabens, phthalates, mineral oils, sulfates and artificial colors. It is also allergy and irritant free. We still recommend you consult a doctor prior to using Basq NYC Stretch Mark Butter Safe during pregancy.
Basq Stretch Mark Cream Before and After Photos
We were unable to find any before and after photos of the Basq Stretch Mark Cream on the official website. If you find any customer testimonials with before and after photos please let us know.