Shocking Pevonia RS2 Care Cream Review - Discover The Truth About Pevonia Rosacea
Posted on 31 December 2016 by Maryanne Johnson
Share this post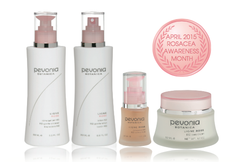 What is Pevonia RS2 Rosacea Cream? Does it work well for rosacea? Pevonia RS2 reviews can be found on the brand website as well as amazon. Rosacea can be a debilitating problem that causes drastic lifestyle changes as sufferers struggle to determine just what – spicy food, hot sun, cold wind, etc. – could be causing their skin's redness and irritation. The condition can be painful, especially when skin flakes or pustules form, so it's no wonder people are willing to spend so many of their hard-earned dollars on products aimed at healing their skin.
Pevonia RS2 Care Cream is aimed at combating rosacea, although at $83.40 for 1.7 ounces, it is on the pricy side of rosacea treatment applications. So, do the ingredients make the price tag worth it? The price is very high. 
Pevonia RS2 Care Cream Ingredients
Pevonia RS2 Care Cream contains green tea extract, which is packed with antioxidants to help protect skin cells, hazelnut oil, which is packed with nutrients but is lightweight so it feels like dry oil when applied, and does not cause clogged pores, and licorice extract, which helps lighten older scars while soothing skin irritation.
It also includes ethylhexyl methoxycinnamate, which is in place to help provide protection from the sun's rays, a moisturizer derived from palm oil that provides natural moisture that's easily absorbed through the skin's surface layer and vitamin E, a skin-friendly moisturizer that also help protect cells from free radicals.
Pevonia RS2 How To Video
Other skin-friendly ingredients include dimethicone, a type of silicone that locks moisture in by creating a barrier layer over the skin's surface, and allantoin, an alpha hydroxy acid derived from the comfrey plant that is used to draw moisture to the skin's surface.
Pevonia For Rosacea. Will It Work? Is it Really Effective?
If you're wondering where to Buy Pevonia RS2 Care Cream, the product is available at its own website, as well as through a variety of online vendors including Walmart.com, Overstock.com, Skinstore.com and more. It is not available at your local pharmacies, such as CVS or Walgreen's.
The Pevonia product line is available in both Canada and the United Kingdom, and prices vary from site to site, so if you do some digging, you may find some better deals including discount coupons.
Pevonia RS2 Care Cream Reviews
While the Pevonia website does not include before and after photographs, it does include reviews from satisfied customers, including one who said called Pevonia RS2 Care Cream, the "best face cream for Rosacea." The product has received an 87 percent approval rating on Amazon, although 13 percent of users gave the product a rating of 3 stars or below.
"I have used Pevonia products for my skin for over 20 years. At age 51, my face has few wrinkles and I am consistently informed I do NOT look my age. I attribute my healthy skin to the consistent use of the Pevonia skin care line. Over the years, I have only used their gentle cleansers and their creams for my face and eyes. The creams go on lightly and do not feel greasy or heavy on your face. I absolutely HATE the feel of heavy makeup or cream on my face. Makes my skin feel like it has been coated in mud and can't breathe. You simply don't get that feel with the Pevonia products. Highly Recommend these products! I developed Rosacea later in life and this product line has helped diminish the redness. Expensive but WORTH EVERY PENNY!"
On the other hand, "For a rosacea cream, this cream definitely doesn't give me sufficient moisturizing. For the price, I expected more of this cream. I have better experiences with less expensive creams. I like the feel and smell of the cream, I like how it feels on my skin, it just doesn't moisturize enough and my red patches have started to return."
Does Pevonia RS2 Cream Work for Rosacea?
Given the reviews, it is likely that Pevonia RS2 is an effective product to treat rosacea. It includes antioxidants, moisturizers and ingredients to calm and soothe away redness, so it is likely to have a positive impact on rosacea. Plus, the 87 percent of Amazon users who liked the product were likely for the most part honest in their reviews.
Is Pevonia RS2 Care Cream Safe?
While most of the ingredients found in Pevonia RS2 Care Cream are natural and gentle, it does contain a fragrance that is commonly included in the line that may not be suitable for those suffering from rosacea. Rose callica flower extract is a fragrance that could prove irritating, especially so to already sensitive skin.
Rosarid Harnesses the Power of Nature If you are looking for a more natural product, Rosarid by Senvie features natural ingredients – aloe, vitamin E, shea butter, avocado oil, mango butter and kiwi - that when used in combination soothe skin and ease the redness and inflammation associated with rosacea.
After looking at a detailed analysis of the pevonia rs2 care cream reviews, which see that the product has lots of potential. However, the downside is that the price of Pevonia is very high. We looked for some coupons and discounts but were unable to find any at the current time. 
The ingredients in Rosarid address the redness, bumps, irritation, dryness, itching and burning, flushing, swelling and visible blood vessels associated with rosacea without causing added irritation to traumatized skin. The formula is lightweight so it won't clog pores and is crafted from a formula featuring natural, organic oils and botanical extracts that are both gentle and effective.