Pregnancy Stretch Marks That Hurt - Why Do They Hurt?
Posted on 22 January 2016 by Ning W
Share this post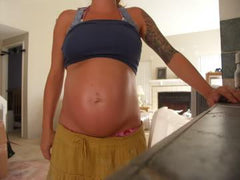 While being pregnant is one of the most rewarding experiences that many women will experience in their lifetimes, the stretch marks that often accompany a pregnancy can not only be unsightly, they can also be painful.
"The past couple of days I have been noticing that they hurt like crazy," wrote one desperate mom to the website babycenter.com.
"They sting and itch, and they are super, super dark, a lot darker than they have been. I can't stand for ANYTHING to touch my stomach because it hurts so badly."
For many women, stretch marks are as much a part of pregnancy as the late-night feedings and diaper changes that come after your little one is born, but the pain can be a surprising part of the process.
Anatomy of a Stretch Mark
Stretch marks occur when your body grows faster than your skin, stretching the elastic fibers under the surface of the skin until they break. (For more information about what causes stretch marks, click here.)
The result is a stretch mark, and although they can go often completely unnoticed, for some moms-to-be, the pain and itching of stretch marks – which usually occur during the sixth and seventh months of pregnancy, when babies have their biggest growth spurts - can be unbearable.
The pain is believed to be caused by slight damage to the nerves of the skin that occurs when the skin stretches and breaks, according to Dr. Chin Lowe of the University of Arizona Medical Center.
In some cases, drinking plenty of fluids can keep skin hydrated, alleviating the pain and itching, but most of the time some kind of topical remedy is the best option to help ease the agony of pregnancy-related stretch marks.
If you gain weight slowly – experts recommend that pregnant women gain no more than 25 to 30 pounds during the duration of their pregnancy – you might develop fewer stretch marks, but given that 90 percent of all pregnancies are accompanied by stretch marks, you will likely still have a few.
Will Weight Loss Help Erase Stretch Marks?
Many moms hope that losing weight after pregnancy will help erase the unsightly stretch marks. Unfortunately, stretch marks are a lasting marker of many a mom, and it will take time for the red or purple marks to fade.
And even more unfortunate, speeding along post-pregnancy weight loss like you're competing with an A-list celebrity with a date to hit the red carpet could just make things worse.
Weight loss, especially speedy weight loss, not only won't reduce existing stretch marks, it can also cause additional stretch marks to form.
Why? According to Dr. David Caruso, a family practitioner in St. Marys, Pennsylvania, who spoke to livestrong.com, when you lose weight too quickly, your body produces hormones that disrupt the production of collagen proteins in your skin, which can result in additional stretch marks.
How to Get Rid of Stretch Marks Fast
So, if speedy weight loss isn't the answer, what can new moms do to help erase unsightly stretch marks on the tummies, breasts, hips, thighs or buttocks and get their confidence back – maybe enough to rock a new bikini at the beach?
While time is a great healer for both emotional pain and unsightly stretch marks, stretch marks are unlikely to disappear completely on their own.
Over time, stretch marks will fade and turn from red or purple to white or silver, but some steps to improve the condition of your skin are required in order to lessen the look of stretch marks.
And if you're looking for fast-as-lightning stretch mark treatments, antioxidants are your best defense – not only those found in the foods you eat, but also those used as part of a topical treatment.
These essential vitamins help fight the free radicals and oxidation that result in damaged skin cells, so skin looks firmer and appears more radiant.
Eat a rainbow of fruits and veggies to ensure that you're taking in a wide range of antioxidants, and choose a topical formula that also includes antioxidants – especially vitamin E and vitamin C – to help boost skin health from the outside in as well.
 Best Stretch Mark Cream in the US
If you're looking for a cream that addresses stretch marks naturally and effectively, Setavan is an excellent option. Setavan is designed to help boost the production of collagen and elastin – the two main proteins that make up healthy skin cells – while speeding cell turnover through the use of natural fruit enzymes found in grapefruit seed extract and orange oil to reveal healthier, better looking skin.
It is packed with natural moisturizers including shea butter, mango butter, cocoa butter, olive oil and jojoba oil as well as antioxidants including a natural form of vitamin E that help speed the healing of skin, improving its texture and reducing the appearance of stretch marks.
It also contains rose hip seed oil, which offers essential fatty acids that help improve the look of skin by increasing the production of new skin cells and encouraging the repair of the damaged, torn tissue associated with stretch marks.
As skin health improves, the look of stretch marks will also improve. The ingredients not only work to moisturize skin, offering essential hydration that plumps up skin cells, it also offers botanicals include aloe vera gel – long used to help ease the pain and itching of burns - that help reduce the redness of stretch marks, safely and effectively.
You can see the results others have experienced before you buy thanks to a series of before-and-after photos, and knowing that the product is produced in the United States under strict guidelines and can help make you feel more secure in your purchase.
Senvie also offers a money-back guarantee for all of its products if you're not satisfied with the results.