10 Best Makeup for Rosacea Products That Actually Work (2018 Update)
Posted on 22 August 2018 by Maryanne Johnson
Share this post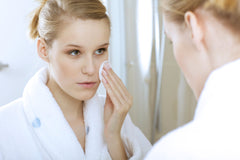 Here are the 10 best makeup for rosacea skin products that you need to consider now! Are you struggling with rosacea and can't stand your red, blotchy complexion?  Flare-ups come and go, and until you find the right product to manage your rosacea, it can be challenging to face the mirror or even step outside.  
 
Rosacea is different for everyone, and each individual has varying reactions to rosacea products, even the ones that are top-rated and seem to work 90% of the time. 
If you are in the position where it doesn't look like any rosacea product is working for you, then you're not alone. 
 
Makeup has become more than a way to enhance your look, but to cover the effects of rosacea.  While there is something to be said about finally finding the perfect rosacea product for your skin, in the meantime, makeup is an excellent temporary solution while you pursue a management and prevention treatment.
 
There are many pre-makeup cleansers, face washes, and lotions you can also implement in your beauty routine to control rosacea, but for now, we focused on just makeup products for rosacea management.
For rosacea, we compiled a list of the top ten makeup products we've discovered.
10 Best Makeup for Rosacea Products
1. Clinique Redness Solutions Makeup:
Leave it to Clinique to excel in just about every facet of beauty needs, and rosacea sufferers can rejoice when they discover this foundation that promises and achieves in covering up redness caused by this pesky skin condition.
 
Clinique's formula utilizes ingredients that are designed to calm the skin with diffusing, anti-inflammatory effects, while also providing 15 SPF protection and an oil-free finish. 
On the pricier side of makeup, Clinique can be bought at around $40 for a one fluid ounce tube. 
You can find Clinique just about anywhere—department stores, at the Clinique store itself, on Amazon, Sephora, and hundreds of other online retailers that sell this brand of makeup.
2. Dermablend Smooth Liquid Foundation Makeup
Dermablend is a brand that prides itself on the idea that their line of products was created alongside dermatologist standards and dermatologist tested. What better policy than this for creating a product to treat rosacea?
Dermablend products aim to address sensitive skin products, which is excellent news for people with rosacea striving to find a calming foundation.
 
People with rosacea tend to have more sensitive skin than the average person, and so Dermablend makes this covering foundation fragrance-free, allergy tested, non-comedogenic. 
Dermablend address skin problems that are a central concern of rosacea, like hyperpigmentation, redness, and an uneven skin tone. 
Dermablend is applied on rosacea skin smoothly, without a cakey, overly made-up look.
You can purchase Dermablend on Amazon
3. Light Medium Veer Cosmetics Liquid Mineral Foundation Makeup by Cork
Cork created this lightweight liquid foundation with rosacea sufferers in mind.  Along with its ability to make rosacea disappear when it's applied, Cork's foundation also eliminates the appearance of wrinkles and fine lines. 
Cork's liquid mineral foundation makeup for rosacea is just under $30 on Amazon.
This product was highly rated on Amazon, receiving over 500 reviews and a solid four out of five stars.  Cork's foundation for rosacea and wrinkles is cruelty-free, vegan-friendly, non-GMO, and gluten-free, hitting all of the right marks. 
A highlight with this brand of rosacea makeup is that if you order the wrong shape for your skin tone, they'll work with you to exchange it at no cost.  Cork also has a 30-day, money-back guarantee.
4. Rimmel Lasting Finish Primer
Maybe you are in search of a step before foundation, or for a product that can help bond your makeup for a longer lasting look. 
Then search no further than Rimmel Lasting Finish Primer, a product designed to do such that. 
Rimmel Primer can be worn by itself for a more natural look with evening out your skin tone, or you can add foundation and cover up overtop this finish for extra coverage.
Rimmel Lasting Finish Primer is just around $5 on Amazon, a low cost for a smooth, finished look. 
This primer works with your skin to minimize the appearance of pores, redness and helps create a smoother, more blended skin tone, all aspects you likely strive for when it comes to treating and covering your rosacea.
5. Bella Pierre Mineral Foundation
This powder makeup excels at neutralizing the effects of rosacea, acne, and eczema, and the best part—it doesn't clog pores.  Bella Pierre Mineral Foundation can be applied with a makeup brush on all areas of the face. 
On Amazon, this foundation mineral makeup was rated 4.5 stars out of 5 and had over 200 reviews from a majority of satisfied customers. 
Positive reviews stated that unlike so many other mineral makeup powders, Bella Pierre Mineral Foundation stayed on the face for several hours, even in humidity and heat.  You can find this makeup on Amazon for $14.
6. ASC Minerals Foundation Loose PowderASC Minerals Foundation
This makeup uses only natural ingredients, free of any harsh chemicals that could irritate the skin and worsen rosacea's reddening effects.  ASC Minerals utilizes loose powder to cling to the skin for the ultimate covering effect. 
It can hide rosacea, scars, severe acne, and a blotchy skin tone with no problem.  This makeup product is comparable to Bare Minerals and Mac Makeup, but only costing you $13.
ASC Minerals gathered a total of 342 reviews and a positive 4 out of 5 stars in its overall ranking on Amazon. 
Users were surprised that this product gave them so much facial coverage for acne, rosacea, and other skin blemishes, and happily commented that ASC Minerals is as useful as brand-name products.
7. Mineral Fusion Pressed Powder Foundation
A favorably reviewed product on Amazon, Mineral Fusion's pressed powder makes for an excellent coverage makeup for fine lines, acne, blemishes, skin irritations, and rosacea. 
It's not advertised as a product that targets problems with rosacea, eczema, or other common skin conditions explicitly, but reviewers attest to its effectiveness in doing so.
Mineral Fusion has raked in 442 customer reviews on Amazon and earned itself a high score of 4.5 out of 5 stars, a near-perfect ranking. 
For just about $20, you could have the solution to your rosacea redness, enlarged capillaries, and blotchy complexion, all with a product that is natural and cruelty-free.
8. Bodyography Foundation Primer
You don't have to worry about this foundation primer being too rough or irritating for your sensitive skin because it uses nourishing ingredients and nutrients in its formula, like vitamin A, vitamin E, and grape seed oil, all of which have proven benefits in healing the skin.
Bodyography Foundation Primer is rated 4.5 stars out of 5 on Amazon with 246 customer reviews, another highly reviewed, highly rated product for $30 on the nose.
9.  Better'n Ur Skin Organic Liquid Foundation
Vegan, cruelty-free, gluten-free, and non-GMO, this foundation has got it all and topped with 4.5 stars out of 5 and 115 customer reviews to support its benefits for those struggling with rosacea and acne scars.
Better'n Ur Skin Organic Liquid Foundation is $25 on Amazon and customers are saying that this liquid foundation is both breathable and excellent at covering up skin blemishes, evening redness to a neutral tone, and even making fine lines dissipate.
10.  Hourglass Veil Mineral Makeup Primer
This handy travel size mineral makeup primer is perfect for repelling water and keeping the rest of your makeup intact throughout the day, no matter what the conditions. 
Perfect for covering rosacea effects, Hourglass' small size packs a punch when it comes to fulltime coverage. 
Available on Amazon for $19, customers revel in its ability to lock in hydration, keep foundation in its place, and prime the face to smooth over rosacea problems.
Makeup techniques are an excellent way to prolong a natural look if you struggle with rosacea. 
Balancing your skin tone for a neutral and natural complexion is difficult and takes practice, especially when rosacea's redness, enlarged capillaries, and spottiness are at play.
Hopefully, you will achieve your ultimate goal of finding a preventative rosacea method in the form of a cleanser or oral medication that can work in managing and controlling flare-ups. 
In the meantime, these top ten products will allow you to regain your confidence over your rosacea issues, and that truly is the best form of control at the end of the day.