Vanicream Gentle Facial Cleanser Review
Posted on 07 September 2023 by Maryanne Johnson
Share this post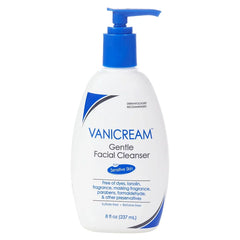 If you're in the market for a cleanser that respects sensitive skin while effectively removing dirt and impurities, you've probably heard of Vanicream Gentle Facial Cleanser.
A standout in the world of hypoallergenic skincare, this cleanser promises to do its job without irritating or drying out your skin. But does it live up to the hype? This comprehensive review will answer your burning questions.
Ingredients and Formula
Vanicream Gentle Facial Cleanser contains a simple but effective set of ingredients. It's free from common irritants like dyes, fragrance, parabens, and sulfates. Instead, it incorporates purified water and gentle surfactants that effectively remove dirt without compromising the skin's natural barrier. The minimalistic ingredient list makes it an ideal option for those with sensitive or allergy-prone skin.
Packaging and Consistency
The cleanser comes in a straightforward white bottle with a pump dispenser, aligning with its no-nonsense, hypoallergenic branding. The consistency is a semi-thick gel that lathers into a creamy foam, providing a satisfying cleanse without the soapy residue.
Performance: First Impressions
From the first use, you'll notice how gentle the cleanser feels. Unlike many other cleansers that can leave the skin feeling tight or dry, Vanicream's formula maintains the skin's natural moisture levels. It efficiently removes everyday dirt, makeup, and even sunscreen, making it versatile enough for both morning and nighttime routines.
Long-Term Effects
After using this cleanser for a month, my skin felt balanced, clear, and free from any irritations or breakout flare-ups. It also seemed to work well in conjunction with other skincare products, making it a harmonious addition to any skincare routine.
For Whom is it Suitable?
This cleanser is perfect for people with sensitive, dry, or allergy-prone skin. It's also a good option for those who prefer cruelty-free and gluten-free products. Dermatologists often recommend this cleanser, further validating its safety and efficacy.
Price Point and Availability
Priced under $10 for an 8oz bottle, this cleanser offers excellent value for money. You can find it at major retailers like Target, Walgreens, and Amazon, making it accessible for virtually anyone.
Pros:
Hypoallergenic and non-comedogenic
Free from common irritants
Affordable
Dermatologist recommended
Suitable for all skin types, particularly sensitive skin
Easily available
Cons:
May be too gentle for those needing aggressive acne treatment
The plain packaging may not appeal to everyone
Some may prefer a cleanser with added active ingredients
The Final Verdict
Vanicream Gentle Facial Cleanser is a straightforward, effective, and sensitive skin-friendly product. Its hypoallergenic formula removes impurities while respecting the skin's natural barrier. While it may lack the glamorous packaging or exotic ingredients that other brands offer, it performs its designated role with stellar efficiency.
Ratings:
Effectiveness: 9/10
Value for Money: 10/10
Packaging: 8/10
Ingredient Safety: 10/10
Overall: 9.2/10
If you have sensitive skin or simply want a cleanser that does its job without causing any fuss, then Vanicream Gentle Facial Cleanser should be at the top of your list. It provides professional-grade cleansing at an affordable price, making it one of the most reliable options on the market. After all, good skincare doesn't have to be complicated; sometimes, simpler is better.