The Power of Rose Hip Seed Oil
Posted on 07 September 2016 by Senada Imsirovic
Share this post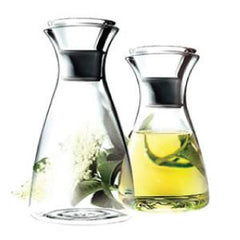 Rose hip oil is one amazing beauty workhorse.
The ancient Egyptians, Mayans and Native Americans all knew the secrets of rose hip oil, but we're sharing it here, because everyone deserves to know about this amazing elixir pressed from the rose hips of the Rosa rubiginosa, a species of rose native to Europe and Western Asia or the Rosa moschata, native to the Himalayas. (The hips are the fruit left behind after the petals fall from a rose.)
While we often can't help from the enemies that attack our skin – UV rays, pollutants and other toxins as well as our addiction to sugar, perhaps – rose hip oil can help mitigate the damage.
Rose Hips Are Nutrient-Dense
Rose hip oil is so effective at giving skin a more youthful flow because it is packed with skin-friendly nutrients, including:
Vitamin E. An antioxidant that not only acts as a moisturizer to hydrate dry skin but also helps sooth inflammation, vitamin E protects skin cells from free radical damage.
The omegas. Rose hip oil is a natural source of the essential fatty acids omega 3, 6 and 9, which go to work helping to repair damaged skin cells and regenerate new ones.
Vitamin C. This antioxidant helps naturally brighten and even skin tone, reducing the look of dark spots associated with sun exposure.
Lycopene. Also found in tomatoes, lycopene is an antioxidant that fights free radicals and helps protect against aging thanks to its ability to block UV rays, protecting skin cells from damage. Lycopene may also inhibit the activity of enzymes that work to break down collagen, one of the two skin proteins that keep skin feeling taut and pliable and looking radiant with a youthful, dewy glow.
Beta-carotene. One of the most skin-friendly antioxidants, beta-carotene converts to vitamin A (retinol) once it is absorbed, and it quickly goes to work to help protect skin cells – especially collagen and elastin proteins – from damage caused by free radicals, slowing signs of aging, including wrinkles and dark spots. Because vitamin A has small molecules, it can penetrate deep beneath the skin's surface, reaching the dermis layer where collagen and elastin make up the bulk of the structure.
A Closer Look
Rosehip oil is so effective because of its chemical makeup.
In addition to the omegas, the oil offers numerous essential fatty acids, including oleic, palmitic, linoleic and gamma linolenic acids, which when absorbed into the skin play a major role in strengthening the cellular membrane. Not only do the fatty acids help cells protect themselves from toxins, they also encourage the regeneration of skin cells for a more youthful glow, according to the Linus Pauling Institute.
Essential fatty acids (EFAs) ensure that cell membranes are fluid and flexible, which allow cells to accept nutrients and expel waste.
Those stronger cell membranes lead to a strengthened barrier layer at the skin's surface, so hydration is locked in and toxins have a more difficult time penetrating skin.
And while obtaining your fatty acids through food provides big skin benefits – including moisture and anti-aging – experts find that topical application is a more effective way to deliver essential fatty acids to the skin. That's because the digestive process leads to oxidation of the majority of the EFAs, while topical application allows skin cells to drink in the big-ticket benefits more quickly and in larger amounts for more visible results.
Researchers at Purdue University studied EFAs and skin and found that fatty acids helped boost the production of collagen, helping skin become firmer and less likely to wrinkle.
Rose hip oil is found in both Senvie's Setavan Intensive Stretch Mark Cream and Senvie's Selevax Intensive Scar Cream, which both use natural ingredients to help treat skin's most embarrassing trouble spots.
For more information or to order either of these botanically-based products, click here.