The Many Benefits of Olive Oil
Posted on 08 September 2016 by Senada Imsirovic
Share this post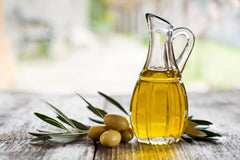 If you have a bottle of olive oil in your kitchen, you might want to stash another one in your powder room as well. Cleopatra likely did, since she used olive oil to keep her skin moist and her hair strong and hydrated.
Because of its beauty-inducing benefits, olive oil is included in both our Senvie Organic Facial Cleanser and Setavan Intensive Stretch Mark Cream.
One of the healthiest vegetable oils available, olive oil – once called "liquid gold" by Homer – is a skin-friendly, lightweight oil, that offers moisture without clogging pores.
But it's the nutrient-dense qualities of this plant oil that makes it so special.
The Nutrients in Olive Oil
Olive oil is packed with myriad good things that benefit the skin both when used in cooking and in topical applications.
The hardest-working nutrients include:
Vitamin E. This moisturizing vitamin not only helps hydrate skin, it also protects it from damage from UV rays. A 2007 study that appeared in the Journal of Pathology found that vitamin E helps fight free radicals and photo aging, a result of skin's exposure to the sun, reducing the toll toxins and UV rays take on skin.
Phytosterols. One of the main reasons skin shows signs of aging is the loss of collagen, which is not only prone to aging itself – collagen production slows as we grow older – but is also a favorite target of free radicals, leading to wrinkles and dark spots. According to a study from a German medical journal, topical application of phytosterols – nutrients found in plants - helped protect against sun damage while encouraging the production of new collagen cells, lifting away those fine lines and dark spots and restoring our youthful glow.
Vitamin A. This skin-friendly antioxidant targets collagen and elastin proteins, and not only helps protect existing cells – leading to more youthful skin – it also encourages the production of new cells, so skin improves over time as surface cells slough off and new cells are revealed.
Squalene. An antioxidant found in olive oil, squalene is believed to help protect the skin from sun damage, including the appearance of melanoma. That could because squalene plays a big role in strengthening the skin's barrier layer, keeping toxins out. Squalene also helps the mitochondria in cells – essentially the energy that causes cell action – to work more efficiently, stimulating the natural production of collagen and elastin.
Vitamin K. This skin-friendly vitamin is believed to help improve skin's structure by boosting production of collagen and elastin. As more collagen and elastin are produced, surface cells turn over faster, revealing healthier skin with fewer visible dark marks, scars or stretch marks.
Hydroxytyrosol. This rare antioxidant, a polyphenol found mostly in olives and olive oil, is one of the most powerful free radical fighters available, with an ability to absorb free radicals that's 15 times higher than green tea and three times higher than CoQ10.
Oleocanthal. This phenolic compound found in olive oil helps keep skin calm, reducing inflammation.
Ellagic acid. This plant-derived polyphenol helps protect skin from the damages of oxidative stress and inhibits the production of an enzyme that triggers collagen breakdown. Both actions help keep skin more elastic and youthful.
For more information about our natural products that fuse science and nature, like Setavan Stretch Mark Cream & our Organic Facial Cleanser, click here.