Tatcha The Water Cream Review
Posted on 06 September 2023 by Maryanne Johnson
Share this post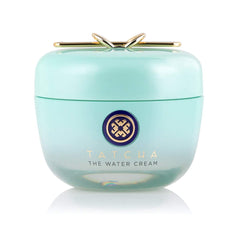 Is Tactha Worth the Hype?
Let's Dive In! Hey There, Skincare Lovers! If you're anything like me, you've probably been scrolling through Instagram and seen influencers raving about Tatcha The Water Cream. It's luxurious, it's hydrating, it's... expensive. But is it worth your hard-earned cash? Let's break down what makes this little jar so magical (or not).
What's the Deal with Tatcha The Water Cream?
First off, this is not your average moisturizer. Tatcha The Water Cream promises to hydrate without making your skin feel like a grease trap. It's formulated for normal to oily skin and even claims to reduce the appearance of pores. Oh, and did I mention it's oil-free?
What's in the Jar?
Japanese Wild Rose: Helps tighten pores
Leopard Lily: Controls excess oil
Hadasei-3: Tatcha's proprietary blend of algae, rice, and green tea So,
What's the Verdict? Does Tatcha The Water Cream Really Work?
Okay, let's get real. Reviews of this stuff are generally super positive. Users rave about how their skin feels "plump and hydrated" after application. However, as with all things in life, your mileage may vary.
Honest Talk
Super hydrating but not greasy
Skin looks radiant and fresh
Some think the high cost is a bit of a stretch for the benefits
Where's the Best Place to Snag a Jar?
So you're sold and you're asking, "Where can I buy this magic in a jar?" Good news! You can find it at high-end stores like Sephora, or even online at Amazon and Tatcha's own website.
Is Tatcha The Water Cream a Scam?
Come on, guys! With the number of positive reviews and Tatcha's reputation, it's hard to believe this product is a scam. But remember, you're forking over about $68 for 1.7 oz. Whether it's worth it or not, is totally up to you.
What's the Damage?
A 1.7 oz jar will set you back around $68. It's definitely on the luxurious side of the skincare spectrum. Is the experience and the hydrating goodness worth that price? That's for you to decide!
Are There Cheaper Alternatives?
Absolutely! If you're not ready to drop that much money, stores like Target and Walgreens offer alternative water-based creams. But keep in mind, not all water creams are created equal.
To Wrap It Up…
Is Tatcha The Water Cream the Holy Grail of moisturizers? Maybe. It's got a bunch of fantastic ingredients and the reviews don't lie. But remember, skincare is a very personal thing. What works wonders for one person might not be the best fit for another. So if you're willing to take the plunge, go ahead! Just make sure you're buying from a legit source like Sephora, Amazon, or Tatcha's own website. And as always, patch-test first or consult with your dermatologist, especially if you've got sensitive skin. There you have it, folks! Whether you decide to invest in Tatcha The Water Cream or search for a more budget-friendly option, happy hydrating! 🌊