Laneige Water Sleeping Mask Review: A Comprehensive Look For Discerning Skincare Enthusiasts
Posted on 06 September 2023 by Maryanne Johnson
Share this post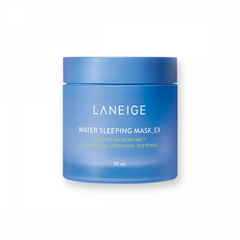 When it comes to achieving radiant, hydrated skin, overnight masks have gained significant traction. Among them, Laneige Water Sleeping Mask has been hailed as a go-to product. But what makes it special, and is it worth the investment? This review aims to offer an in-depth analysis.
The Premise: What is Laneige Water Sleeping Mask?
Marketed as a revitalizing, hydrating solution, Laneige Water Sleeping Mask promises to work its magic as you sleep. It claims to recharge dehydrated skin and improve its texture, all in a single night.
Highlighted Ingredients:
Hydro Ionized Mineral Water: Infuses moisture deep into the skin
Orange Flower, Rose, and Sandalwood: Provide relaxing and purifying effects
Sleep-Tox™: Laneige's proprietary technology for skin purification
Efficacy: Does Laneige Water Sleeping Mask Live Up to the Hype?
One of the core metrics for assessing any skincare product is its efficacy. Numerous user reviews attest to waking up with smoother, more hydrated skin. Moreover, the product is well-tolerated by most skin types.
Insightful Observations:
Consistently delivers on the hydration promise
Some users find it a bit heavy for extremely oily skin
Fragrance can be strong for those sensitive to scents
Where Can You Find It?
Laneige products, including the Water Sleeping Mask, can be purchased from Laneige's official website, Sephora, and various authorized online retailers like Amazon.
Cost Factor: What's the Investment?
Priced around $25 for a 70ml jar, the Laneige Water Sleeping Mask is moderately priced. The mask can last for a reasonable duration if used as recommended, making it a valuable addition to your skincare routine.
Comparable Options: Are There Alternatives?
If the Laneige Water Sleeping Mask doesn't suit your preferences or budget, alternatives exist in drugstores like Walgreens or Target. However, not all overnight masks offer the same level of quality or ingredients.
Conclusion: Our Verdict
The Laneige Water Sleeping Mask emerges as a strong contender in the realm of overnight hydration solutions. Its price point, coupled with its proven efficacy, makes it a viable investment for those seeking to enhance their skincare regimen. As always, it is advisable to consult a dermatologist before incorporating new skincare products.
Ensure you are purchasing from authorized dealers to get the authentic product. In a market flooded with options, Laneige Water Sleeping Mask holds its own, delivering on its promise of reinvigorated, hydrated skin.