Puriya Mother of All Creams Reviews - Does It Really Work Or Is It a Scam?
Posted on 30 January 2017 by Maryanne Johnson
Share this post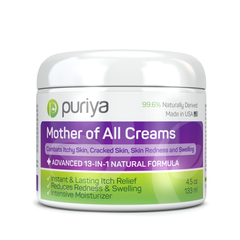 Does Puriya Mother of all Creams really work or is the product a scam?
One of the headline products from the Puriya line, Puriya Mother of All Creams is marketed for use with a wide range of dermatological woes, including eczema, psoriasis, rosacea, dermatitis, shingles and rashes.
Puriya works well, but can be harsh for some, which is why we recommend
RosaRid
, an organic solution to rosacea and psoriasis and eczema.
RosaRid contains 15 organic ingredients specifically formulated to fight rosacea and other skin ailments.
Our Organic Option For Rosacea & Eczema - RosaRid
Puriya is a family-owned company with a line that focuses on products fusing science and nature, manufactured with natural botanicals based on the latest cutting-edge research. Other items in the line include Scalp Therapy Shampoo with tea tree oil; Ultra Relief Cream, a topical treatment for body aches; Wonder Balm, an antibacterial treatment for fungus, athlete's foot and other stubborn skin infections; and Breathe Easy Balm, to relieve congestion.
Puriya Mother of All Creams Ingredients
In addition to a wide range of antioxidant-rich moisturizers including shea butter, avocado oil, jojoba oil and safflower oil, Puriya Mother of All Creams also includes a blend of soothing essential oils – lavender, chamomile, peppermint and tangerine (packed with the skin-friendly antioxidant vitamin C) – and amaranth oil, the best source of squalene, an anti-inflammatory nutrient that also helps enhance cell growth by boosting mitochondria, which provides the energy cells need to function.
It also contains rosemary essential oil, which has antibacterial properties that can help naturally protect skin from toxins that could contribute to or exacerbate skin conditions, and aloe, which can help ease the pain associated with skin conditions – there was a reason why your grandmother had an aloe plant in the kitchen to use on burns – and honey for an added boost of moisture that helps strengthen the skin's barrier layer, allowing healing to take place beneath.
Is Puriya Mother of All Creams Safe?
While all the ingredients in Puriya Mother of All Creams are safe and effective, the formula contains vitamin A (retinol), as well as glycol and citric acid, all of which essentially provide the same skin benefits.
Retinol and glycol both help slough away dead surface skin cells while encouraging the production of new collagen and elastin cells, so skin is revitalized. Citric acid also encourages the production of collagen, so the dermis layer of skin, where healing occurs, is strengthened.
Because both retinol and citric acid work to slough away surface cells, some experts say they shouldn't be mixed because there is a chance that the one-two punch can cause dry, flaking skin.
The mix of moisturizers Puriya Mother of All Creams contains, however, should allow the retinol and vitamin C to offer benefits without zapping skin of essential hydration.
Puriya Mother of All Creams Reviews
Puriya Mother of All Creams has an 85 percent approval rating on Amazon.com, with only 15 percent of users giving the product three stars or less. The Puriya reviews we found were generally very good, indicating the product works.
For those who purchased Puriya cream for eczema, reviews were favorable.
"I applied this to the patch of eczema on my hand … [and] the burning, dry sensation that I have been feeling was immediately gone," said one user, while another saw results within two days of use.
Does Puriya Cream Work for Rosacea?
While most of the product's reviews on Amazon.com were focused on eczema, those who purchased it for rosacea said Puriya's formula provided relief from the redness and bumps associated with rosacea, a condition that can be triggered by cold weather, hot weather, spicy food, wind, sun exposure or stress, among other things, making it extremely difficult to treat. So it looks like the Puriya reviews for rosacea were pretty good too.
"From the minute I put this cream on, I began to feel relief," wrote one reviewer, who added that within several hours she began noticing a significant reduction in redness. "By the next morning my skin was so much better I almost wanted to cry!"
Others, however, said the product exacerbated their rosacea, especially so the itching and burning that is one of the worst symptoms of the skin disorder.
"Even after washing my face I couldn't get it to stop burning," said one one-star review.
The company manufacturers said that the product was not likely to help control certain symptoms associated with rosacea, including breakouts, bumps, pimples, enlarged pores or thick skin.
Where to Buy Puriya Mother of All Creams
Puriya mother of all creams is available for purchase on the official website and at Amazon. Currently, it is not available in stores in the USA. We checked to see if puriya was available in Target, Walgreens, CVS, Walmart, Costco, Sams Club, Rite-Aid and Kroger. We saw that it was avaialble at Walgreens online, but didn't see any in stores The best place to buy Puriya mother of all creams is Amazon.
Is Puriya Mother of all Creams Available Internationally?
Puriya Mother of all Creams is not available for purchase in the United Kingdom, France, Germany, Spain, or Italy.
However, it is available for purchase in Canada at Amazon Canada. 
I
s Rosarid a better option for Rosacea Than Puriya?
For those of you looking for an organic rosacea cream which does not contain harsh chemicals like Retinol, Roasrid is the best option for your skin.  Filled with potent botanicals and moisturizers, Rosarid is one of the highest reviewed rosacea creams on Amazon. Unlike other rosacea creams, Rosarid is even backed by whopping 120-day no-hassle guarantee. Now that's what I call buying with confidence.
Where to Buy Puriya Mother of All Creams
Puriya is available on the product's website as well as through Amazon.com, eBay.com and other online retailers for $27.97 for a four-ounce container. Those who purchase the product through the Puriya website are eligible for a discount.
Those who aren't satisfied with the product can get a 100-percent refund on their purchase.
Can I Buy Puriya Mother of All Creams in the UK?
Because Amazon.com ships internationally, Puriya cream is available in the United Kingdom.
Other Natural Rosacea Creams and Products
This is a puriya review youtube video
Is There a Better Option Than Puriya Mother of All Creams?
While Puriya Mother of All Creams is targeted toward rosacea as well as other skin problems, Senvie's Rosarid includes a mix of ingredients that are specifically targeted to fight all types of rosacea and work in synergy to ease the symptoms of redness and inflammation as well as the itching, pain and burning often associated with the condition.
In addition to moisturizers including shea and mango butters as well as olive, sunflower and avocado oils, it contains kiwi root to help gently slough away surface cells with the power of natural fruit enzymes, antioxidants including vitamin E, and the medicinal herb sophor flaveescens, which helps ease inflammation.
RosaRid also includes aloe and grapeseed oil, which offers moisture, antioxidants and inflammation-fighting properties while also encouraging the production of healthy new skin cells. RosaRid is our pick and a great natural alternative to Puriya Mother of All Creams. Plus, all RosaRid orders come with a full 90 day money back guarantee so you can get the results risk-free. Click here to buy more