Acetyl Organics Rosacea Serum Reviews - Discover the Shocking Truth About Acetyl Organics
Posted on 31 January 2017 by Maryanne Johnson
Share this post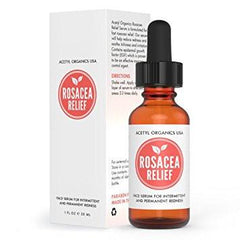 Does Acetyl Organics really work? How good are most of the Acetyl Organics reviews? For the 16 million Americans suffering from rosacea, finding a product that helps alleviate symptoms is absolutely a priority. While prescription-strength solutions are available, some rosacea sufferers would prefer a natural solution.
Acetyl Organics Rosacea Relief Serum is one of those products. Perhaps the most important ingredient in Acetyl Organics Rosacea Relief Serum is epidermal growth factor (EGF), a human protein with 53 amino acids that works to stimulate cell growth, speeding skin's ability to heal. While we all produce EGF, as we age, we produce less as we age, resulting in slower cell growth. In studies, EGF has been shown to work the most effectively when teamed with antioxidants that help fight against oxidative stress and free radicals. We'll give you a full Acetyl Organic Review so you can decide if this rosacea fighting product is right for you.
Acetyl Organics Rosacea Relief Serum has added glutathione, a plant-based antioxidant that helps fight free radicals that damage the proteins of the skin, especially collagen and elastin, which make up the dermis layer, as well as other nutrients with antioxidant properties.
Acetyl Organics Rosacea Serum Ingredients
While at first glance the ingredient list for Acetyl Organics Rosacea Serum might seem intimidating, it contains a variety of natural ingredients designed to help fight the worst symptoms of rosacea.
Those ingredients include: Sea kelp bioferment, fermented algae that can penetrate the surface layer of skin, providing hydration to the dermis layer where healing occurs; Peptides to help strengthen amino acids associated with blood vessel health, so vessels become more elastic, and broken capillaries that can contribute to redness are less likely to occur; Catalase and superoxide dismutase, both enzymes that protect cells from oxidative stress and help boost the effects of EGF; Pomegranate extract to help fight inflammation and boost cell regeneration; Green tea extract, a powerful antioxidant that also may offer protection from sun exposure; Glutathione, an antioxidant that helps protect skin proteins from free radical activity, important because collagen and elastin are particularly vulnerable to damage from free radicals; and Hyaluronic acid, which helps strengthen the connective tissues between skin cells, creating a stronger dermis layer.
Acetyl Organics Rosacea Relief Serum Reviews
While some sites on the web question the effectiveness of any of the products in the Acetyl Organics collection (Fakespot.com submitted Acetyl Organics reviews, and gave most of the products in the line and F rating, although the Rosacea Relief Serum scored a D rating), users of the product were more receptive.
Most of the acetyl organics rosacea serum reviews were good. 
An important note – and perhaps why Fakespot.com gave the company's products F ratings – is the absence of any information on the company's About Us page, which includes instructions on how to create a great page, but no information about Acetyl Organics.
The company's blog page is also empty. The absence of company information aside, the majority of users on Amazon.com gave the company's Rosacea Relief Serum – similar to other products including Dermaced Redness Redux - a 77 percent approval rating on Amazon.com, with only 27 percent giving it a score of three stars or less.
"I'm only 33, but rosacea started to make my skin look old," said one user who gave the product a five-star review and included before and after photos to show her skin's improvements. "This has definitely made me look youthful again." Others, however, were not as impressed. "Used this product religiously for rosacea and it did nothing at all for me," said one user who gave the product a one-star review.
Does Acetyl Organics Rosacea Relief Serum Work?
Acetyl Organics Rosacea Relief Serum contains EGF, which has been touted as one of the most powerful ingredients for the treatment of rosacea, although green tea extract, which offers potential protection from rosacea outbreaks induced by sun exposure, is the only ingredient in the product that the Australian-based Rosacea Support Group recommends for natural treatment of the skin disorder.
Where can I buy Acetyl Organics Rosacea Relief Serum Online?
Acetyl Organics Rosacea Relief Serum is available through Amazon.com and through the Acetyl Organics website. Is Acetyl Organics Rosacea Relief Serum Safe? According to skin experts Vanessa Rouzeau, PharmD, and Greta Pelegrin, PharmD, who wrote a 2011 post on the website Pharmacy Times, using a moisturizer with ingredients that gently hydrate such as hyaluronic acid is a smart option to help treat the symptoms of rosacea.
EGF and its ability to help encourage skin regeneration was discovered in 1986 by Drs. Stanley Cohen and Rita Levi-Motalcini, who earned a Nobel Prize for their work. Other Natural Rosacea Treatments Given the F rating and the lack of information on the product website, the benefits of Acetyl Organics Rosacea Relief Serum are questionable.
For an all-natural rosacea symptom fighter that is sold by a US-based company, one option is Senvie's Rosarid, which includes a mix of ingredients that are specifically targeted to treat rosacea and work in synergy to ease redness and inflammation as well as the itching, pain and burning often associated with the condition.
In addition to moisturizers including shea and mango butters as well as olive, sunflower and avocado oils, it contains kiwi root to help gently slough away surface cells with the power of natural fruit enzymes, antioxidants including vitamin E, and the medicinal herb sophor flaveescens, which helps ease inflammation. It also includes aloe and grapeseed oil, which offer moisture, antioxidants and inflammation-fighting properties while also encouraging the production of healthy new skin cells.