Mederma vs Cocoa Butter for Stretch Marks - Discover Who The Champion Is!
Posted on 06 July 2017 by Maryanne Johnson
Share this post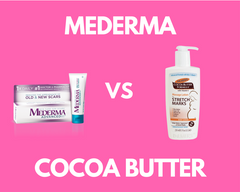 You must read this Mederma vs Cocoa Butter for stretch marks post before you buy a stretch marks product!
If you suffer from stretch marks, there are myriad products on the market that have long been touted as a way to help keep skin supple and help it heal.
Are you looking for am INCREDIBLE SCAR FIGHTING PRODUCT WITH COCOA BUTTER?
Stretch marks are caused by stretching of the skin – they are often the result of weight gain, loss or pregnancy – and the severity depends on genetics, the type of skin you have and the level of cortisone (a stress hormone that weakens the protein cells collagen and elastin) in your skin.
Given the genetics of stretch marks, are there really any products on the market that can actually help prevent or improve the look of the stretch mark scars?
We are taking a closer look at one big-name brand – its products, its ingredients, the promised benefits, etc. – to determine how it stacks up against cocoa butter, a natural nut butter that has long been touted as an effective treatment for stretch marks.
Mederma Stretch Marks Therapy vs. Cocoa Butter: A head-to-head
Cocoa butter is one of the first suggestions when questions arise over what treatment options work best for stretch marks. The all-natural butter has some stiff competition from myriad products on the market, however. We're comparing cocoa butter, a stretch mark stalwart, with a stretch mark product from Mederma, a company that offers a host of different products that target scars.
Mederma or Cocoa Butter?
Mederma is one of the most well-known scar treatment products on the market thanks to its widespread advertising campaigns.
The company's Mederma Stretch Marks Therapy contains the following active ingredients:
Cepalin. This proprietary botanical extract features two key compounds, allium cepa, an onion extract that has an impact on collagen production and helps reduce inflammation that can cause redness, and aloe, which offers moisture that penetrates beneath the skin's surface, along with antioxidants that help repair damaged collagen and elastin while promoting the healthy growth of new cells.
Hyaluronic acid. Hyaluronic acid is a skin-friendly substance that helps skin retain healthy collagen levels, boost moisture levels and improve the elasticity and flexibility of skin. "Studies have shown that creams containing … hyaluronic acid can help prevent the formation of striae," said dermatologist Dr. Kiran Lohia in an online blog post.
Centella asiatica plant extract. Also known as gotu kola, this botanical has been shown in studies to help improve the look of stretch marks, and a story about its effectiveness even turned up in Forbes magazine. The extract is packed with amino acids, beta carotene, fatty acids, and phytochemicals that help stimulate the growth of new collagen, ease inflammation and improve circulation to send nutrients to the skin's surface faster.
Mederma Reviews or Cocoa Butter Reviews?
Mederma is free from parabens, and in a company study, 76 percent of users saw a reduction in the appearance of their stretch marks within 12 weeks.
On Amazon, however – where some users posted before and after photos - only 58 percent of users rated Mederma Stretch Marks Therapy favorably, giving it a rating of four stars and above.
Of the 42 percent of users who did not see success with the product, the biggest complaint was the smell, which often prevented users from continuing use.
One five-star user reported that after a year's use, the appearance of "even dark and old stretchmarks" had been significantly improved.
Cocoa Butter or Mederma?
Cocoa butter is a vegetable fat derived from cocoa beans, so it is packed with antioxidants that are especially skin-friendly.
They include the fatty acids oleic acid, palmitic acid, and stearic acid, all of which go to work to fight free radicals that target skin cells, reducing oxidative stress. When free radicals aren't allowed to ravage skin cells, skin is healthier and better able to heal.
With healthier collagen and elastin cells, which make up the dermis layer of skin, stretch marks are not only less likely to occur, but will also heal faster, naturally.
Cocoa butter has also been shown to help boost the skin's barrier layer, offering additional protection from toxins and other irritants, while easing inflammation, so the redness of new stretch marks is likely to face over time.
While cocoa butter is a key ingredient in numerous stretch mark formulas including Palmer's, which is as popular and as widely available as Mederma, there are both positive and negative opinions of cocoa butter as a treatment for stretch marks.
"Traditionally, cocoa butter has been used around the world, but no study has proven that it actually works to prevent those pesky marks," Dr. Lohia said.
To provide a proper comparison, we used Palmers Cocoa Butter Massage Stretch Mark Cream, which in addition to cocoa butter, includes:
Vitamin E. This skin-friendly antioxidant helps protect collagen and elastin from free radical damage while hydrating skin
Argan oil. Argan oil, which has been turning up in hair care products in recent years, is packed with vitamins A and E, both of which offers tremendous skin benefits, as well as antioxidants to protect collagen and elastin skin cells, omega-6 fatty acids to help moisturize skin, and linoleic acid, another fatty acid that helps offer hydration while reducing inflammation.
Almond oil. Almond oil has two big benefits. It not only helps hydrate skin – and penetrates the surface easily, where it can help the dermis layer heal - it also acts as a gentle, natural exfoliator, lifting away the skin's surface cells, revealing the healthier cells beneath.
Shea butter. Shea butter is a great moisturizer that melts on contact with skin, allowing it to penetrate the surface easily. It is also packed with antioxidants to help protect skin from damage.
Collagen. Collagen makes up nearly 80 percent of skin, and provides structure and elasticity. It also helps the dermis layer retain moisture that's essential for healing.
Elastin. Elastin is the skin protein that helps skin retain its flexibility, and snap back after stretching.
Palmer's Cocoa Butter Stretch Mark Cream scores slightly higher than Mederma on Amazon, earning an approval rating of 77 percent. Most used it as a preventative for stretch marks during pregnancy and posted successful results.
Of those who did not rate the product as highly, complaints focused largely on the chocolatey aroma.
So, Which Is Better: Mederma or Palmer's Cocoa Butter?
Based solely on reviews, Palmer's would appear to be the better option, but each product is really designed for different reasons.
Mederma Stretch Marks Therapy is effective for helping ease the look of existing stretch marks, while Palmer's Cocoa Butter Stretch Mark Cream is more effective for preventing stretch marks in the first place.
Where Can I Buy Mederma and Cocoa Butter?
Are you looking to purchase Mederma or Cocoa Butter at a great price? Both are available through Amazon, CVS, Walgreens, Rite Aid, Target and Wal-Mart. Check each one prior to ordering as they might have sales going on. If you find any coupons for Mederma or Cocoa Butter please share with us!