Mama Bee Belly Butter Review - Does Mama Bee Belly Butter Really Work?
Posted on 12 July 2017 by Maryanne Johnson
Share this post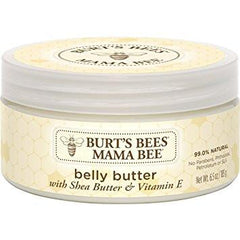 Want to see the full Burt's Bees Mama Bee Belly Butter Review? Check out this post to learn everything you need to know about Mama Bee Belly Butter.
Burt Shavitz founded Burt's Bees with his partner Roxanne Quimby in 1991, after the two met while he was selling honey along the side of a Maine road.
If you are searching for an AMAZING stretch mark cream, try the ultra stretch mark and scar cream from Senvie.
It is available for about half the price of Deux Derme, and not only has an 87 percent approval rating, but also has no ratings below three stars.
The company began with a few products sold to support Shavitz' simple lifestyle, but the founder left the company just three years later, when Quimby moved headquarters to Durham, North Carolina, far from the countryside where Shavitz felt most at home.
Still, the company continues to produce products crafted with natural ingredients using the least processing as possible in order to maintain the purity of those ingredients, each of which offers its own unique benefits to skin health.
One of those products is Burt's Bees Mama Bee Belly Butter, formulated to help prevent and help heal pregnancy-related stretch marks.
Why Does Pregnancy Lead to Stretch Marks? Can 
Burt's Bees Mama Bee Belly Butter Help?
For many women, stretch marks are as much a part of having a baby as diapers and middle-of-the-night feeding schedules.
Stretch marks form when the dermis layer stretches and tears. Because skin stretches so fast during pregnancy, it's important to keep the dermis layer as supple and pliable as possible throughout the pregnancy to prevent or reduce the risk of developing stretch marks.
Rich moisturizers that are able to penetrate the skin's surface, reaching the dermis layer where collagen and elastin are formed, help keep skin pliable, minimizing the risk of developing stretch marks.
Still, gaining too much weight during pregnancy can lead to stretch marks on the belly and breasts – areas that tend to grow the fastest – as well as on the thighs, buttocks and upper arms. Stretch marks often start out as reddish or purple, depending on skin tone, but will fade over time to shades of white or gray.
Because Burt's Bees is dedicated to healthy skin throughout life – they have a new line of baby products including a sunscreen formulated especially for baby's skin – they also have a product dedicated to the prevention of pregnancy-related stretch marks.
Burt's Bees Mama Bee Belly Butter Ingredients
Because it is part of a long line of nature-based products, Burt's Bees Mama Bee Bella Butter is not unlike the other products that are part of Burt's family.
Its ingredients include:
Shea butter. Shea butter is an antioxidant-packed moisturizer that melts on contact with skin, allowing it to penetrate the surface easily, reaching the dermis layer where it can help collagen and elastin strengthen and heal.
Coconut oil. Coconut oil helps fight stretch marks in two ways. First, it offers saturated fat to help strength cells walls. Secondly, it offers antioxidants that fight free radicals, keeping collagen and elastin cells healthy and strong.
Cocoa butter. Cocoa butter contains antioxidants including the fatty acids oleic acid, palmitic acid, and stearic acid. Each target free radicals that can damage collagen and elastin, the skin protein cells that are less likely to tear when strong and healthy.
Jojoba Butter. This natural moisturizer helps stimulate blood flow beneath the skin's surface, so skin cells are not only made stronger, but nutrients reach the site of potential scars more quickly, allowing new collagen and elastin cells to regenerate faster.
Vitamin E. One of the most common scar treatment oils, vitamin E is a powerful antioxidant that not only offers moisture that absorbs easily into skin, allowing it to reach the dermis layer but also improves blood circulation, boosting production of collagen and elastin proteins so scars and stretch marks fade faster.
You should always consult your doctor prior to using any product for pregnancy. For those who are wondering if Burt's Bees Mama Bee Belly Butter is safe for pregnancy, the product contains no harmful ingredients, including phthalates, parabens, petrolatum, or sodium lauryl sulfate, but we still recommend you consult a doctor prior to using.
Does Burt's Bees Mama Bee Belly Butter Work? 
The success of Burt's Bees Mama Bee Belly Butter is up for speculation. The product is a reformulation of a previous product, Burt's Bees Mama Bee Belly Balm, a product that customers loved. This latest formula, not so much.
"The Belly Butter is NOT the same as the Belly Balm! It smells horrible, the texture is like clotted spoiled milk, and it when you go to rub it in, it gets hard and sticky and won't spread. Why did you all change/discontinue the balm? Is the butter cheaper to make, because it seems I paid more for the butter than the balm and it doesn't even work half as well," wrote one impassioned and unhappy customer. "Listen to your customers. We are trying to tell you something. Bring back the Balm."
Still, the product has an 81 percent success rating on Amazon, with the majority of consumers giving the product four or five stars.
Here is a really cool youtube review of the Mama Bee Belly Butter:
Of those who did not give favorable reviews, however, the reason was the change in formula.
Is Burt's Bees Mama Bee Belly Butter a Scam?
While the product contains natural ingredients that are formulated to help strengthen skin and make it more pliable, many consumers are genuinely unhappy with the new formula.
While the Belly Butter is not a scam, based on the reviews, the company might be wise to listen to formerly loyal customers and bring back the Balm to the Burt's Bees lineup.
Where Can I Buy Burt's Bees Mama Bee Belly Butter?
Burt's Bees products are available at superstores, grocery stores and a wide range of online markets, including Amazon, CVS, Walgreens, Rite Aid, Target and Wal-Mart. It can also be purchased from Canada online as well. 
It is also available through the Burt's Bees website, so check that out too.
Prices range from about $10 to $13, depending on the vendor.
Alternative Stretch Mark Treatment Options
If you are looking for a product that offers a smoother application than Burt's Bees Mama Bee Belly Butter because you preferred the balm, Senvie's Senvie's Potent Scar & Stretch Marks Cream could be a great replacement.
It includes a wide range of antioxidants to help strengthen skin cells and lighten the redness associated with stretch marks as well as moisturizers to keep skin supple and elastic.