Deux Derme Stretch Mark Cream Reviews - Does Deux Derme Really Work Or Is It a Scam?
Posted on 11 July 2017 by Maryanne Johnson
Share this post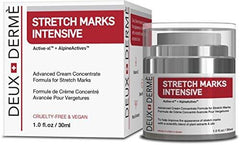 Check out the full Deux Derme Stretch Mark Cream Review here. You'll learn everything you need to know abut the Deux Derme cream by the end of this post!
Are you looking for an amazing stretch mark and scar cream? This potent formula includes Hyaluronic Acid, Vitamin C, Calendula Oil and more. Click here to get more information.
In the world of stretch mark creams, ointments and oils, there are many that promise to erase the damage caused by tears in a weakened dermis layer, but few that actually deliver results.
One product on the market – Deux Derme, which offers both a Stretch Mark Intensive and Stretch Mark Prevention formula, along with a dual pack of both – makes promises that it seems to be able to keep.
Formulated for both men and women – women are most likely to develop stretch marks during pregnancy, while men are more likely to experience them while lifting heavy weights, and both can develop stretch marks with weight gain and loss - Deux Derme uses a mix of botanicals that are targeted to help reduce the look of stretch marks.
Do The Deux Derme Ingredients Work?
Deux Derme Stretch Mark Intensive contains a wide array of all-natural ingredients. Some of the most potent and powerful include:
Aloe Barbadensis Leaf Juice. Not only does aloe offer moisture that helps skin heal and eases redness associated with scarring, it works like fruit acids, and speeds cell turnover at the skin's surface layer, so healthier skin is more quickly revealed.
Shea butter. Shea butter is a great moisturizer that melts on contact with skin, allowing it to penetrate the surface easily. It is also packed with antioxidants to help protect skin from damage.
Coconut oil. Coconut oil helps heal stretch marks in two ways. First, it offers saturated fat to help strength cells walls. It also offers antioxidants that fight free radicals, keeping collagen and elastin cells healthy and strong.
Cocoa butter. Cocoa butter contains antioxidants including the fatty acids oleic acid, palmitic acid, and stearic acid. Each target free radicals that can damage collagen and elastin, the skin protein cells that are less likely to tear when strong and healthy.
Acai fruit oil. Not only does acai oil bring hydration, it is also packed with nutrients including omega-3, -6 and -9 fatty acids to help strengthen skin cells, antioxidants to protect skin cells from damage and vitamin C, a powerful skin-friendly vitamin that helps rejuvenate damaged skin.
Safflower oil. This hydrating oil offers plenty of vitamin E for moisture and cell regeneration as well as omegas for long-lasting hydration.
Babassu oil. This palm oil is rich in lipids, fatty acids and phytosterols that protect skin cells while helping them heal.
Apple seed extract. This fruit extract helps speed cell turnover, so healthy, new skin cells are more rapidly revealed, lessening the look of scars.
The product also includes watermelon fruit extract, rice bran extract, passionflower seed oil, green bean seed extract, kpangnan butter, rosemary extract and resveratrol, one of the most power-packed antioxidants available.
The most important ingredient, however, is dimethicone, a type of silicone that locks in healing ingredients, creating a barrier layer between scar tissue and the outside world. Silicone is considered an industry standard in the treatment of scars.
The formula for Deux Derme Stretch Mark Prevention is similar and includes coconut oil, cocoa butter, watermelon fruit extract, babassu oil, passionflower seed oil, rosemary extract and many of the other botanicals in the Intensive formula.
Some differing ingredients in Deux Derme Prevention include:
Cucumber oil. Cucumber oil helps ease inflammation and offers lightweight hydration that easily penetrates skin, reaching the dermis layer.
Carrot oil. Carrot oil is packed with antioxidants, especially the skin-friendly vitamin A.
Avocado oil. Avocado oil offers high concentrations of skin essential vitamins A, E and D, as well as fats that improve skin elasticity.
Grapeseed oil. Grapeseed oil is packed with antioxidants – it's one of the best antioxidants sources around – and offers lightweight moisture to keep skin supple, pliable and flexible.
Deux Derme Stretch Mark Prevention also includes dimethicone, to lock in moisture – and the healing nutrients that make up the preventative formula.
Is Deux Derme Safe for Pregnancy?
You should always contact your doctor prior to using any cosmetic product and always check the full ingredient list. Deux Derme is specifically formulated without ingredients that are considered high risk for pregnant mothers, however, we still suggest you consult your doctor prior to using. The Deux Derme formula has no parabens, no phthalates, no salicylic acid, no retinoids (believed to be linked to cancer in some studies), no formaldehyde, no hydroquinone, no diethanolamine, no dihydroxyacetone, no benzoyl peroxide and no hyaluronic acid.
Is Deux Derme a Scam?
Because Deux Derme contains silicone, the only ingredient specifically recommended for the treatment of scars, along with a wealth of skin-friendly botanicals from nature, Deux Derme is likely not a scam. Silicone works because it locks in moisture, which is essential to helping skin heal.
The other ingredients are an added bonus to help delicate skin cells regenerate and heal.
That's not to say the product isn't on the costly side.
What is the price of Deux Derme?
The Deux Derme Stretch Marks Intensive costs $49 dollars on Amazon, while Deux Derme Stretch Mark Prevention is $39 on Amazon.  Buying in bulk on the company's website offers some cost savings. Purchasing Deux Derme Stretch Marks Cream is going to put a dent in your pocket. You may want to consider purchasing other stretch mark creams.
The reviews, however, may make Deux Derme totally worth the price.
At the time of writing, 97 percent of users gave the product five stars. Only one user wrote a negative r iew, and gave the product three stars, based solely on price.
Where Can I Buy Deux Derme?
Deux Derme is available on the company's website and through a variety of different online vendors, including Amazon, Walgreens, CVS, Rite Aid and Target.
Alternative Stretch Mark Cream Options
If the price point of Deux Derme is too much for your budget, you might be looking for alternative treatments to help prevent stretch marks and help them heal.
Senvie's Potent Ultra Scar & Stretch Marks Cream Includes a wide range of antioxidants to help lighten the redness associated with stretch marks as well as moisturizers to keep skin supple and elastic.
It is available for about half the price of Deux Derme, and not only has an 87 percent approval rating, but also has no ratings below three stars.