Honeyskin Organics Reviews - Ultimate Face and Body Cream Reviews - Does It Really Work?
Posted on 21 February 2017 by Maryanne Johnson
Share this post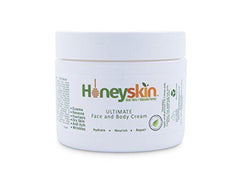 Honeyskin Organics Ultimate Face and Body Cream Reviews. Does Honeyskin organics really work? Where can I Buy Honeyskin Organics at the best price?
Read on to discover more about this cream and Honeyskin Organics Reviews. More importantly, is it better than RosaRid Face and Body Rosacea Cream which has been flying off the shelves (currently out of stock on Amazon)?
Let's compare and see.
Packed with superfoods that feed your skin from the outside in, Honeyskin Organics Ultimate Face and Body Cream is marketed to help ease a variety of skin conditions including rosacea, eczema, psoriasis and other dermatological conditions. Here is a Honey Skin Organics before and after photo.
Honeyskin Organics has a product line that includes shampoo, conditioner, a facial microdermabrasion scrub and an all-over face and body wash, each fortified with Manuka honey.
Manuka honey is special, a nutrient-dense honey made by bees collecting nectar from the native New Zealand Manuka plant.
While all honey has methylglyoxal, a skin-friendly compound that helps control inflammation such as the redness associated with rosacea, Manuka honey has higher levels than other honeys.
RosaRid is an all natural Rosacea fighting cream with over 15 organic ingredients.
This makes it a powerhouse ingredient with antibacterial properties that provides an effective way to reduce the bacteria associated with dermodex mites, which were linked to rosacea symptoms in a 2012 study.
In addition to supporting healthy inflammation and helping to lock in moisture provided by other hydrating ingredients, Manuka honey also helps boost skin regeneration, so surface cells turn over faster, revealing healthier skin.
But Manuka honey – which also acts as an antioxidant, fighting free radicals that target delicate collagen and elastin skin proteins - isn't the only skin-friendly ingredient from nature in the Honeyskin Organics UJltimate Face and Body Cream formula.
It includes shea and cocoa butters, two nut butters that offer luxurious moisture as well as antioxidants, hempseed oil, which helps protect skin from inflammation, making it well suited to target stubborn rosacea, olive and coconut oils, which also offer antioxidant protection from free radical activity, and blue-green algae, which offers proteins rich in amino and fatty acids that work to help protect and rebuild skin's collagen and elastin.
Is Rosarid Face and Body Cream a Better Option?
We think so. There is just not enough scientific studies to support the hype about Manuka Honey. The other option, Rosarid, is a popular face and body cream originally designed to fight rosacea, eczema, and psoriasis. It consists of multiple researched organic ingredients designed to soothe and relieve both pain and inflammation while also delivering nourishment and hydration to the skin. This product is ranked extremely high on Amazon. In fact, it is in such high demand that it is currently out of stock on Amazon.  However, Rosarid is still being offered for sale on its website: click here.
Honey Skin Organics Review Video
Honeyskin Organics Ultimate Face and Body Cream also offers concentrated versions of the three top vitamins for skin health – vitamins A, C and E – as well as plumeria extract, which offers moisture that absorbs easily through the skin's epidermis, melting into the dermis layer below, and protection from UVB rays (UVB rays burn, while UVA rays help speed signs of aging, such as fine lines and wrinkles.)
Honeyskin also includes cehami plant extract, a traditional herb used by Australian Aborigines to help ease inflammation while speeding cell regeneration, so as old cells are naturally exfoliated by the fruit extracts of olive oil, the production of new collagen and elastin cells that are more resistant to inflammation is encouraged.
Honeyskin Organics Ultimate Face and Body Cream also contains aloe, which offers moisture, relief from the itching and burning associated with rosacea, and enzymes that help speed the turnover of skin's surface cells, again revealing healthier skin beneath.
Honeyskin Organics Reviews and Customer Testimonials, Plus Before and After Photos
Honeyskin Organics Ultimate Face and Body Cream has an 83 percent approval rating on Amazon.com, with only 13 percent of users giving the product a rating of three stars or less.
"After two weeks of using Honeyskin daily, my skin is almost completely clear of any signs of rosacea or acne," said one reviewer, who had been suffering from rosacea symptoms for 10 years.
Honeyskin Organics' Manuka honey-based cream was also shown to be an effective treatment for eczema, with one reviewer saying, "It works great on the eczema, but the more I use it … the more I Like it."
Honey Skin Ultimate Face and Body Cream Reviews
According to a Honeyskin Organics rep, the product's benefits increase over time as the ingredients reach the dermis layer, where collagen and elastin are produced and real healing occurs.
Does Honeyskin Organics Ultimate Face Cream Work?
Based on the Manuka honey cream reviews for this product – and the research backing the ingredient list – it would appear that Honeyskin's face and body cream is an effective way to relieve dry skin, reduce the look of dark circles beneath the eyes and ease the symptoms associated with rosacea, including inflammation, redness, itching and burning, breakouts and thickened skin.
Is Honeyskin Organics Ultimate Face and Body Cream Safe To Use For Rosacea?
Honeyskin Organics features some of the most powerful, skin-friendly ingredients available, especially Manuka honey, but the list is born from nature, which should make it a safe option for rosacea and other skin conditions. However, we always recommend you consult a doctor prior to using Honeyskin Organics or any other beauty product.
Can I Buy Honeyskin Organics Online?
Honeyskin Organics products are available through Amazon.com. The company website links back to Amazon as well. Check it out on Amazon.co.uk as well.
Other Natural Rosacea Treatments
While Honeyskin Organics Ultimate Face Cream is targeted toward rosacea as well as other skin problems, Senvie's Rosarid includes a mix of ingredients that are specifically targeted to fight all types of rosacea and work in synergy to ease redness and inflammation as well as the itching, pain and burning often associated with the condition.
In addition to moisturizers including shea and mango butters as well as olive, sunflower and avocado oils, it contains kiwi root to help gently slough away surface cells with the power of natural fruit enzymes, antioxidants including vitamin E, and the medicinal herb sophor flaveescens, which helps ease inflammation.
It also includes aloe and grapeseed oil, which offer moisture, antioxidants and inflammation-fighting properties while also encouraging the production of healthy new skin cells.