Era Organics Rosacea Review - Does Era Organics Really Work for Roscaea Pain?
Posted on 18 August 2018 by Maryanne Johnson
Share this post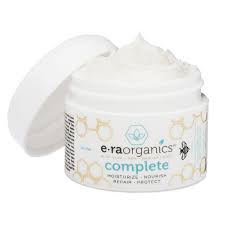 In this Era Organics Rosacea Review, we discuss everything there is to know about this product. We'll discuss if it works, review the science, and help you determine the best product for your rosacea.
Rosacea is a stubborn and frustrating skin condition that many people struggle to get under control.  People with rosacea are always on a hunt to find a product that will calm their skin's redness and unsightly blotchiness, rather than relying on makeup to cover up the problem.
Many rosacea creams contain chemicals that could be harsh on the already sensitive skin.  It can be a challenge to find a product for someone looking for a more natural way to treat this skin condition. 
Consumers with sensitive skin look for products that are organic, specifically USDA Certified Organic, because it holds manufacturing companies to certain expectations for their processes and production.  For users with skin conditions, this means fewer chemicals and therefore, less chance of worsening their skin condition.
Era Organics is a popular skincare and beauty product brand that makes a cream for people with rosacea.  It is highly reviewed and received favorably.  Is this a product that you should get your hopes up about?
Era Organics Rosacea Cream Ingredients
The ingredients used in Era Organics Rosacea cream are:
Aloe Vera
Kakadu Plum
Cocoa Seed Butter
Coconut Oil
Chamomile Extract
MSM
Milk Thistle
Vitamin A
Avocado Oil
Phenoxyethanol
Manihot Esculenta (Tapioca) Starch
Carbomer
Sodium Hydroxide
Titanium Dioxide
Era Organics is a brand that strives to produce and manufacture skincare products that employ the use of entirely natural and organic ingredients.  For this rosacea cream in question, it does precisely that, relying on the soothing, skin-repairing ingredients found in nature.
This company's product is also cruelty-free, gluten and paraben-free, and vegan-friendly.  Era Organics also offers money-back, 60-day guarantee.
There is plenty of scientific data to support these ingredients in skincare products, as nearly every ingredient used in the cream has been studied and examined for its effects on the skin.  Aloe, for example, has anti-inflammatory properties that calm the skin, helping to eliminate redness that is caused by rosacea. 
A 2004 trial showed that coconut oil did indeed increase the skin's ability to retain moisture and hydration in conditions like xerosis, which causes intensely scaly and dry skin.  Coconut oil makes up the majority of Era Organics' formula for their rosacea cream.  Era Organics Rosacea Cream advertisement of its strong effect in healing even the driest skin can be attributed to coconut oil.
Another study from 1991 demonstrated that avocado oil has an essential role in collagen production of skin cells, a chemical that is crucial in giving skin a youthful, line-free look.
Era Organics Rosacea Cream Reviews
Amazon has selected this rosacea relieving product as an Amazon's Choice item, referring to its low, fair pricing, speedy shipping time, and satisfied customers.  Era Organics Rosacea Cream received a solidly positive rank on Amazon, with 400 customer reviews to support its overall four stars out of 5 rating.
Users of Era Organics Rosacea Cream praised the product (about 64% of customers rated this product 5 stars, with another 14% ranking it four stars) for being a cost-effective alternative to expensive rosacea creams to solve problems of redness and patchiness.
Reviews with a low rating on this product stated that there was no difference in the condition whatsoever, even with a steady application of the cream for more than one week.  Another low-rating review complained that Era Organics Rosacea Cream did the opposite of what it advertises—it caused the user to feel dry and irritated.
Is Era Organics Safe?
Because Era Organics Rosacea Cream uses a slew of natural ingredients harvested from various plant and flower extract, there could be a high risk of an allergic reaction for some consumers with undiscovered allergies.
The website for this Era Organics product advises that customers test a sample area first, to ensure that they are not unknowingly allergic to one of the ingredients in the formula.  For safety, this should be done with every skincare product you try.
Otherwise, Era Organics is safe and contains no harmful ingredients.  An allergic reaction is a low-risk side effect for the majority of people using this product.
How to Apply Era Organics Rosacea Cream
The label instructions advise cleansing your face or intended area of application before applying the rosacea cream for optimal results.  Then, pat this area dry and use a quarter to a dime-sized amount for application.
Era Organics Rosacea Cream can be applied anywhere on the body that requires extra hydration.  Because it utilizes natural and organic ingredients, it is considered safe to use throughout the day or as needed.
Rub the cream to your troubled areas that are prone to rosacea irritation or spots of your skin that dry, rough, scaly, and need extra moisture. Massage the cream into your skin with your fingers in small but firm circular motions.
Avoid contact with your eyes when using Era Organics Rosacea Cream.  If you do happen to get this cream in your eyes, then wash with warm water immediately and thoroughly.
Era Organics Rosacea Cream has a non-greasy formula, so even you have oily skin, and you can still use this product without fear of clogging your pores and causing acne breakouts.
Where Can I Buy Era Organics Rosacea Cream?
Era Organics Rosacea Cream is available at Amazon for $15.  This rosacea cream can also be found on online retail sites like eBay.  Era Organics has an official website that sells all of their products online, their rosacea cream included.  On their official store, their rosacea cream is priced similarly to that of Amazon.