Earth Mama Angel Baby Body Butter Review - Does it Really Work?
Posted on 28 September 2017 by Maryanne Johnson
Share this post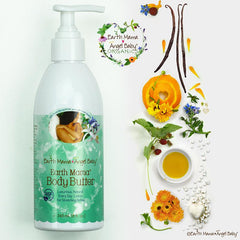 Here is an in-depth review of Earth Mama Angel Baby Body Butter. Earth Mama was founded in 2002 to provide natural, organic products including skin care to mothers as well as babies.
According to the company website, products combine "generations of women's wisdom with traditional plant medicine," fusing the two to create natural, nurturing products for all phases of motherhood.
The collection includes teas, soaps, balms, lotions and Earth Mama Angel Baby Body Butter, which helps maintain skin's elasticity by keeping skin hydrated and supple so it is resistant to stretch marks.
Earth Mama Body Butter Ingredients
Earth Mama Body Butter is packed with natural ingredients harvested from across the globe that work in harmony to strengthen skin so it is less vulnerable to stretch marks.
Stretch marks occur when the dermis layer, made up of collagen, elastin and connective tissue, tears when skin is stretched too far, common with pregnancy, weight gain and weight lifting.
Ensuring that skin stays hydrated is one way to help prevent stretch marks, experts say.
Earth Mama Body Butter includes plenty of natural moisturizers as well as other nutrient-dense ingredients, including:
Sunflower oil. This vitamin-rich emollient helps form a protective barrier layer over the skin's surface, shielding vulnerable collagen and elastin from toxins such as free radicals while helping to seal in nutrients.
Organic aloe leaf juice. Aloe is a powerhouse ingredient that contains hundreds of nutrients, amino acids, vitamins, minerals and enzymes that help ease the inflammation that causes the redness of stretch marks. Aloe also helps regenerate damaged collagen cells, strengthening the skin's structural layer, while providing lightweight, penetrating hydration.
Shea butter. One of earth's best moisturizers, shea butter is packed with fatty acids that help keep skin pliable and elastic, better able to withstand the pressure of stretching. It also offers vitamin A to help speed cell turnover and boost skin's regenerating power.
Organic olive oil. Olive oil not only offers lightweight hydration but also skin-friendly antioxidants that help protect collagen and elastin from free radicals, keeping them strong to resist damage.
Organic sweet orange oil. The vitamin C in orange oil helps create a more even skin tone by lightening dark spots including the redness associated with stretch marks.
Organic calendula flower extract. Calendula is a gentle moisturizer that helps soften the texture of scar tissue, improving the appearance of stretch marks. It also helps reduce inflammation by slowing blood flow to new stretch marks, which protects skin cells from additional damage and reduces the formation of scar tissue.
Oat protein. The lipids in oats mimic those found in human skin, so they help strengthen skin's barrier layer so it can better hold in nutrients and retain moisture, which is essential to preventing stretch marks.
Red raspberry seed oil. Packed with both fatty acids and antioxidants, raspberry oil helps keep skin pliable and resistant to stretch marks. It also has vitamin C, which helps reduce the redness associated with new stretch marks.
Organic rooibos leaf extract. Rooibos, often used in tea, is an anti-aging nutrient packed with antioxidants that help fight free radicals, protecting skin cells from damage.
Organic borage seed oil. Borage contains high levels of the omega-6 fatty acid gamma-linolenic acid (GLA), which encourages the production of collagen and protects against inflammation, making it less likely that scar tissue forms.
Organic vanilla fruit extract. Packed with antioxidants, vanilla not only helps prevent free radical activity, it also calms inflammation, easing the redness associated with stretch marks and preventing the formation of scar tissue.
Jojoba oil. Not only does exotic jojoba offer antioxidant-dense vitamin E, it also creates a natural barrier on the skin's surface, which locks in nutrients in so they can penetrate skin and help skin cells heal.
Neroli oil. Neroli helps regenerate collagen and elastin skin cells, speeding the healing process and reducing the appearance of scars.
Is Earth Mama Body Butter a Scam?
The makers of Earth Mama Angel Baby products feature primarily organic ingredients, so they care about what they include in their formulas.
They also care about what they don't include. Earth Mama Body Butter contains no artificial fragrances, phthalates, or parabens, so it is all-natural and safe for both mother and baby.
The product was named the Best Stretch Mark Cream by Natural Solutions Magazine and has not only been clinically tested, but has also undergone dermatological reviews to prove its efficacy.
Does Earth Mama Body Butter Work?
Earth Mama Body Butter received primarily positive reviews on Amazon.com, where 84 percent of users gave the product a rating of at least four stars.
"I've tried lots of different belly butters/stretch mark creams … and this is my absolute favorite. It is a light lotion that relieves itching effectively and, unlike most stretch mark creams, sinks in very quickly," said one reviewer.
Especially important for many who were using the product as a preventative to keep stretch marks at bay during pregnancy was the aroma, which users said was light and did not exacerbate any morning sickness symptoms.
Interestingly, though, of those who did not rate the product highly, the smell was mentioned most often.
"I hate the smell, and I don't think it does a great job at moisturizing," said one unhappy consumer.
Others also complained about the lightweight formula, which is more lotion than butter.
Is This Scar and Stretch Mark Cream Better Than Earth Mama Body Butter?
Where Can I Buy Earth Mama Body Butter?
Earth Mama Angel Baby products are available at a wide range of retailers including Amazon.com, Walmart, Target, Jet.com and the company's website.