Do Stretch Mark Creams Work?
Posted on 14 June 2016 by Answer Connect
Share this post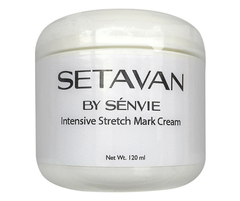 If you've been searching for a solution for existing stretch marks or are hoping to prevent stretch marks with your next pregnancy, you're probably wondering if any of the products you're researching are worth the purchase price.
The truth is, when it comes to effectiveness, some work and some don't.
Some products are on the market just to inspire hope for successful results, but it reality leave you with hope that fades, not your stretch marks.
Products that contain the right mix of ingredients – formulated to work in synergy to help rebuild skin's proteins while easing inflammation and strengthening skin's cells – will give you real, lasting results, and those are the ones you should be considering.
But it's important to do your research first.
Getting It Right the First Time
At Senvie, we have invested a lot of time and energy researching the natural botanicals we include in our skin-care formulas, including our Setavan Stretch Mark Cream.
We understand that stretch marks are a major cause of insecurity that can inhibit your life, and getting help with them can be a top priority for those who suffer from the debilitating marks.
Our formula includes natural moisturizers, antioxidants, vitamins and minerals that get to the source to help skin.
Positive Reviews are Proof
"I give it 5 stars. I have been using it for about a week now and already see a difference.  I have recommended it to my pregnant friends who have stretch marks," said Jenna C.*
"My son had a huge growth spurt when he was 15 years old … [and] was obviously extremely conscious of the stretch marks that appeared from this spurt," said Susan S., who ordered Setavan after trying a host of other products. "We have been using it now for one month and it is brilliant! We can already see a difference and my son is so much more confident. I cannot recommend this product highly enough."*
Success Requires Diligence
No matter what stretch mark cream you choose, if you don't use it, it won't work.
Most dermatologists recommend stretch mark products that use natural oils – olive, jojoba, rose hip, etc., all of which are found in Setavan – massaging them into skin to keep it hydrated and supple.
"During pregnancy, I recommend using natural oils to massage the skin," according to New York City aesthetician Cecelia Wong. "The oils will strengthen and nourish the skin while promoting circulation."