Dermaced Redness Redux Reviews - Does Dermaced Work Or Is It a Scam?
Posted on 27 December 2016 by Maryanne Johnson
Share this post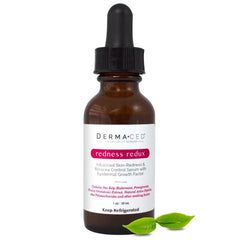 Check out the Dermaced Redness Redux review below to find out if the product really works or if there are better options out there.
Rosacea can be a nightmare for those who suffer from the debilitating skin condition, which can be triggered by a wide range of everyday activities including cold air, exposure to the sun, stress, hot weather, cold weather, spicy foods, indoor heat and exercise, among others.
Is RosaRid Better Than Dermaced?
RosaRid is an all natural rosacea cream made in the USA. RosaRid is amazing at providing real rosacea relief. 
Every jar of RosaRid contains 15 incredible organic ingredients that immediately work to soothe and stop the synpoms of rosacea.
Don't suffer another minute, try RosaRid and see why it is quickly becoming the worlds #1 rosacea cream.
In other words, rosacea can be triggered by everyday life. Experts tell sufferers to avoid triggers, but that – given the vast array of normal things that could be a factor – is almost impossible. There are a wide range of different skin-care products on the market designed to treat rosacea, including Dermaced Redness Redux.
Can Dermaced Ingredients Really Help Fight Rosacea?
The Dermaced Redness Redux ingredients include four elements that are designed to soothe skin while reducing not only the redness, but also the painful pustules that can be associated with rosacea.
To soothe skin, Dermaced Redness Redux contains aloe vera and pomegranate extract, aloe vera for moisture and to help ease redness, and pomegranate for its free-radical fighting power. According to dermatologist and author Dr. Debra Jaliman, pomegranate extract is packed with antioxidants that are as effective as vitamin C in helping boost skin repair, and has been shown in studies to promote regeneration of the skin's surface layer. The formula also includes marine-derived collagen and elastin peptides that closely mimic those found in the human skin.
They can penetrate beneath the skin's surface later to the dermis, where they go to work not only helping to strengthen blood vessels, reducing the amount of breakage that could contribute to rosacea, but also boosting the production of collagen and elastin to help encourage healthy skin.
Dermaced Redness Redux also includes moisture from sea kelp, which is packed with nutrients and has a cellular structure small enough to penetrate the skin's surface layers, reaching the dermis layer where healing is most important.
Finally, Dermaced Redness Redux serum offers the protein Epidermal Growth Factor (EGF) – discovered in 1986 by Dr. Stanley Cohen, who won the Nobel Prize for his discovery. EGF is a protein that helps not only stimulate cell growth, leading to a stronger dermis layer, it also speeds healing, so redness recedes faster.
Where to Buy Dermaced Redness Redux?
Dermaced is available at the product website – where a $10 coupon for purchasing the product on Amazon is included. It is not sold through major pharmacies including CVS and Walgreens. It is also available through eBay and can be purchased by users in both the UK and Canada.
Dermaced Redness Redux Reviews On Amazon
Dermaced has a 45 percent approval rating, with most users giving it a rating of three stars and below. "This didn't work for me at all, really," said one user. "The redness in the cheeks reduced a little after about five weeks, but not significantly. Also, it smells bad." Some users did report success. "I've been using Dermaced for a couple months now and I have seen some major improvements," said one user. "After a week of use I started to notice that my skin was not as flushed. Hands down the best treatment so far." The Dermaced website also has many positive reviews, including one woman who said after three months of use, "my rosacea is barely noticeable. I am really pleased at how well my skin is responding."
Does Dermaced Really Work for Rosacea
According to Dermaced researchers, 94 percent of users saw significant results after using the product for three weeks a day. After the first week, users reported calmer, more nourished skin with a brighter, more even skin tone. After the second week, bumps associated with rosacea had been reduced, as had marks from previous blemishes. By the third week, the majority of users reported less redness, a more even complexion and reduced visibility of blood vessels associated with rosacea. There are before and after photos on the product website.
Is Dermaced Redness Redux Safe?
While on the surface, it would appear that the ingredients in Dermaced are safe, its most highly-touted ingredient, EGF, has been linked to cancer because it impacts the epidermal growth factor receptor, an act that can cause the receptor itself to overproduce, a function that has been linked to several cancers. Whether Dermaced contains enough EGF to impact those receptors remains to be seen.
Rosarid Harnesses the Power of Nature
If you are looking for a more natural product, Rosarid by Senvie features natural ingredients – aloe, vitamin E, shea butter, avocado oil, mango butter and kiwi - that when used in combination soothe skin and ease the redness and inflammation associated with rosacea.
The ingredients in Rosarid address the redness, bumps, irritation, dryness, itching and burning, flushing, swelling and visible blood vessels associated with rosacea without causing added irritation to traumatized skin. The formula is lightweight so it won't clog pores and is crafted from a formula featuring natural, organic oils and botanical extracts that are both gentle and effective.