Castor Oil for Stretch Marks - Can I Use Castor Oil During Pregnancy for Stretch Marks?
Posted on 23 March 2018 by Maryanne Johnson
Share this post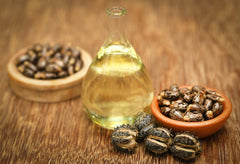 In this post we will share the pros, cons, and benefits of using Castor Oil for Stretch Marks. Plus, we will tell you where to find the best and cheapest Castor Oil.
There are several reasons why someone may use castor oil for stretch marks. But, not all castor oils really work. Here's how you can discover the good castor oil's from the bad. 
When in search for the perfect product, a good starting off point is always reading the reviews. 
Consumers will either praise a product or complain about a product depending on the effectiveness and results.
Castor Oil for Stretch Marks
Castor oil is derived from castor beans.  This oil is pale yellow in color and often used many different products, ranging from soaps, skin care products, perfumes, to even brake fluids and paints and dyes.  
This versatile oil is often used in healing stretch marks.
The Pros of Castor Oil
Effectiveness: Castor oil has proven health benefits, such as encouraging rapid and thicker growth of hair and nails. 
For stretch marks, castor oil contains a beneficial fatty acid called ricinoleic acid, which moisturizes and lubricates the skin.
Castor oil's fatty acid is able to penetrate the skin cells, making even the toughest stretch marks fade. 
Various reviews online for this particular use of stretch mark removal state that the oil did help fade old and new stretch marks. 
Castor oil is also safe for repeated and daily use as it is an all natural vegetable oil. 
Cost: Castor oil is a cost effective method for fading the appearance of stretch marks. 
There are many different sellers online that price a bottle of castor oil for about $15.00. 
If the bottle seems small and not reflective of the cost, this is because a little bit of castor oil goes a long way.
The Cons of Castor Oil
Possible Allergic Reaction: Some negative aspects of using castor oil is the possibility of experiencing an allergic reaction. 
When using castor oil, test it against your skin in a small area first, and wait about 15 minutes. 
If the application of the oil causes itchiness, redness, or discomfort, then stop use immediately. 
Scent: Some reviewers were not fond of the product's scent.  While this varies between different brands of castor oils, it is important to note that pure castor oil can be mixed with other carriers. 
Castor oil can be mixed with other natural ingredients like coconut oil, aloe vera, or even oatmeal to further the healing process of stretch marks.
Senvie Stretch Mark and Scar Cream
Our stretch mark cream is a great alternative to Castor Oil. It contains several proven ingredients for making your skin look and feel amazing. 
These ingredients include Shea Butter, Cocoa Butter, Mango Butter, Rose Hip Seed Oil, and much more.
If you are looking for a great stretch mark cream, click here.
Clarins Stretch Mark Oil
Carlins Stretch Mark Oil is one of the most popular products consumers purchase when stretch mark removal is concerned.  Receiving a total of 75 reviews on Amazon, about 70% of these reviews are 5 stars.  
The Pros
Fragrance: Many reviews comment on the pleasant smelling fragrance of the product, saying that it is good to use after a shower because the smell will last throughout the day. 
Effectiveness: Although this aspect is debated, many of the favorable reviews seem to lean towards this oil being effective in the prevention of stretch marks.  It seems that the reviews that do state this, indicate that these consumers use this product daily over a long period of time.
The Cons
Price: Consumers of Clarins, while liking the product, did indicate that the cost was pricey.  The product runs about $40.00 on Amazon for a 3.4 ounce container.
Effectiveness: Some women who were pregnant at the time of the purchase used Clarins Stretch Mark Oil as a preventative to stretch marks. 
Many of these users still showed signs of a few stretch marks and were unsure if Clarins proved to prevent more of them from occurring or if the product did nothing at all.
This would be hard to tell without a controlled study to test if Clarins actually is effective in the prevention of stretch marks or if these consumers' skin simply did not stretch during their pregnancies.
Palmers Stretch Mark Oil
An alternative oil to Clarins, Palmers seems to be a more popular stretch mark oil, but is it as effective?  
The Pros
Cost:  A much cheaper product in comparison to Clarins.  A 5.1 ounce container is about $10.00 from most sellers on Amazon.
Effectiveness: Palmers received an overall rating of 4.5 stars out of 5, raking in a total of 318 reviews, which is considerably more than its competitor, Clarins. 
However, according to the reviews, emu and Weleda oils pull ahead of both Palmers and Clarins. 
Cons
Stretch Mark Removal: It is hard to decipher the actual benefits this product has in the removal of stretch marks. 
Many of the positive reviews allude to consumers using this product as a moisturizer instead of a method to reduce the appearance of stretch marks.
Emu Stretch Mark Oil
Emu oil, like its name implies, is harvested from a species of bird commonly found in Australia. 
This oil has been used in traditional medicine in Australia, applied to cuts, burns, and other superficial wounds to promote healing.  Emu oil consists of 70% unsaturated fatty acids.
The Pros
Effectiveness: One emu oil product on Amazon received a total of 1,617 reviews, 78% of them were 5 star. 
Many buyers state that they have used this product for years, raving about how this oil heals dry skin and stretch marks.
Cost: With what appears to b a high quality oil with proven benefits in healing stretch marks, the cost is not high for most emu oil products. 
Many emu oil based products are under $20 for a small bottle.
The Cons
Extraction: Many consumers take issue with how emu oil is extracted. 
This oil is derived from emus and the way the oil source is obtained can be questionable when it comes to certain manufactures. 
Make sure the product humanely extracts the oil.
Weleda Stretch Mark Oil 
Another highly rated product available on Amazon, it seems like Weleda Stretch Mark Oil is just as effective as emu oil.
The Pros
Effectiveness: This oil has more reviews than both Palmer and Clarins Stretch Mark Oils, and it appears that its popularity is not without results. 
Many consumers report the drastic lightening and fading of appearance on their stretch marks.
The Cons
Cost: A middle of the road option when it comes to stretch mark removal oils, Weleda is about $15.00 for 3.4 ounces.  It is not the most expensive option but it is certainly not the cheapest, either.
Can I Use Castor Oil During Pregnancy for Stretch Marks?
While Castor Oil is a natural oil, you never know how it will interact with your body. It may also depend on what type of medications you are taking.
That's why we recommend you always consult your doctor before using castor oil for stretch marks when pregnant. 
Castor Oil Conclusion: 
While there are many options out there that advertise the removal of stretch marks, it is important to know that not all stretch marks can be completely removed. 
Many products will merely lighten, fade, or reduce the appearance of stretch marks. 
What Makes the Perfect Stretch Mark Oil?
The perfect stretch mark oil will depend on what credentials you want the product to meet. 
Do you want a stretch mark removal oil with natural products that do not involve the oil of animal based sources? 
What are you willing to spend on a product? 
These are important questions to ask yourself before making a purchase.  
While all the products reviewed have pros and cons, it can also depend on how they will react to your skin. 
Sometimes, a highly reviewed product that works for the majority of users will have a poor reaction to another's skin type, or vice versa. 
A product effective for your use may not work on another person's skin. 
It is about trial and error to find the perfect product, but reading reviews and understanding what ingredients are used in a product is always a good place to start.