Best Stretch Mark Cream of 2018 - Discover The Top Stretch Marks Cream of 2018 Now!
Posted on 10 November 2017 by Maryanne Johnson
Share this post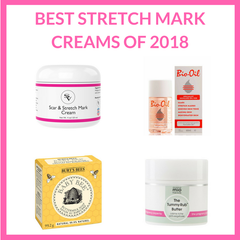 Best Stretch Mark Cream of 2018
Do you want to find the best stretch mark cream of 2018? With so many stretch mark creams out there and fly-by-night products that are made overseas, sometimes it can be confusing finding the right stretch mark cream. But you want the best stretch mark cream,so let's go ahead and dive into the top rated stretch mark cream of 2018. 
1. Senvie Stretch Mark and Scar Cream
The product works great and has gotten rave reviews on Amazon —> Plus, its got a bunch of amazing ingredients like cocoa butter, mango butter, shea butter, vitamin C, hyaluronic acid, jojoba oil, rose hip seed oil, sweet orange oil, olive oil and aloe vera so you get the best results with your stretch marks. What else is great about the Senvie stretch mark and scar cream? It comes with a 90 day money back guarantee so you can try it risk free. Order here through senvie.com or click here to order it on amazon.com.
2. Bio-Oil
This stretch mark product has also gotten a bunch of awesome reviews on Amazon. Bio-Oil's main ingredients is a proprietary ingredient called PurCellin Oil. In addition, Bio-Oil has ingredients like Lavender, Calendula, Rosemary Oil and Chamomile. Plus, it's got antioxidants in it like Vitamin A and Vitamin E. If you are struggling with your stretch marks this is a great product and sits at #2 on our list of the top stretch mark creams of 2018. You can order it here on amazon.com.
3. Burt's Bees Mama Bee
This is the 3rd ranked product on our best stretch mark creams of 2018 list. It comes into 3rd because while it has good ingredients like Shea Butter, Sunflower Oil, Cocoa Butter, Shea Butter, and Jojoba Butter, it contains a bunch of other things we like lactic acid and sucrose polystearate which are not good for you. Still, the product only costs $10 and it has an Amazon star rating of 4.2 stars so people are generally happy with it. You can purchase Burts Bees on Amazon here.
What to look for in the best stretch mark creams of 2018
In order to find the best stretch mark cream of 2018, we will look at the most important things to know when purchasing. You do not want to waste your time and money on a crap stretch mark cream, but how do you know which one is good?
1. Stretch Mark Cream Reviews
In my opinion, this is by far the most important thing to look for when searching for the best stretch mark cream of 2018. The reviews will tell the product story. If the reviews are great then you will know that the stretch mark cream actually works. We always check Amazon stretch mark cream reviews to see if a product is really as good as it says it is.
Often times when you are searching for a product, it looks to good to be true. Make sure you check other sources like Walmart, Amazon, or even target to make sure the stretch mark cream is as good as they say it is. The reviews on these websites will let you know if this product is a good one or a dud, and there are many duds out there.
2. Stretch Mark Cream Ingredients
The stretch mark cream ingredients are so critical! The last thing you want to do if you are looking for a cream is to buy one that has harmful ingredients or chemicals in it. There are so many products out there have awful ingredients in them, some are even top ranked and best selling. You have to do your research when buying a stretch mark cream otherwise you may be putting some very bad things into your body. It's far too often that we see a high selling stretch mark cream with awful ingredients. Avoid this at all costs, do your research so you know what is a good cream or not.

3. Stretch mark Cream Before and After Photos
They say a picture says a thousands, and in this case they couldn't be any closer to the truth. Stretch mark cream before and after photos are a great way to see if people got results with the cream. If you do not see any before and after photos for a specific stretch mark cream, stay away from that product! It's likely it does not work or will not work if you buy it.
The reason why we have this at #3 on our list is because too often product scammy skin care companies will use other companies before and after photos without asking. This is very bad practice but unfortunately many companies do this. That's why its very important to take a look at the reviews on many websites and then also do an in-depth dive into the product ingredients to make sure they are the best.
4. Stretch Mark Cream Company Info
The company information is so important when searching for the top stretch mark cream of 2018. The last thing you want to do is purchase a stretch mark cream from a company that is based overseas in Hong Kong or China. We have had so many customers let us know that they purchased something that looked great online but when they received it looked awful and didn't work. In addition, there are a lot of US companies that provide bad products and service, stay away from them and order from a company that is trustworthy and has awesome products.
How To Discover The Top Rated Stretch Mark Cream of 2018
So how do you know if the company is legit? A simple thing to do is to call the company and see if they answer the phone. If they do answer the phone thats a good sign, but not everything. Next thing ask them a few simple questions about the cream and if they do a good job and answer your questions then thats a great sign. Also, many companies now have Facebook messenger set up on the bottom right of their website. This is also a great way to speak with customer service and ask questions. Just make sure to call as well.
Our Senvie customer care team has 24/7 customer service and the Facebook messenger activated so you can always get in touch with us.
Best Stretch Mark Creams of 2018 Revealed!!!
The top 3 stretch mark removal creams for 2018 are the Senvie Stretch Mark and Scar Cream, Bio-Oil Porcelain, and Burt's Bees Mama Bee Belly Butter. Of course, we recommend the Senvie Scar and Stretch Mark cream first but if you decide to go with one of the others try Bio-Oil first.