Best Skin Lightener of 2017-2018 - Discover the Best and Top Rated Skin Lighteners of 2018
Posted on 12 March 2017 by Maryanne Johnson
Share this post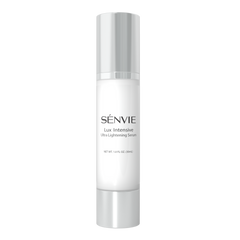 What are the best skin lighteners of 2017-2018? Read on below to find out our top picks for skin lightening in 2018.
One of the first signs of aging is dark spots, which show up when we least expect them, and seem impossible to erase.
There are numerous products on the market designed to target dark spots, lifting them away, but are they effective?
Some, including hydroquinone, have raised safety concerns, leading to searches for safer, more natural product options.
Here, we break down some of the best skin lightening products of 2017.
1. Senvie Lux Intensive Skin Lightening Cream
Senvie's Lux Intensive is packed with nutrients that impact the amino acids that control melanin production, slowing pigmentation so areas of darker skin are gently lightened, and future dark spots are stopped in their tracks.
The all-natural product includes licorice root extract, which contains galbridin, a compound that's been clinically proven to prevent hyperpigmentation by inhibiting the activity of enzymes associated with the skin pigment process, as well as vitamin C, which is an effective antioxidant that fights dark spots that ages skin while encouraging the production of healthy collagen and elastin cells at the dermis layer.
In addition, it features white willow, which lifts away dead surface cells, revealing the younger skin beneath, green tea extract, an antioxidant that helps protect skin from free radicals and sun damage that can contribute to age spots, and vitamin E, an antioxidant that offers moisture at a cellular level, so skin looks younger and more fresh with a brighter, radiant glow.
2.  Madison Whitening Cream Pink
Madison Whitening Cream fights aging in a variety of different ways, including reducing the appearance of dark spots as well as fine lines and wrinkles.
The formula's main skin lightening ingredient is kojic acid, which works gently to lift away age spots by blocking the process that produces melanin, which gives skin its pigment. When paired with hyaluronic acid, a hydrating agent that is able to penetrate the skin's surface layer to it can reach the dermis layer where new skin cells are formed, kojic acid helps stop new melanin in the dermis layer while hyaluronic acid encourages the production of new, healthy collagen and elastin cells.
Pink Madison also includes antioxidants that help fight free radicals along with a trio of natural acids that lift away surface cells, speeding cell regeneration, so brighter, more radiant skin is more quickly revealed, as well as antioxidant-rich moisturizers including shea butter, aloe and jojoba oil to add nutrient-rich hydration. This makes Pink Madison one of the best skin lightening products of 2017.
3. Secretkey Snow White Cream
The secret to Secretkey Snow White Cream is niacinamide, better known as vitamin B3. Niacinamide has been shown in several studies to impact melanin production, reducing existing age spots and helping to prevent future ones. A 2002 study by Japanese researchers (paid for by Procter & Gamble) found that niacinamide was an effective skin lightening compound "that works by inhibiting melanosome transfer from melanocytes to keratinocytes."
In more recent research, this one a 2011 study from the Department of Dermatology at Hospital Central in Mexico's Universidad Autónoma de San Luis Potosí, niacinamide was found to be a safe and effective treatment for dark spots that contribute to signs of aging.
The budget-friendly cream – it is less than $10 through most retailers - has a whipped, lightweight texture and includes the powerful antioxidant glutathione, which works in synergy with niacinamide to fight signs of aging by protecting skin cells from free radical damage, which can often show itself through the appearance of dark spots, fine lines and wrinkles. The price and results make this a top skin lightener of 2017.
4. Pure Body Naturals Skin Whitening Serum
A mix of kojic acid to inhibit melanin production and the antioxidant power of vitamin E makes Pure Body Naturals Skin Whitening Serum a gentle but effective way to lift away dark spots, reducing one of the most common signs of aging.
It also features anise extract and fennel, both of which offer protection from overactive melanin production, along with horseradish, which also offers skin lightening effects to help lift away age spots.
But that's not all this natural formula contains. It also offers plant-based hyaluronic acid for deep moisture, lemon balm and aloe to soothe inflammation and help encourage the production of collagen and elastin cells, and antioxidants to protect new cells from damage caused by free radical activity.
Pure Body Naturals Skin Whitening Serum also includes a mix of glycolic and salicylic acids to slough away dead skin cells, as well as nutrients that help naturally protect from sun damage, so future dark spots are less likely to make an appearance.
5. Whitening Labs Skin Lightening Night Cream
Packed with nutrients including a blend of kojic acid and vitamin C, both of which work in synergy to help lift away dark spots that appear as skin ages or due to exposure to the sun, Whitening Labs Skin Lightening Night Cream works while you sleep, when skin is most receptive to healing.
The all-natural formula also includes hyaluronic acid, which is a plant-based moisturizer that is able to penetrate deep beneath the skin's surface, reaching the dermis layer where it quenches new collagen and elastin cells and encourages the production of new ones, as well as white tea extract, which has been shown in studies to help protect skin from free radical activity as much as its highly-touted green tea cousin.
That means it helps strengthen existing collagen and elastin cells, protecting them from oxidative stress that can be revealed as dark spots.
"Similar to the way oxidation causes a car to rust, oxidative stress of the skin causes a breakdown in cellular strength and function," said Dr. Elma Baron, director of the Skin Study Center at University Hospitals of Cleveland and Case Western Reserve University. Together, the ingredients work to fight off free radicals and brighten skin while you sleep, so you wake up with skin that's brighter as well as more hydrated and youthful.