Basq Intensive Treatment Stretch Mark Butter Reviews And Customer Testimonials!!!
Posted on 27 October 2017 by Maryanne Johnson
Share this post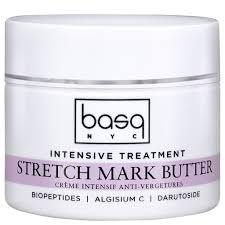 Basq NYC harvests items from the earth and sea for its Basq Intensive Treatment Stretch Mark Butter, a blend of skin-friendly ingredients that are designed to work in synergy to help give skin the strength it needs to stand up to the stretching of pregnancy.
The top three ingredients – the proprietary biopeptides, darutoside and algisum-C - fuse science and nature to improve skin texture so it is more pliable and flexible with a stronger structural base thanks to healthier, stronger skin cells.
Basq NYC Intensive Treatment Stretch Mark Butter Ingredients and Product Information
There are some ingredients that are found in almost every stretch mark topical treatment, but almost none of those are found in Basq's unique formula.
Instead, it contains three innovative botanicals that help strengthen skin's structure by encouraging the production of collagen and elastin cells while helping protect existing cells.
The formula includes:
Darutoside. This blend of two plant extracts, Siegesbeckia orientalis (St. Paul's wort) and centella asiatica (gutu kola), works to help increase the production of new collagen cells for healthier skin and a stronger support structure. When the dermis layer is healthier, stretch marks are less visible because skin is tauter and elastic.
Biopeptides. Made up of amino acids that are the building blocks of proteins, biopeptides help remodel skin by encouraging the production of new collagen cells. They also help strengthen existing collagen.
Algisium-C. This brown alga is rich in silica, which also helps encourage the production of collagen. The alga is also packed with antioxidants, which help protect the skin proteins collagen and elastin from damage caused by free radicals.
Borage seed oil. This additive contains high levels of the omega-6 gamma-linolenic acid (GLA), a fatty acid that encourages the production of collagen while protecting against inflammation, making it less likely that scar tissue forms.
Grapeseed oil. This antioxidant-rich oil has linoleic acid, a fatty acid that helps strengthen cell membranes, so they are less likely to tear.
Coconut oil. Not only does coconut oil have fruit acids that help gently lift away the dead cells on the skin's surface, it also helps strengthen the connective tissues of the dermis layer, creating a stronger, healthier structure.
Rosehip oil. This antioxidant-packed oil helps lighten the dark skin associated with stretch marks while protecting collagen and elastin skin cells from damage.
Sunflower oil. This vitamin-rich emollient helps form a protective barrier layer over skin, protecting vulnerable collagen and elastin from toxins such as free radicals while helping to seal in nutrients.
Jojoba butter. Not only does jojoba bring an extra punch of vitamin E, it also creates a natural barrier on the skin's surface, locking nutrients in so they can penetrate skin and help skin cells heal.
Hazelnut oil. Packed with fatty acids and vitamin E, hazelnut oil helps improve skin's elasticity by adding essential hydration that permeates the surface layer of skin.
Almond oil. Almond oil has two big benefits. It not only helps hydrate skin – it penetrates the skin's barrier layer, going beneath the skin's surface to the dermis layer – it also acts as a natural exfoliator, gently lifting away the skin's dead surface cells to reveal healthier cells beneath.
Wheat germ oil. This nutrient-dense oil helps promote cell turnover, so healthy skin cells are revealed faster.
Sesame oil. This nutrient-dense oil not only moisturizes and protects skin cells, but it also keeps skin pliable and resistant to stretching.
Illipe butter. The addition of this nut butter helps create a thicker formula that penetrates deep beneath the skin's surface, ensuring that skin cells are stronger and rejuvenate faster. Illipe contains saponin, a compound that reduces blood flow – and out-of-control inflammation – at the site of a stretch mark, allowing the healing process to occur without causing too much scar tissue.
Is Basq Intensive Treatment Stretch Mark Butter a Scam?
With celebrity endorsements and two magazine editor seals of approval – both Fit Pregnancy and Parents Expecting endorsed the product - Basq Intensive Treatment Stretch Mark Butter is the real deal.
"There are tons of belly creams out there, but I've really gravitated toward Basq. It's kept my tummy smooth and tight my whole pregnancy and I'm not left with a greasy mess," said former "Sopranos" actress Jamie-Lynn Sigler on the company's website. (Other products are similarly lauded.)
This product fuses science and nature to create a budget-friendly cream that uses the power of plants to help strengthen skin and help it heal.
Basq products are free from parabens, phthalates, mineral oil, sulfates, rosemary oil, clary sage oil, caffeine and artificial colors.
Does Basq NYC Stretch Mark Butter Work?
Of the users who rated the product on Amazon, 88 percent gave Basq NYC Stretch Mark Butter a rating of four stars and above.
"I am currently in my third pregnancy and have used this cream each time. My first two pregnancies I got ZERO stretch marks," said one happy customer, who was genetically predisposed to stretch marks, which were problems for both of her sisters' pregnancies.
Only 12 percent of users gave the cream a rating of three stars or less, and while most complaints centered around the aroma of the product, some said they developed stretch marks despite using Basq butter regularly.
The product's creamy texture received almost universal approval, however.
Where Can I Buy Basq Intensive Treatment Stretch Mark Butter?
Basq Intensive Treatment Stretch Mark Butter is available through the company's website as well as through other online outlets including Amazon, Wal-Mart, Jet, Dermstore, Apothecarie New York, Bed, Bath & Beyond, Lucky Vitamin and Overstock.
Given the list of ingredients included in the formula, the product has an attractive price point, as well.
Prices vary from $26.95 on Amazon to $38 on the Basq site, but the Basq site is offering a buy-one-get-one, which brings the cost down to $19 a jar.
For the best prices, use other online outlets (Amazon Prime features free postage), unless special offers such as BOGO or other valuable coupons are available on the Basq site.