How to Get Rid of Rosacea Naturally
Posted on 22 January 2016 by Ning W
Share this post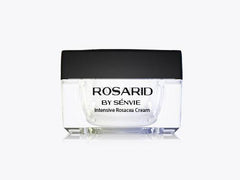 Rosacea can be debilitating and embarrassing for any of the estimated 16 million Americans who suffer from the condition. Revealed through a redness of the skin, often accompanied by small, clearly visible blood vessels and white, pus-filled bumps that can be mistaken for acne, according to the National Rosacea Society (NRS), the majority of people with rosacea have no idea they actually have the skin disorder. For those who do have rosacea, however, the emotional impact can be devastating. More than 90 percent of those being treated for rosacea have less self-confidence and a diminished self-esteem than they did before the onset of the condition, according to NRS surveys, and some avoid social situations or have skipped work due to the painful symptoms. However, no one should feel that level of despair over their skin, especially when there are natural solutions to help erase the signs of rosacea and restore your skin to its beautiful, vibrant best.
Natural Treatments for Rosacea
Experts have not only been exploring the reasons behind rosacea – genetics, sun exposure, stress, dietary choices and alcohol consumption are some of the unproven ideas that have been tossed about – they have also been searching for natural ways to treat rosacea for centuries. Natural remedies are often preferred, in part because synthetic chemical ingredients can irritate skin, exacerbating the problem, while natural botanicals are often more soothing, and do a more effective job of improving the texture and appearance of skin, especially the sensitive, delicate skin associated with rosacea. One of the most popular treatments to help ease the redness or rosacea is cucumber, which can be found in almost every summer garden. Often used in spa treatments to help ease puffiness under the eyes, cucumber offers both natural moisture and cooling properties that can ease the inflammation and redness that accompanies rosacea. Packed with antioxidant vitamins including A, C and E, cucumber is also well suited to fight free radicals that can increase damage to the skin and worsen the look of rosacea. Aloe vera, an old-time remedy used to help heal burns, is also an effected treatment option for rosacea, especially when symptoms of rosacea are elevated by sun exposure. The gel extracted from the leaves of the succulent plant offers dozens of nutrients, compounds, minerals and vitamins that quickly go to work to improve your skin. Aloe offers natural moisture that penetrates deep beneath the skin's surface where it serves as a botanical detox, killing bacteria that could trigger the onset of new flare-ups. Aloe vera also helps gently heal existing symptoms including pus-filled bumps while repairing and rejuvenating skin cells to help restore the natural texture of skin. Other commonly recommended natural remedies for rosacea include apple cider vinegar, tea tree oil, chamomile extract, lavender essential oil, oatmeal and gel infused with licorice (also known as glycyrrhizinic acid). While all are worth a try, you might want to consider a product that harnesses the power of many natural ingredients in one superb formula that has been praised by experts and users alike.
Rosarid Harnesses The Power of Nature
Rosarid is considered one of the best creams one the market to help treat rosacea because it features natural ingredients that when used in combination soothe skin and ease the redness and inflammation associated with rosacea. The ingredients in Rosarid address the redness, bumps, irritation, dryness, itching and burning, flushing, swelling and visible blood vessels associated with rosacea without causing added irritation to traumatized skin. The formula is lightweight so it won't clog pores and is crafted from a formula featuring natural, organic oils and botanical extracts that are both gentle and effective.
What Is In RosaRid?
Sophor Flaveescens: This medicinal herb harvested from an ancient tree in China works to erase irritation and inflammation by promoting the body's healing powers, quickly ridding your skin of the redness and itching associated with rosacea. Shea butter: This exotic nut butter is a rich moisturizer that can help reduce the appearance of discoloration associated with rosacea. Mango butter: This light moisturizer melts into skin, restoring lost moisture and promoting the regeneration of skin cells thanks to natural fruit enzymes. Avocado oil: This skin-friendly moisturizer contains rich fatty acids that help boost the production of collagen. Kiwi root: Kiwi not only contains fruit enzymes that help natural slough off dead skin, revealing the vibrant skin cells beneath, it also offers antioxidants that help protect collagen, so skin is stronger and healthier. Aloe vera: This succulent plant extract is packed with vitamins, enzymes, amino acids and minerals that help improve the look of skin by reducing inflammation and speeding the regeneration of new cells. Aloe can also help soften the rough skin that can accompany rosacea, while also easing the pain and itching associated with the condition. Vitamin E: This power-packed antioxidant offers rich moisture as well as the power to help protect our skin cells from damage, helping to restore vibrant, healthy skin. Rosarid also contains the favorite home remedy, cucumber extract, along with grapeseed oil, sunflower and olive oil for added natural moisture. Combined, the ingredients in Rosarid work in synergy to help ease the inflammation and redness associated with rosacea while helping to prevent future outbreaks. Rosarid is safe to use underneath make-up and does not contain chemicals that can trigger new breakouts. What people are saying about Rosarid While many products on the market promise relief from the redness and irritation of rosacea, those using Rosarid say that they notice results quickly, often within a few weeks of use. "This product is a miracle drug for me," said one user who had tried numerous prescription treatments before discovering Rosarid. Another whose profession keeps him in the sun for long periods of time also wrote in to share his Rosarid success story, and said, "I have seen more improvement in three weeks than I have with any prescribed medication." If you suffer from the painful, debilitating and embarrassing rosacea, Rosarid could be the natural product that's right for you.