Weleda Stretch Mark Oil Reviews - Does Weleda Really Work?
Posted on 06 March 2018 by Maryanne Johnson
Share this post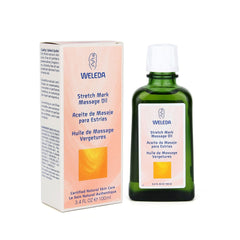 This is a full Weleda Stretch Mark Oil Review. We will discuss the pros and cons of Weleda so you know if this is a product you will want to use.
Pregnancy is one of the most natural and miraculous moments your body can experience and treating yourself with a little extra care can go a long way. 
Pregnancy, though a wonderful time, can put stress on your body, so for mothers in the throes of pregnancy, finding an effective, nourishing, and natural product can be difficult to come by. 
Stretch marks are a common dilemma faced by expecting mothers everywhere, and although it seems like stretch marks are unavoidable, there are products like Weleda Stretch Mark Oil that can help reduce their appearance and leave your body feeling renewed. 
If you are dealing with hemorrhoids while pregnant, our pregnancy hemorrhoids guide can help you get relief in a natural, safe way.
Weleda is a company that takes pride in its certifications.  Weleda is upfront about the elements they use in their products and they make an effort to clarify the purpose of each ingredient they utilized on their website. 
Because Weleda Stretch Mark Oil is an organic product, pregnant mothers are encouraged to indulge in using this Body Oil.
For a list of the organic products we carry, click here.
Weleda Stretch Mark Oil Ingredients
Expecting mothers strive to use products that are all natural and safe for their skin. Weleda strives to create a product that is both effective and organic. 
Weleda is transparent about what ingredients are being used in their products and the purpose of each ingredient's usage is listed on their website.
Weleda Stretch Mark Oil uses ingredients that are derived from plants and other natural essential oils. 
Weleda does not use any synthetic preservatives, genetically modified organisms (GMO's), or colorants. 
Weleda is certified by NaTrue, a non-profit dedicated to the promotion of high quality natural and organic products.
 Weleda Stretch Mark Oil's ingredients include:
Prunus Amygdalus Dulcis Oil
Simmondsia Chinensis Seed Oil
Triticum Vulgare Germ Oil
Parfum
Arnica Montana Flower Extract
Limonene
Linalool
Citronellol
Geraniol
Citral
Eugenol
Farnesol
Does Weleda Really Work?
Weleda's promise to diminish and reduce stretch marks using natural and essential oils is not without endorsement from its customers. 
There is a reason why Weleda Stretch Mark Oil has accumulated over 1,500 positive reviews on Amazon and received a 5 star rating.
Customers rave about the welcomed results of Weleda as stretch marks become nothing more than faint memories on their bodies, with the added bonus of smelling clean, sweet, and fresh. 
Weleda carefully selects ingredients for their products to have the desired results for their consumers. 
Ingredients such as sweet almond oil, arnica extract, and wheat germ oil work together to moisturize the skin and allow for more elasticity in the problem area, therefore reducing the skin's stretch marks. 
The sweet almond oil provides the skin with essential fatty acids that allow for the sought after smoothness, while the wheat germ oil harnesses vitamin E to help improve the texture of the skin. 
The ingredients derived from plant oils like myrrh and frankincense produce the beautiful, sweet-smelling scent when applied.
Weleda Instructions
Instructions for Weleda Stretch Mark Oil advise the use of the product at least twice or three times a day. 
For best results, apply the oil in a circular motion over areas of your skin where stretch marks are prominent.  Continued use of the Stretch Mark Oil will lighten the skin, making the stretch marks less noticeable.
Is Weleda Safe?
Mothers-to-be often search for stretch mark reducing products that are safe to use during their pregnancies. 
Weleda is dermatologist tested, NaTrue certified, and Weleda offers full disclosure on all of the ingredients they employ in their products. 
Weleda Stretch Mark Oil is organic, only using plant based ingredients, and there are no synthetic or artificial components employed. 
Weleda uses International Nomenclature for Cosmetic Ingredients (INCI), a system used for labeling ingredients.  The Personal Care Products Council monitors INCI and is the most comprehensive, inclusive listing of ingredients utilized by cosmetic and personal care products. 
This allows for full transparency in products used across the world, ensuring the production of safe products for consumer use.
Weleda Stretch Mark Oil is safe to use multiple times a day during your pregnancy and through the end of your breastfeeding period. 
This Stretch Mark Massage Oil can be used on areas more prone to stretch marks, such as the stomach, thighs, bottom, and breasts. 
Where Can I Buy Weleda?
Weleda Stretch Mark Oil can be purchased directly from their website, on Amazon and other online retailers.  Weleda Stretch Mark Oil can also be found at your local Walmart, Target, or CVS. 
Weleda ships within the United States, offering a 30-day return or exchange policy.
Should I Use Weleda for Stretch Marks?
This sweet scented, organic body oil is perfect for reducing bothersome stretch marks, and preventing stretch marks from occurring during pregnancy. 
Let this all-natural product put your mind at ease, as Weleda does not employ the use of any synthetic or artificial ingredients in their products. 
Weleda is certified as an organic product, dermatologist tested, and uses the system INCI for full ingredient disclosure.
Weleda Stretch Mark Oil can be safely used throughout your pregnancy. 
The essential oils used in Weleda help with the skin's elasticity, moisturizing and easily absorbing into the skin to prevent future marks from occurring. 
Weleda is most effective when applied multiple times throughout the day to curb dryness.
Weleda is a high-rated product with thousands of satisfied customers.  Weleda's products have appeared in several news publications, from Martha Stewart Living to InStyle. 
Try Weleda for yourself and enjoy the transformation that this all-natural, moisturizing product can do for you.