Discover the Top Stretch Mark Cream of 2018 - Which Stretch Mark Cream is the Best?
Posted on 11 November 2017 by Maryanne Johnson
Share this post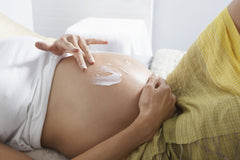 Are you looking to discover what the top stretch mark cream of 2018 is? Well look no further! Today we are going to discuss the top 5 stretch mark creams of 2018 and how to buy the best stretch mark cream the 1st time around so you don't waste your time and money!
A top stretch mark cream is one that has powerful ingredients that are also safe to use. Beware as there are many stretch mark creams out there that may do well to get rid of stretch marks but they are also unsafe and dangerous to use. Checking the ingredient label of a stretch mark cream is a must. Here we will look at a few of the best stretch mark creams out there and the ingredient lists
We've gone ahead and reviewed the top stretch mark creams of 2018 so that you buy one that actually works.
This dual-action cream comes jam-packed with lots of uber healthy ingredients. It comes with Cocoa Butter, Shea Butter, Jojoba Oil, Rose Hip Seed Oil, Olive Oil, Shea Butter and Vitamin E. These ingredients work very well to keep your skin moisturized and strong. When used twice per day consistently, this cream works to reduce the appearance of any future stretch marks.
It is so important to make sure your skin is moisturized properly so that you leave those stretch marks behind.
Senvie's stretch mark cream contains everything you need to keep your skin looking amazing.
Plus, the product uses a hint of Sweet Orange Oil which makes it smell amazing during application. Use it twice per day and rub softly in circular strokes for best effect.
Senvie's Ultra Scar & Stretch Mark Cream is made in the USA and comes with a 90 day money back guarantee on all orders. Senvie customer support is available 24/7 by phone and also Facebook messenger on the website.
This scar and stretch mark cream currently costs $21.95 and can be purchased on the website here or on amazon here. There are coupons you can find on the website as well.
This product has been around for a very long time. Unlike the Senvie cream this is an oil based product that is great for reducing the appearance of stretch marks (although it has a lot of ingredients that may be unsafe during pregnancy).
You can buy it for very cheap which makes it a shoe-in for our #2. Whether you buy this one or the Senvie cream, you can't go wrong. While the Senvie cream costs more it also comes with outstanding customer service. This oil based stretch mark product does not have the same customer service or guarantee, so if your unhappy you may not be able to get your money back.

What we love about Bio-Oil is the quality of the ingredients. However, as you can see here Bio-Oil contains a heck of a lot of ingredients. It's really a mixture of minerals and oils and the PurCellin ingredient. Like the Senvie cream, it does have Vitamin E.

The one thing we do not like about this oil is the fragrance which can cause some skin irritation although it does make the product smell good. Bio-Oil is a great stretch mark product that is worth a try.
This is a very popular product on Amazon that has actually been a best seller. It contains a lot of promising ingredients, especially the organic ones like Organic Herbal Mix, Organic Aloe Vera Leaf Juice, Organic Cocoa Butter, and others.
The one big drawback about this product is the massive ingredient list. Some of these ingredients (like Ethylhexylglycerine) are just not good for your skin and can cause irritation from time to time.
Still, Body Merry Stretch Mark Cream is one that can get you results so if you are struggling with your stretch marks then this could be a very good cream to try. The cream is currently available on Amazon for $19.99 so that makes it a good option at a reasonable price. The product also comes with a 90-day money back guarantee which is also a good indicator of its effectiveness for stretch marks.
We probably would not recommend this if you are pregnant though as it has a ton of ingredients, some of which may be unsafe during pregnancy.
Which One of these Top Stretch Mark Creams Should I Choose for 2018?
It really depends on what you are looking for. The best overall stretch mark cream in our opinion is of course our own Senvie Stretch Mark and Scar Cream. The reason is that it has an impressive ingredient list, a ton of happy customers and reviews, plus the customer service and guarantee that comes with it are top notch.
Bio-Oil would be our second choice since it is priced lower than the other two. The main drawback to Bio-Oil is the lack of company presence and customer service. Plus, it has some fragrance in it that act as skin irritants that may make you itch.
Body Merry follows up in third place as it has some good ingredients but the list is too exhaustive. You do not need that many ingredients for stretch marks. Still, it is a good product that can get you results and has been a best seller on Amazon for a long time.