Striation Active Stretch Mark Cream Reviews - Does Striation Active Work?
Posted on 17 October 2017 by Maryanne Johnson
Share this post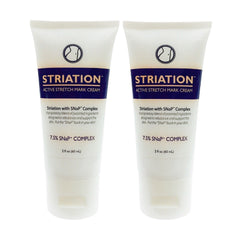 This is the full and complete Striation Active Stretch Mark Cream Review. Striation, its name derived from the scientific term for stretch marks, striae - gets its stretch mark-fighting power from the propriety SNaP complex, which boasts alpha-hydroxy acid to help lift away dead surface cells to reveal more vital, healthier skin.
Alpha-hydroxy acid, which includes a family of natural-based acids including glycolic, lactic, citric and tartaric acids, helps make skin smoother, softer and more radiant with a more even skin tone.
Stretch Marks Are Better Prevented According to Experts
It's easy to get discouraged about stretch marks.
The result of pregnancy, weight gain or lost or weight lifting, stretch marks are caused when the skin is stretched past its limits, resulting in red marks that are often accompanied by indentations.
They are easiest to tackle when they are new, according to Dr. Leslie Baumann, director of the University of Miami Cosmetic Group and author of "The Skin Type Solution."
Still, Baumann told CBS News, prevention is the best option.
"It is crucial to moisturize," says Baumann, who recommends products with shea butter. "Skin becomes more pliant, more plasticized and better able to stretch when it's well hydrated."
Striation Active Stretch Mark Cream Ingredients
In addition to shea butter and alpha hydroxy acids, Striation Active Stretch Mark Cream is packed with ingredients that are designed to help improve the look of skin, helping to elevate your confidence.
Striation Active Stretch Mark Cream formula includes:
Elastone. This proprietary blend helps boost the production of collagen and elastin in the skin's dermis layer, increasing the firmness and elasticity while improving skin's overall appearance by reducing the look of scars.
Shea Butter. This exotic nut butter is one of nature's ultimate moisturizers, able to penetrate the skin's surface to reach the dermis layer below. It is packed with nutrients including the skin-friendly antioxidants vitamins A, C, and E, which help encourage the production of collagen and elastin while lifting away the redness associated with new stretch mark scars.
Sweet Almond oil. Sweet almond oil not only offers moisture that penetrates the skin's surface layer, it also acts as a natural exfoliator, gently lifting away the skin's dead surface cells to reveal healthier cells beneath.
Green tea. A 2016 study from the University of Manchester appearing in the Journal of Dermatology found that a compound in green tea, EGCG, reactivates skin cells, helping to restore skin health.
White tea extract. Like green tea, white tea also has skin-friendly antioxidants that help protect skin cells from signs of aging by fighting off damage from free radicals.
Vitamin E. Vitamin E is a powerful antioxidant that not only protects skin cells but also improves blood circulation throughout the skin, boosting the production of collagen and elastin proteins so scars and stretch marks fade faster.
Pumpkin seed oil. Pumpkin seed oil contains very high levels of natural antioxidants including vitamin E. It also has hydrating fatty acids that melt into skin, taking nutrients to the dermis layer.
Aloe vera. Aloe contains anti-inflammatory nutrients that help calm the redness of stretch marks and boost skin's healing process. In addition to hydrating moisture, aloe also contains fruit extracts that speed cell turnover, revealing healthier skin faster.
Acai oil. Acai is a super fruit with skin-friendly super powers. High in antioxidants, Acai contains vitamins E and multiple B vitamins that help improve skin's elasticity, making it more pliable and defensive against stretch marks. Acai also encourages the regeneration of skin cells, so damaged skin is over time restored.
Are there are any Striation Active Stretch Mark Cream before and after photos?
Does Striation Active Stretch Mark Cream Work or Is Striation a Scam?
Striation has a 75 percent approval rating on Amazon.com, with most users giving the product four stars and up.
"This cream is awesome not only for stretch marks, but for scars and those wonderful varicose veins as well. Even old scars are fading and my varicose veins are somewhat diminished," said one reviewer. "I'm looking forward to what it does long term. I also appreciate the ingredient list, not full of chemicals I cannot pronounce."
Of the 25 percent who gave the product three stars or less, most said they saw no results, including one user who questioned the amount of product (2 ounces) sold in the package.
"I was excited about using this product after reading the customer reviews but I can't really tell you if it's working or not cause the product was finished in three days. I'm not sure if it was made for all stretch marks or just like a tiny little one [be]cause this won't last you a week," she said.
Is Striation Active Stretch Mark Cream a Scam or a Good Product?
Striation includes ingredients from nature to help skin heal along with a collection of gentle exfoliants to help lift away dead surface cells to reveal healthier skin.
Because there are three ingredients – aloe, alpha-hydroxy acid and almond oil – that are designed to lift away surface cells, skin may be sensitive to sunlight, so precautions should be taken for any skin exposed to the sun.
According to the product label, Striation was shown to increase collagen production by 62 percent, although there are no links to the study. It is also difficult to find much information about what other ingredients might be included in both the SNaP Complex and Elastone formulas.
Where Can I Buy Striation Active Online?
Striation Active Stretch Mark Cream is available through a wide range of online sources, including Amazon.com. Check Target, Walgreens, CVS, Rite-aid and other sites for the best deal and coupons for Striation Active Cream.