Mommy Knows Best Stretch Mark Vanishing Cream Reviews
Posted on 11 September 2017 by Maryanne Johnson
Share this post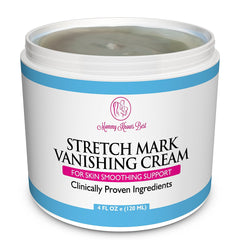 Does Mommy Knows Best Stretch Mark Vanishing Cream Really Work?
Mommy Knows Best Stretch Mark Vanishing Cream includes a mix of moisturizers from nature including nutrient-dense mango, shea, cocoa and jojoba butters and vitamin E.
Mommy Knows Best or Senvie's Scar and Stretch Mark Cream?
We are so confident you will love our scar and stretch mark cream, we are offering a full 90 day money back guarantee for all orders placed on our official website or Amazon.com.
It is recommended for pregnancy and post-natal stretch marks as well as for healing overall skin problems. It includes natural botanicals that reduce the look of age spots, freckles and discolorations while improving skin's tightness, firmness and elasticity, strengthening it against stretch marks and other scars.
Mommy Knows Best Stretch Mark Cream Ingredients
Mommy Knows Best is a celebration of nature and includes exotic nut butters, essential oils, vitamins and other powerful nutrients that help improve the appearance and texture of skin.
Mommy Knows Best Stretch Mark Vanishing Cream – one of several skin-care products the company manufactures in the United States – includes the following ingredients:
Palmitoyl oligopeptide. This blend of fatty and amino acids is believed to help stimulate collagen production in the same manner as retinol but gentler on skin. It helps boost skin health while making it most supple and elastic so it is better able to resist the tearing and stretching associated with stretch marks.
Palmitoyl Tetrapeptide-7. Packed with amino acids, this ingredient suppresses the immune response so there will be less blood cell activity on the skin's surface, resulting in less chance of scar tissue formation. It also helps strengthen and thicken skin, making it less likely to stretch.
Emblica Phyllanthis extract. This natural skin lightener contains high amounts of vitamin C, which helps lift away discolorations including the dark hues associated with stretch marks and scars.
Licorice root extract. Licorice root helps lighten skin by slowing the production of melanin. It also acts as an antioxidant, protecting skin cells from free radical damage that shows up as dark spots.
Cocoa butter. Cocoa butter contains the fatty acids oleic acid, palmitic acid, and stearic acid, which act as antioxidants and help protect skin proteins from free radical damage. Cocoa butter not only protects collagen and elastin, but it also helps encourage the production of new cells while hydrating skin so it is more pliable.
Vitamin E. This antioxidant protects collagen and elastin while offering lightweight moisture that penetrates the barrier layer, bringing moisture to the dermis layer, where real healing occurs.
Shea butter. Rich in vitamin A, shea butter encourages the production of new collagen and elastin cells while hydrating skin deeply. Shea butter also contains antioxidants that protect skin proteins from free radical damage.
Jojoba butter. Not only does jojoba bring an extra punch of vitamin E, it also creates a natural barrier on the skin's surface, locking nutrients in so they can penetrate skin and help skin cells heal.
Mango butter. Mango butter is not only packed with vitamin A, but because of its fatty acid content, also melts on contact with skin, penetrating the barrier layer and carrying healing nutrients to the dermis layer.
Gota kola. This skin-friendly botanical works in two ways to help prevent scars, first by boosting skin's elasticity, and secondly by keeping skin soft and supple so it is less likely to scar.
Bearberry extract. This natural skin lightener contains arbutin, which inhibits the production of melanin, helping to prevent discoloration from scarring while lifting away existing dark spots.
Aloe vera. Aloe has fruit acids that help lift away the dead surface cells faster, revealing healthier skin as scars begin to fade. It also moisturizes while easing inflammation and discoloration.
Together, this blend of nutrient-dense natural ingredients works in synergy to help strengthen skin while softening and lightening scar tissue, improving the appearance of existing scars while preventing new ones.
Does Mommy Knows Best Stretch Mark Vanishing Cream Work Or Is Mommy Knows Best a Scam?
Mommy Knows best has an 84 percent approval rating on Amazon.com, with the majority of reviewers giving the product four stars or above.
Many have also posted before-and-after photos to prove their results.
"All throughout my pregnancy, I used cocoa butter every day, and still the stretch marks were inevitable. At 10 weeks postpartum they were still as deep and dark red as ever, so I decided to try this, said one happy reviewer. "After not even a full month of use … I see significant results. This cream is amazing!"
Of those who did not rate Mommy Knows Best favorably, most said the cream did not work for them, or they did not like the smell. (Mommy Knows Best immediately jumped into great customer service move and responded by offering full refunds to most of those customers, without requiring them to ship the remaining product back.)
Is Mommy Knows Best Stretch Mark Vanishing Cream a Good Product?
The company website includes links to several different clinical trials in which 100 percent of subjects reported reduction in the appearance of stretch marks, age spots, freckles, and discolorations and reported improvement in skin tightness, firmness, elasticity, and skin's overall health.
Products are free from artificial ingredients and are made in small batches, most at the product's Illinois-based facility. Mommy Knows Best Stretch Mark Vanishing Cream does not contain hyaluronic acid, caffeine, argan oil, rosehip or tea tree oil.
The company also offers a 30-day money-back guarantee, which is not true of all products on the market.
While the formula may not work for everyone, the product is not a scam, and the company stands by its products with outstanding customer service.
Mommy Knows Best Stretch Mark Cream Before and After Photos
Where Can I Buy Mommy Knows Best Stretch Mark Cream?
Our Senvie Stretch Mark & Scar Cream a Better Choice?
Do you want to try something different that is very effective for stretch marks? Try our scar and stretch marks cream and be sure to show us your amazing skin. Get ready to look and feel amazing!
Mommy Knows Best Stretch Mark Vanishing Cream is meant to be used twice a day for best results. It is available through the company website, through Amazon.com, and through other online retailers including Walmart and Jet.