Mederma Stretch Mark Therapy Reviews - Is Mederma Stretch a Scam?
Posted on 18 September 2017 by Maryanne Johnson
Share this post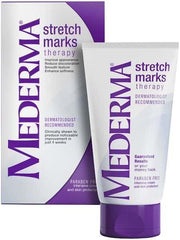 Mederma Stretch Marks Therapy reviews blends three different ingredients – the proprietary Cepalin, hyaluronic acid and gotu kola – to help prevent stretch marks or improve the look of existing ones by helping skin become softer and smoother so scars become less noticeable.
Mederm Or This Scar and Stretch Mark Cream - You Decide!
According to a survey of users, 75 percent of women who used Mederma Stretch Marks Therapy for a period of 12 weeks saw significant results. Not only that, clinical trials showed that Mederma Stretch Marks Therapy also boosted the moisture content of skin, making it more pliable and resistant to stretch marks.
Mederma's Stretch Mark Ingredient List Includes Unique Nutrients
Mederma Stretch Marks Therapy is a nourishing cream formula that combines a unique blend of ingredients:
Cepalin, a proprietary botanical extract. Cepalin is a brand name for allium cepa, an onion extract that helps reduce inflammation and control collagen production, preventing scars from forming by slowing the production of collagen at the site of an injury and improving skin health by encouraging collagen production in the skin's dermis layer. Collagen production at the site of an injury can lead to raised scars, but collagen production below the skin's surface helps improve the look of skin as the surface layer sloughs off, revealing healthier, stronger skin beneath.
According to a 2010 study from Italian researchers, onion extract improved the appearance of a variety of different scar types when applied regularly. "Topical applications of … allium cepa … twice a day for 24 weeks seems to be useful in reducing neoangiogenesis in hypertrophic scars and keloids, resulting in clinical improvement of skin lesions," the researchers wrote.
Hyaluronic acid. Hyaluronic acid offers plenty of skin-boosting benefits, including boosting hydration, and improving skin's elasticity, texture and luminosity by encouraging the production of new collagen and elastin cells. New skin proteins also help fill in depressed scars such as stretch marks. An antioxidant, hyaluronic acid also helps lighten the redness and discoloration often associated with scar tissue.
Vitamin E. Vitamin E is a powerful antioxidant that not only protects skin cells as it moisturizes, it also improves blood circulation, boosting the production of collagen and elastin proteins so the skin's dermis layer is stronger. A stronger, more hydrated dermis is less likely to succumb to stretch mark tears.
Gotu Kola. This natural botanical works to improve the appearance of scars in two ways. First, it improves the circulatory system, sending more blood to the skin's surface to help encourage healing. (When circulation is poor, skin cells and connective tissues are more vulnerable to damage.) It also helps boost the production of collagen, strengthening skin and making it more pliable and resistant to tearing.
Hydrolyzed Collagen. These small amino acids are believed to help boost collagen production in skin, strengthening the dermis layer, alleviating the appearance of stretch marks.
Cyclomethicone. This synthetic silicone helps form a barrier on the surface of skin, locking in moisture as well as the active ingredients in this Mederma formula.
Does Mederma Stretch Marks Therapy Work? Is Mederma Stretch Mark Safe?
Despite all the hype over onion extract, it doesn't seem to be all that effective in treating or preventing stretch marks.
Of those reviewing the product on Amazon.com, only 58 percent gave the product a positive review of four stars or more. That's a low number by industry standings, but those who did review the product favorably were extremely happy with their results, and many included before-and-after photographs to visibly chart their progress.
"[I] recently added this to my nightly routine. I only use it once daily, but I'm already seeing results," said one user who gave the product five stars.
On the other side, 26 percent gave the product a low rating of two stars or less.
"Did not work at all! I used all of it and made sure I was consistent. I saw no change in my stretch marks whatsoever," said one reviewer, whose opinion matched most of the other negative reviews, although an unpleasant smell was also mentioned.
Is Mederma Stretch Marks Therapy a Scam?
Mederma is one of the most well-known names in the scar treatment industry – the company markets itself as the #1 doctor and dermatologist-recommended brand for scars, and it has held the top scar spot in a U.S. News and World Reports survey for 15 years and the top stretch mark care spot for the past three - so clearly the company is doing something right.
Mederma Stretch Marks Therapy is paraben free and is safe for use during pregnancy, beginning in the second trimester, and while breastfeeding.
It is manufactured by Merz North America, a Raleigh, N.C.-based subsidiary of a Germany company with more than 100 years in product development.
The company offers a money-back guarantee for anyone who uses the products for the recommended period of time and is unhappy with the results.
Where Can I Buy Mederma 

Stretch Marks Therapy?

Mederma Stretch Marks Therapy – along with a collection of other Mederma products aimed at scar or stretch mark treatment - is available through Amazon and at various retailers including Walmart, CVS, Walgreens, Rite Aid and Target.
Is Mederma Stretch Marks Therapy Worth a Try?
The studies on onion extract differ, but Mederma Stretch Marks Therapy has something better, hyaluronic acid, which helps boost the moisture content of skin.
When it comes to preventing or treating stretch marks, moisture is everything.
Skin that is well hydrated is better able to withstand stretching, according to Dr. Rachel Nazarian, assistant clinical professor at Mount Sinai Hospital Department of Dermatology.
Mederma Stretch Marks Therapy also includes a form of silicone that locks in moisture, adding extra hydration for optimum healing.