Burt's Bees Mama Bee Belly Butter Reviews - Does It Really Work?
Posted on 07 September 2017 by Maryanne Johnson
Share this post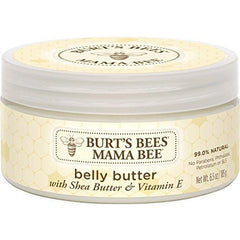 Burt's Bees Mama Bee Belly Butter Reviews. Burt's Bees Mama Bee Belly Butter was developed as a way to help prevent stretch marks, and is recommended for use throughout pregnancy.
Burt's Bees Mama Bee features rich, moisturizing butters that penetrate the skin, bringing healing ingredients to the dermis layer, where collagen and elastin make up the bulk of the structural layer. A mix of nutrients, skin-friendly vitamins, fatty acids and antioxidants strengthen skin cells and create a barrier against cellular damage from free radicals.
What Causes Stretch Marks? Mama Bee Belly Butter Review
While not all moms-to-be develop stretch marks, those who do get them because the dermis layer where the collagen and elastin that keep skin pliable are most abundant stretches and tears. The tears occur when skin stretches too fast, so ensuring that skin is pliable – including applying products that help it keep its elasticity – can help prevent them from developing.
Rich moisturizers that are able to penetrate the skin's surface, reaching the dermis layer where collagen and elastin are formed, help keep skin pliable, minimizing the risk of developing stretch marks.
Burt's Bees contains a luxurious mix of moisturizers, each offering rich moisture and a variety of different nutrients, that help keep the dermis layer strong and flexible with nutrients that boost collagen and elastin production while keeping skin cells safe from damage with the addition of antioxidants.
Burt's Bees Mama Bee Belly Butter Ingredients
Because it is part of a long line of nature-based products, Burt's Bees Mama Bee Bella Butter is not unlike the other products that are part of Burt's family, including a product line dedicated to baby's delicate, new skin.
Burt's Bees Mama Bee includes:
Shea butter. Shea butter is an antioxidant-packed moisturizer that melts on contact with skin, allowing it to penetrate the surface easily, reaching the dermis layer where it can help collagen and elastin strengthen and heal. Derived from the natural fat of the fruit of the karite tree, shea butter helps skin retain its elasticity and provides antioxidants including vitamin A to protect from environmental aging.
Coconut oil. Coconut oil helps fight stretch marks in two ways. First, it offers saturated fat to help strength cells walls. Secondly, it offers antioxidants that fight free radicals, keeping collagen and elastin cells healthy and strong.
Cocoa butter. Cocoa butter contains antioxidants including the fatty acids oleic acid, palmitic acid, and stearic acid. Each target free radicals that can damage collagen and elastin, the skin protein cells that are less likely to tear when strong and healthy.
Jojoba Butter. This natural moisturizer helps stimulate blood flow beneath the skin's surface, so skin cells are not only made stronger, but nutrients reach the site of potential scars more quickly, allowing new collagen and elastin cells to regenerate faster.
Vitamin E. One of the most common scar treatment oils, vitamin E is a powerful antioxidant that not only offers moisture that absorbs easily into skin, allowing it to reach the dermis layer but also improves blood circulation, boosting production of collagen and elastin proteins so scars and stretch marks fade faster.
Does Burt's Bees Mama Bee Belly Butter Work?
Of the Amazon users rating Burt's Bees Mama Bee Belly Butter, 79 percent of them rated Burt's Bees Mama Bee Belly Butter favorably, although of those who gave low ratings, the main reason was because they believe they received counterfeit products, a problem company reps from Burt's Bees immediately rectified.
Still, Burt's Bees Mama Bee Belly Butter is a reformulation of a previous product, Burt's Bees Mama Bee Belly Balm, a product that customers loved. This latest formula is not as popular.
"The Belly Butter is NOT the same as the Belly Balm!," one reader said on the company website, addressing a "horrible" new smell, a texture "like clotted spoiled milk" and an inability to melt into parched skin.
Of those who did not give favorable reviews, however, the reason was the change in formula.
Is Burt's Bees Mama Bee Belly Butter a Scam?
While there are some reports of counterfeit products being sold on Burt's Bees Amazon website, that problem can be rectified by purchasing the product directly from the company's website.
Burt's Bees has been in operation for 30 years, and got its start in a beekeeper's backyard in Maine, although the company has since left Maine for a new headquarters in North Carolina. Burt's Bees has been offering distinctive, natural health and beauty care products for 30 years.
The company uses natural ingredients and skips dangerous parabens, phthalates, petrolatum and sodium lauryl sulfates. The company does no animal testing, and claims its ingredients are safe for both mother and baby. The baby products are extra gentle because a baby's skin is as much as 30 percent thinner than adult skin.
Where Can I Buy Burt's Bees Mama Bee Belly Butter?
Because there have been questions about the authenticity of products from Burt's Bees sold on Amazon, the safest place to purchase Burt's Bees is either in-store or through the Burt's Bees website.
Burt's Bees products including Burt's Bees Mama Bee Belly Butter are available at big box stores (Wal-Mart, Target, K-Mart, etc.), grocery stores as well as through a wide range of online markets, including Amazon, CVS, Walgreens, Rite Aid, Target and Wal-Mart.
Prices range from about $10 to $13, depending on the vendor, making it an affordable option for most expectant moms.