Kelo-Cote Gel Reviews - Discover The Shocking Truth About Kelo-Cote Review
Posted on 14 September 2016 by Maryanne Johnson
Share this post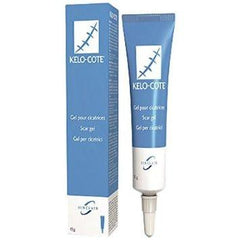 Kelo-Cote Gel Reviews - Discover The Shocking Truth About Kelo-Cote Review
3.5

/

5.0
Are you interested in buying Kelo Cote Scar Gel? According to a 2009 study out of India, silicone is an effective treatment to lessen the appearance of both hypertrophic and keloid scars, which echoes the opinion of most skin care professionals, who say that if you're in the market for a scar removal cream, silicone is a must.
Kelo Cote Gel Reviews
Silicone works because it creates a protective barrier over skin that retains moisture, preventing scabs and slowing the production of collagen at the site of the scar while still allowing healing oxygen to reach the injury.
Silicone also protects the scar area from bacteria and pollutants, so free radicals don't have a chance to reach new skin cells and accentuate the damage. It is the leading dermatologist-recommended ingredient in treating scars, and research provides evidence to back the claim.
Silicone benefits revealed In a six-month study that included 30 volunteers, researchers found that the majority of scars saw significant improvement through the use of silicone gel, the only ingredient in Kelo-Cote Advanced Therapy Scar Cream. "Topical silicone gel is safe and effective treatment for hypertrophic and keloid scars. It is easy to apply and cosmetically acceptable," researchers wrote in the literature accompanying the study. But silicone is the only ingredient the formula for Kelo-Cote Advanced Therapy Scar Cream contains.
While it can help protect scar tissue by retaining moisture so excess collagen is not produced at the site of the scar, Kelo-Cote – available at Amazon.com and through Factory OTC, a site devoted to health and wellness items - doesn't contain any other nutrients to help improve the health of the skin's dermis layer, where healing occurs.
Does Kelo Cote work?
Kelo Cote Advanced Scar Treatment Gel has a 76 percent approval rating on Amazon, with only three-quarters of users giving it a 4- or 5-star review. Twenty-four percent of those who used and reviewed the product gave it 3 stars or less. One reviewer used the product for a year and saw no changes, although the company claims that most users will see results in 90 days when treating scars including surgical scars, burn scars, cuts and scrapes, cesarean section scars or the scars remaining after cosmetic procedures. "Didn't actually work," the consumer reported in an Amazon review.
Others gave the product glowing 5-star reviews, and said it began reducing the redness associated with acne scars within a week. With such mixed reviews, it's hard to tell whether the Kelo-Cote formula is as effective as other scar removal products. The product is made up of 100 percent silicone, the most important ingredient in the most effective scar treatment products, so Kelo-Cote is completely safe for users of all ages, although it will likely be more effective treating fresh scars rather than older ones.
One thing to be wary about, however, is that the product website does not include any before and after photographs, so potential consumers won't have concrete proof that Kelo-Cote Advanced Therapy Scar Gel does what it says it will. Too, with silicone as its only ingredient, Kelo-Cote doesn't offer nutrients that boost collagen, so the skin beneath the scar is not impacted by its use. A good scar treatment cream will include ingredients that perform a variety of functions beyond protecting skin from toxins and slowing the production of collagen at the site of the scar.
Quality products also feature nutrients that moisturizer to soft the texture of an existing scar, encourage the production of collagen beneath the scar tissue, slough off surface layers to reveal healthy new cells and lighten the color of the scar. Product from nature a better option If you're looking for a superior scar cream, Senvie's Selevax, an all-natural scar treatment cream which has earned 4- or 5-star ratings from 88 percent of consumers, not only includes silicone in the form of dimethicone, it also features a nutrient-dense ingredient list that goes beneath the skin's surface to the dermis layer, where healing begins.
Selevax's lineup of powerhouse ingredients starts with hydrating shea butter, which not only hydrates but also includes vitamin A, which encourages an increase in the production of collagen, which ensures that the skin beneath the scar is healthier, but also helps speed the turnover of surface cells, so the healthy new cells beneath are revealed faster. It also offers antioxidants including C, D and E to fight off free radicals and protect healthy, new skin cells and both rose hip and arnica oils, both of which have been clinically proven to improve the color and texture of scar tissue. Arnica oil is especially effective at not only treating scars, but also helping to prevent scarring after surgery.
Kelo Cote Video
According to Dr. Gabrielle Francis, a holistic physician at the Herban Alchemist in New York City, arnica oil is an amazing treatment for surgical scars, and is one she recommends to clients to use both before and after surgical procedures, first to prepare skin, secondly, to repair it. "We'll start three days before the surgery and for two weeks after," Francis said. "People's surgeons always tell them, 'We've never had anybody heal as fast as you.'" Selevax, which only $1.45 more than the $27.50 Keto Cote price tag on Amazon for three times the product, also includes silicone in the form of dimethicone, so nutrients are better able to penetrate the skin's surface and reach the dermis layer where they can do the most work.
Selevax is made in the United States and offers a variety of benefits designed to help you feel comfortable when making your purchase, including customer reviews, before and after photos and a money-back guarantee if you don't see similar results. Selevax is available on the Senvie website and Amazon.com.