Deux Dermè Review - Does Deux Dermè Harvest Power from Nature?
Posted on 31 August 2017 by Maryanne Johnson
Share this post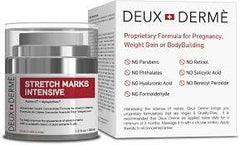 Check out this Deux Dermè review. Deux Dermè a Las Vegas-based company, uses 19 different plant extracts in the proprietary blend of its Deux Dermè Stretch Mark Prevention Cream, one of several similar products designed to help prevent and improve the look of stretch marks.
An Alternative Stretch Mark Cream Option to Deux Dermè
Deux Dermè Reviews and Testimonials
Deux Dermè reviews and testimonials show mixed results. Aimed at targeting stretch marks that form during pregnancy, due to weight gain or from body building, Deux Dermè uses a scientifically researched blend of plant extracts and oils to reduce the look and improve the texture of stretch marks.
Deux Dermè Stretch Mark Prevention Cream ingredients
There are a variety of different ingredients in Deux Dermè designed to not only help prevent stretch marks, but also repair those that occur when the skin's dermis layer – which is kept strong, flexible and pliable when collagen and elastin protein cells are strong – stretches or tears.
Deux Dermè contains:
Peptides. Peptides, the amino acids that are the building blocks of protein, help prevent stretch marks or lighten the look of existing ones because they not only help encourage the production of new collagen cells, one of the dermis layer's two main proteins, they also help keep existing collagen strong, so it is less likely to stretch and tear.
Vitamin E. Vitamin E is a powerful antioxidant that not protects skin cells as it moisturizes, it also improves blood circulation, boosting production of collagen and elastin proteins so scars and stretch marks fade faster.
Shea Butter. This rich moisturizer is packed with fatty acids that not only keep skin supple and soft, they also help skin heal faster. Shea butter, a tropical nut butter, melts into the skin on contact, so it goes deep beneath the skin's surface to help rejuvenate skin cells. Shea also includes the skin-friendly antioxidants vitamins A, C, and E, which help encourage the production of collagen and elastin while lightening the dark pigmentation associated with scars.
Coconut oil. Coconut oil is rich in triglycerides that keep skin supple, reducing the risk of stretch marks. Coconut oil also provides the necessary moisture to the skin that is more prone to having stretch marks.  
Jojoba oil. This natural oil helps stimulate blood flow beneath the skin's surface, speeding nutrients to the site of a scar so collagen and elastin production is enhanced.
White horehound extract. Horehound is believed to help ease inflammation of the skin, reducing redness including that associated with stretch marks. It also has documented skin-soothing properties.
Aloe Barbadensis Leaf Juice. Not only does aloe offer lightweight moisture along with nutrients that help ease inflammation and redness, speeding the healing process, aloe also speeds cell turnover at the skin's surface, ensuring that healthier skin is more quickly revealed.
Cocoa Butter. This rich nut butter has long been used to help prevent stretch marks by keeping skin strong and supple. Nutrient-dense cocoa butter works to improve the tone and texture of skin by softening scar tissue, and penetrates beneath the surface layer of skin where it can reach the dermis layer for more successful results.
The formula also includes fruit extracts and oils – acai, cucumber, watermelon, grapeseed and avocado among them, each bringing different antioxidant power to help protect skin cells from damage caused by free radicals.
To boost the nutrients, Deux Dermè also includes carrot seed oil, passionflower seed oil, the exotic tropical kpangnan nut butter to thicken the texture of the cream. Each nutrient is packed with vitamins, fatty acids and triglycerides that soak into skin, strengthening the barrier and dermis layers so that collagen and elastin become healthier and stronger and new skin proteins cells rejuvenate as a faster pace.
We were unable to locate any Deux Dermè before and after photos, so if you find them, please post them online and let us know about them.
Is Deux Dermè Stretch Mark Prevention a Scam or Does it Really Work?
With professional endorsements - "In my opinion, it's important to help prevent stretch marks from appearing in the first place," says Dr. Daria Minina of Russia's University of Ulyanovsk. "I use Deux Dermè to help reduce the appearance of stretch marks." – it's unlikely that Deux Dermè Stretch Mark Prevention is a scam.
The company's products have been reviewed by a wide range of credible online sources, and the Stretch Mark Prevention contains skin-friendly ingredients that work in synergy to help keep skin strong and supple, so stretch marks are less likely to occur.
The ingredients are for the most part born from nature, so they can more easily penetrate the barrier layer of skin, reaching the dermis layer where real healing occurs.
Does Deux Dermè Stretch Mark Prevention Cream Work -
Deux Dermè Reviews

?
Of the users who rated the product on Amazon, 89 percent of users gave Deux Dermè Stretch Mark Prevention Cream a rating of five stars.
"Best cream ever," wrote one happy reviewer. "I used it in my first pregnancy. Results? No even one stretch mark! This is my second pregnancy, and I'm as happy as I was before."
Users liked that the cream was easy to apply and it absorbed quickly. The only negative reviews were regarding the product's smell, which some described as minty, while others thought of it as a citrus scent.
It is recommended for use on the breasts, buttocks, thighs and abdomen, applied twice a day for a minimum of three months to see results.
Deux Dermè, which is never tested on animals, contains no parabens, no phthalates, no formaldehyde, no benzoyl peroxide, no diethanolamine, no salicylic acid, no hyaluronic acid, no dihydroxyacetone and no sodium lauryl or laureth sulfate.
Should You Try This Option Over Deux Dermè?
The Deux Dermè company offers a limited 30-day money-back guarantee, which isn't the worlds best guarantee.
For those on a budget, coupons for 10 percent off are available online, and the website offers 10 percent off a first order.