Derma E Scar Gel Reviews - Does It Really Work?
Posted on 05 December 2016 by Maryanne Johnson
Share this post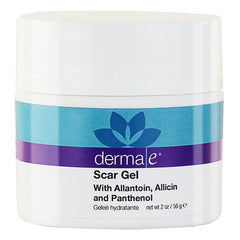 Allantoin, a popular ingredient in numerous facial products from companies worldwide (including the one with the tagline "because you're worth it"), is considered the elixir of life by some scientists for its ability to help skin cells regenerate, helping to reduce not only scars, but also signs of aging.
Derived from comfrey, an herb that has deep roots in folk and homeopathic remedies to treat wounds, allantoin – which is also found in animal urine - helps promote new cell growth and reduce inflammation, making it a smart option as one of the three powerhouse ingredients found in Derma E Scar Gel, which also touts Panthenol, a moisturizer that not only hydrates by pulling moisture to the region, but also speeds healing by improving the elasticity of scar tissue, helping new tissue form, as well as onion extract.
Onion extract is used in other scar treatment products, and studies have shown that the compound can help improve the look of scars, if it is paired with silicone.
A 2009 study from researchers in Turkey found that onion extract was effective at improving both hypertrophic and raised keloid scars, but only when teamed with silicone, which dermatologists say is the most important ingredient to look for in scar treatment options.
Silicone is effective because it traps moisture to soften scar tissue, but also keeps the active ingredients in a product at the site of the scar, where they're needed most. Derma E Scar Gel does not include silicone, so even though it includes ingredients that moisturize, it does not help scar tissue retain moisture long-term, a key factor in reducing the appearance of scars, nor does it create a barrier that allows the onion or comfrey extract to effectively penetrate skin.
Where to Buy Derma E Scar Gel Online?
Derma e Scar Gel is available through the company website (first-time buyers can get 10 percent off their first order), Amazon.com, at CVS and other pharmacies, some high-end department stores and a variety of online sites including Ulta Beauty.
Manufacturer instructions suggest applying a small amount of Derma e Scar Gel two to three times a day for eight weeks when treating new scars, or twice a day for three to six months for old scars, gently massaging the product into the skin using your fingertips.
Does Derma e Scar Gel Work?
According to the reviews from consumers on Amazon.com, the effectiveness of Derma e Scar Gel is mixed.
Based on those buyer reviews, 77 percent of Derma E Scar Gel users gave Derma e Scar Gel a favorable 4 to 5-star review, while 23 percent gave it less favorable reviews of 3 stars or less"I can't say I've noticed a difference. I had a fresh scar and used this religiously for three months and the scar seems to look the exact same. Perhaps it worked for some people, but not me," said one unhappy user.
Is Derma e Scar Gel Safe?
While the ingredients in Derma e Scar Gel are considered safe, onion extract is acidic and has the potential to cause itching or other discomfort at the application site.
Also, whether it is derived from comfrey or from animal urine, allantoin also comes with risks, according to homeopathic expert Dr. Joseph Mercola. Mercola said comfrey oil can trigger such quick collagen production that the surface of scars can heal over, leaving the skin beneath open and prone to abscesses or infections.
Because of this, Derma e Scar Gel should not be used on open cuts or fresh scars.
Botanically-based scar cream yields better results
If you're not keen on using animal urine in any form on your skin – the makers of Derma e Scar Gel don't make clear the source of its allantoin on the product website – an all-natural, botanical-based scar cream is likely a better choice for you.
Senvie's Selevax has earned 4- or 5-star ratings from 88 percent of consumers, and not only includes silicone in the form of dimethicone – which will seal in nutrients so they can penetrate skin's surface layer - it also features ingredients from nature that have a proven track record when treating scars.
Is Selevax a Better Alternative?
In addition to aloe, which helps slough off dead surface cells gently and naturally, and the ultra-hydrating moisturize of shea butter, Selevax also includes a wealth of antioxidants including vitamins A, C, D and E, which fight off additional cell damage while boosting collagen production where it is needed most, in the skin's damaged dermis layer where scars form. The formula born from nature also contains rose hip and arnica oils, both of which have been clinically proven to improve the color and texture of scar tissue, leaving behind softer, lighter skin.
Selevax is made in the United States and offers a variety of benefits designed to help you feel comfortable about making your purchase, including positive customer reviews, before and after photos that show significant improvement and a money-back guarantee - so if you don't see similar results, Senvie will return your money, no questions asked.
Selevax is available on the Senvie website and through Amazon.com.