FAST & Long-Term relief
Relieves Internal & External Hemorrhoids
High Quality Ingredients - Made In USA
Discrete and Free Shipping
100% money back guarantee
"This product works. For the first time in 30 years, I am hemorrhoid free, and to me, that's a miracle." - by john R., Verified review
Tired of relying solely on hemorrhoid treatments like creams or wipes? Then you need the long-term relief of HemRid. While hemorrhoid wipes, pads and ointments work from the outside-in, HemRid helps from the inside-out by increasing circulation and relieving your itching, burning, and discomfort. HemRid is taken orally where it gets into the bloodstream to strike your hemorrhoid at its source, providing you with long-term comfort and relief.
Guaranteed to work in 2-5 days or your money back
Provides relief from both internal and external hemorrhoids
Proudly made in the USA and doctor recommended for effectiveness
hemrid is Backed By Science & Results
HemRid has helped thousands of people all over the world suffering from hemorrhoids. With 7 clinically tested and scientifically researched ingredients, you have everything to gain and nothing to lose.
Why Choose HemRid for Your Hemorrhoids?
Doctor Recommended
Proudly Made in the USA
Clinically Tested Ingredients
100% Satisfaction Guarantee
Doctor Recommended With Clinically Tested Ingredients
Every ingredient inside of HemRid is carefully selected to combine with the other ingredients for maximum effectiveness. Each serving contains only scientifically researched ingredients to ensure you get hemorrhoid relief and peace of mind. HemRid is doctor recommended and proudly made in the USA in an FDA registered facility for safety and potency.
Discover How to Get Real Hemorrhoid Relief
Are you suffering from hemorrhoids and looking for relief? Are you tired of worrying about your next flare-up? HemRid is specifically formulated to provide you fast and long-term relief from hemorrhoids. After thorough clinical research, HemRid's ingredients were chosen to attack your hemorrhoids from the inside-out to reduce the painful symptoms and provide you lasting relief from hemorrhoids.
How HemRid Works
HemRid is packed with ingredients proven to help you get hemorrhoid relief. It doesn't have any "mystery" ingredients, only premium, rigorously researched ingredients. Step One: Take 2-3 capsules per day. Step two: HemRid attacks your hemorrhoids from the inside-out. Step three: Enjoy fast & long-term relief from your hemorrhoids.
HemRid's Powerful Ingredients
Horse Chestnutis an essential part of the hemorrhoids healing process. The seeds contain a chemical known as aescin which increases blood circulation and acts as an anti-inflammatory agent. This jump starts the healing process and stops pain, irritation and swelling. It's incredible therapeutic properties have made it a popular choice for many ailments. Witch Hazel has long been known for its special healing properties. It has an outstanding ability to soothe skin by acting as an anti-inflammatory agent. In addition, Witch Hazel effectively reduces bleeding and the painful irritation associated with Hemorrhoids. The veins get strengthened and bleeding stops allowing you to regain full health and happiness. Biliberry is a fruit that for centuries has been known for its excellent health benefits. It's fantastic ability to heal and repair connective tissue has made it a vital component in hemorrhoids treatment and recovery. We have hand selected the finest Biliberry so you can recover immediately and get back to being you in no time. Butcher's Broom Butcher's broom contains compounds including ruscogenin that cause blood vessels to constrict, improving blood circulation and preventing blood from pooling in the veins, which causes weaker walls that are more susceptible to the swelling and inflammation of hemorrhoids. Vitamin C has been clinically proven to reduce the symptoms of hemorrhoids. A powerful antioxidant, it also encourages the production of collagen, which gives blood vessels walls their structure, while boosting the elasticity of those blood vessels so that they work more effectively. Hesperidin is a citrus based anti-oxidant that helps boost circulation, allowing blood to flow more smoothly and evenly through blood vessels. Compounds in hesperidin also help boost the integrity of the lining of blood vessels, which helps them stay more elastic and pliable. Enovita™ is a proprietary and trademarked ingredient that is clinically proven to reduce blood pressure by keeping veins flexible. Enovita works by inhibiting the production of a compound linked to hardening of the arteries. High blood pressure has been linked to hemorrhoids because veins that are under pressure are more likely to become weakened and swollen.
Real People. real results.
"I highly recommend!" I had been suffering with very painful, bleeding internal hemorrhoids for months. Preparation H only made them more tolerable, and even the hydrocortisone suppositories my doctor prescribed didn't get rid of them. Like most, I was skeptical about this, but I was desperate for relief. Within the first two pills, I began to feel better. And a few days later, I can barely notice them. What a blessing! I highly recommend! – Jesse M.
"All pain is gone." I was in pain but after a week of taking these, all pain is gone not just temporarily covered up! – Vivian F.
"HemRid definitely helped speed up the process." I had developed an external thrombosed hemorrhoid. I had it for about 5 days before getting HemRid. It was very painful and was beginning to bleed a lot. I believe that the HemRid helped a lot once I started taking it. The hemorrhoid started getting smaller within days. By the time I used up one bottle, the hemorrhoid was almost completely gone. I don't know if the hemorrhoid would have went away on its own or how long it would have taken, but I feel that the HemRid definitely sped up the processes. – Mary S.
"The delivery was fast. Thanks!" During the time I've been using HemRid, my problems seem to have diminished in intensity, and I'm able to drive my car again without troubles. I've been suffering these inconveniences for several months and no doctor could find a solution for the problem, as it was not a clear case of hemorrhoidal disease. I'm going to continue using the product for some time and see if I don't feel bad again in the future. The delivering was fast and there wasn't any trouble sending the pills to Spain. Thanks! – Raul B.
"It worked wonders. I would highly recommend it!" I found this product online, gave it a try and it worked wonders. I would highly recommend it! – Jim P.
"Great Product! I was truly amazed!" This is a great product. Totally did the trick, I was truly amazed! – Dylan C.
"I would definitely recommend. Thanks!" This product really did help eliminate the extremely painful hemorrhoids I had. After taking HemRid for four days, there was a definite improvement in my situation, and after one month, I am completely free of pain. I definitely recommend HemRid as a safe, drug-free way to eliminate hemorrhoids. Thanks! – Salliane A.
"I want to share my experience with HemRid. I give HemRid 5 stars!!!!" Well after having my 2nd hemorrhoidectomy, (yes two hemorrhoidectomy's in the past 10 years), I went to the Dr. post surgery for my check up and didn't he find another one. I was desperate to try anything. After searching the internet, I found HemRid. Skeptical at first I read all the reviews and thought, "why not." Well after only 2 weeks I went back to the Dr. and the hemorrhoid was gone and he was pleased with how my healing was progressing. I have since finished the first bottle and will continue to take one pill a day. I want to share my experience with HemRid. I give HemRid 5 stars!!!! – Michael R.
"This product is absolutely amazing. Thank you HemRid!" This product is absolutely amazing. After visiting my doctor several times without any results I felt like I may suffer with the pain and discomfort for the rest of my life. I used HemRid for only a few weeks and most of my symptoms disappeared. I can now get back to my normal life without pain. I am so thankful to have found this product online. It should definitely be offered in stores and pharmacies everywhere. Thank you HemRid! – Kathy K.
"This product gave me relief in two days!" After struggling with pain for months, this product gave me relief in two days! The doctor was useless, OTC ointments were soothing, but otherwise unhelpful. So, I researched extensively and selected two herbs noted to be the most helpful. HemRid included both. I highly, highly recommend it! – Lilian M.
"What an incredible product!" What an incredible product! Arrived quickly and started working quickly as well! Much needed relief. I recommend this product greatly!! – Hadi A.
World-renowned physician Dr. Mitchel Schwindt stands behind HemRid stating: "HemRid relieves the unpleasant symptoms of hemorrhoids by reducing pain." And with thousands of bottles sold: Our customers agree!
120-DAY MONEY BACK GUARANTEE — We are so confident that HemRid will relieve the painful symptoms of your hemorrhoids that we're talking all of the risk. Try HemRid for 120 days risk-free. If you're not satisfied at any time, let us know and we'll give you a full refund. No questions asked.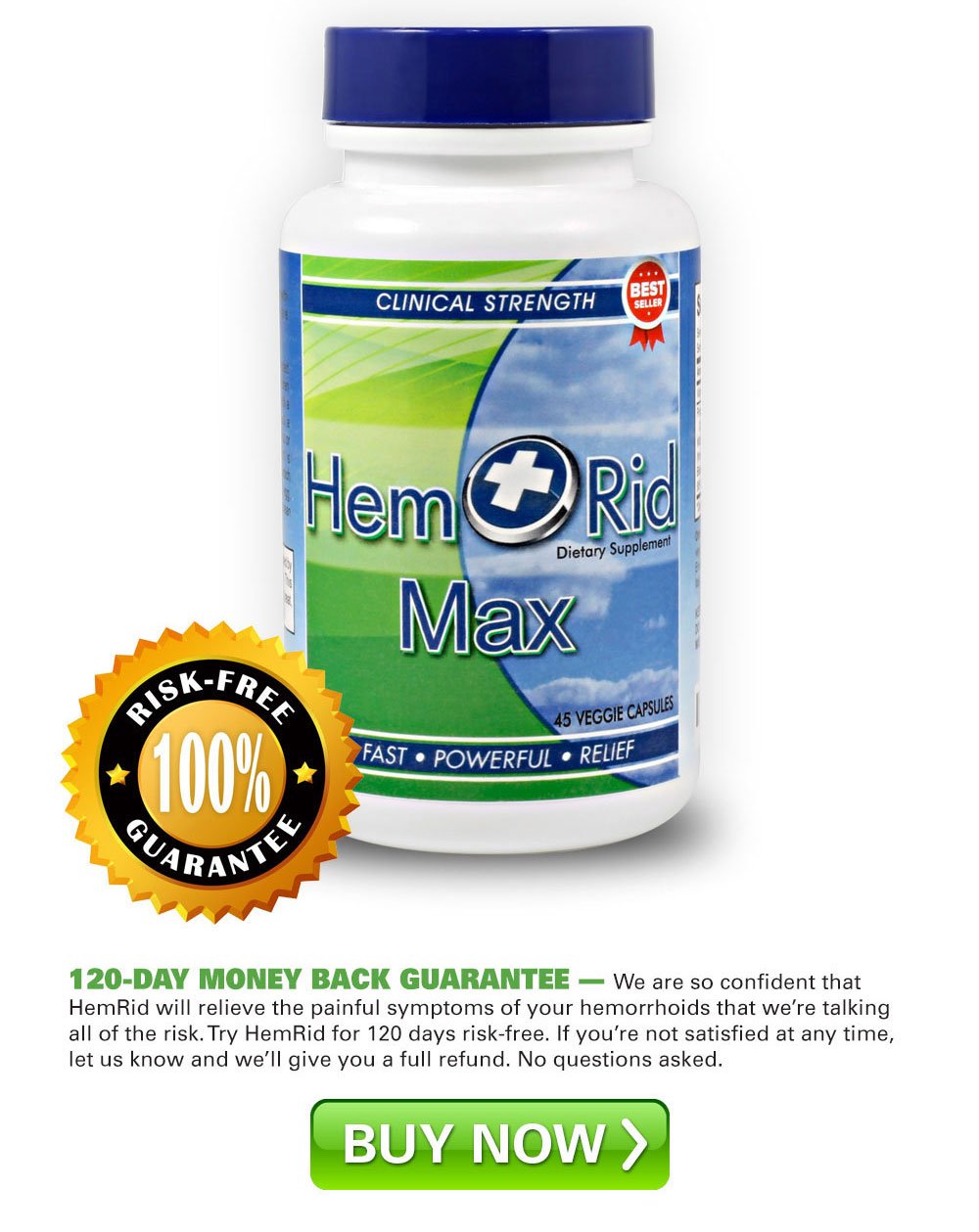 *Results in the testimonials may not be typical and your results may vary. Consult your physician before starting any diet, exercise program or supplement to avoid any health issues.
*THESE STATEMENTS HAVE NOT BEEN EVALUATED BY THE FOOD AND DRUG ADMINISTRATION. THIS PRODUCT IS NOT INTENDED TO DIAGNOSE, TREAT, CURE OR PREVENT ANY DISEASE.